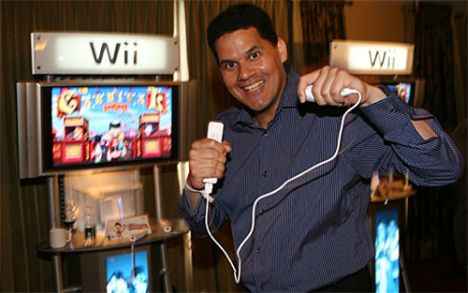 Reggie Fils-Aime, President of Nintendo America
In an interview posted on
Kotaku
, Reggie Fils-Aime, President of Nintendo America, discusses two key issues – relatively poor performance of third party titles on the Wii console and the direction Nintendo would take when designing the next generation of consoles.
Reggie stated his disappointment with third party publishers and lack of third-party AAA titles available on Nintendo Wii. He goes on to add that the sheer volume of the install base and the inherent diversity that it brings should be enough to convince the publishers to consider Wii for all their releases. He said, "We have a 22-million unit installed base. We have a very diverse audience… We have active gamers that hunger for this type of content. And why isn't it available?"
This response brings out the same old argument that Wii is not capable of delivering the kind of processing power required by main-stay games such as Assassin's Creed 2 or MW2. To this Reggie responds by saying that third party publishers should consider Wii as the lead development platform since it has the largest install base compared to other two consoles – PS3 and the X360. This backed up by effective marketing will insure success of a title, he said. "High-quality, effectively marketed [titles] against our installed base will sell, period, end of story."
Discussing the prospect of extending the console's capabilities by implementing HD technology, Reggie dismisses the idea by calling it faulty logic and further adding "that's not the way we at Nintendo do things". When Nintendo releases the next generation of console, it will have capabilities that are fundamentally different from what the current generation offers, Reggie pointed out. The quality of video output is apparently not fundamental enough for Nintendo, and Reggie could not have been more vague about what fits their definition of fundamental changes when he said, "Simply the addition of HD capability will not be the next step for us. There will be more to it. There will be additional capability."