It looks like September 13 could be a day of reckoning for Nintendo, as the gaming giant may just make its debut in the HD gaming era. Nintendo is holding a Wii U preview event and invites have been sent out which read, "Interested in learning more about how the Wii U will change the future of gaming and entertainment? Join us for a presentation by Nintendo of America President and COO Reggie Fils-Aime followed by hands on gameplay and demo."
We hope that at the event Nintendo finally announces the launch date and pricing for the console. We think that in the U.S., the system may be priced close to the $350 (Rs. 20,000 approx.) price point. Will Microsoft and Sony cut the prices of the Xbox 360 and the PS3 respectively to steal some of the Wii U's thunder? Only time will tell.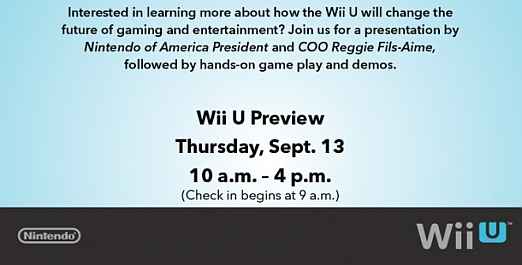 The last time Nintendo held such a conference outside of the known gaming events (E3, Gamescom and TGS), was to show off the 3DS, which hit store shelves two months after the event. Could we see the same trend for the Wii U?
The lineup of games expected to launch for the device too is quite stellar. This list includes the likes of New Super Mario Bros U, Nintendo Land, Assassins Creed 3, Batman: Arkham City Armored Edition, Disney Epic Mickey 2: The Power of Two, FIFA 13 and more.
Apart from having a traditional controller and being compatible with the motion controller of the Wii, the Wii U has a new controller called the Wii U GamePad. This controller houses a touchscreen along with traditional controller buttons. The touchscreen can be used as a secondary display and has unique gameplay mechanics as well as can be used as a primary display for playing games even when the television is off.
Rayman Legends is one of the games that has shown off the capabilities of the Wii U's touchscreen controller. The game was demoed both at E3 2012 and Gamescom. You can check out the trailer of the game below.
Also read,