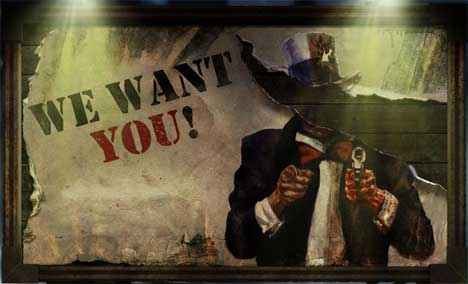 We are fast approaching the tail end of December and things—as they usually do at this time of the year— are slowing down in games industry. However, before the game development and publishing world settles into a well deserved seasonal break, they decided to unleash a burst of new announcements to give us a feel of things to come. This weekend saw announcement of handful of new games, most of them sequels to recent successes.

Arguably, the most welcome announcement of the lot is the sequel to Rocksteady's superhero masterpiece Arkham Asylum. After restoring our faith in license-based game releases, this as yet untitled sequel announcement was accompanied by a customary teaser trailer that seems to suggest a setting where the demented denizens of the asylum have taken to the streets of Gotham City. Star Wars: Force Unleashed II was also announced and is expected to release sometime next year. The sequel will see Vader's former apprentice from the first game, reprise his role as the game's protagonist. Next up was a new game set in the Tron universe called Tron Evolution which we can expect to see coinciding with release of the movie Tron Legacy, due out around the same time next year. Another sequel in the True Crime series was also announced as being in development by United Front. Judging by the trailer, the game will be about an undercover law enforcement agent in the crime infested bowels of Honk Kong. Next up in the list of new announcements is a game based on a rather obscure American television show called Deadliest Warriors. The show simulates a battle between two different types of warriors, either from different parts of the world or different time lines— for example Apache vs. Gladiator, Viking vs. Samurai, etc. Even though the premise seems enticing, the result could very well be a disaster as the game trailer did little to make us think otherwise. Spec Ops: The Line will be published by 2K and this third-person shooter looks like yet another game commemorating the bloodshed of our times. Last in the list of announcements is newest addition to the Rock Band series that will exclusively feature the American rock band, Green Day. Even though release date of this game is not known, it has reportedly been confirmed for PS3, Wii and Xbox 360.

Along with the announcement of these new releases; this weekend also saw witness new trailers of games that are already known to be WIP. New Game-play trailer featuring co-op play in Crackdown 2 was released along with game-play footage of recently announced new Medal of Honour game. The new game-play trailer for Undisputed UFC 2010 confirms the games release date as May 25th 2010. Trailer for Halo Reach featured a team of Spartan warriors alongside a (unconfirmed) lady Spartan and clearly hinting at team based game play. This trailer also confirmed commencement of game's multiplayer public beta in spring 2010, and it will be available to current owners of Halo ODST. Last on the list of new trailers is the one released for the recently announced Prince of Persia game called Forgotten Sands and it was reassuring to see that the game looks like it is heading back to its roots.

Evidently, Game Trailers has an exclusive right to publish these videos online; so you can follow this link to catch all of the videos mentioned here.