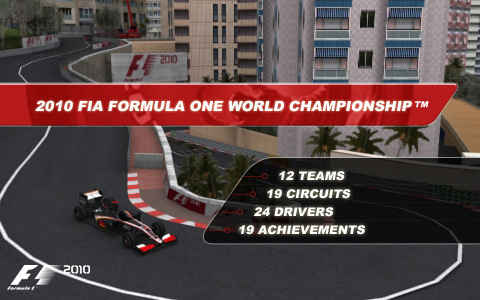 Jump Games has launched the mobile version of Codemasters' F1 2010 official racing simulation on the Apple App Store, for the iPhone and iPod (it is also compatible with the iPad). It is priced at $2.99, and you can check it out on the App Store here.
The iOS version of F1 2010 will include all of the official teams, drivers and circuits including the night race at Singapore. Players can drive as their favourite driver, chosen from the 12 official teams, and race on the 19 official tracks from the season. The game will also offer three game modes – Time Trial, Endurance (average lap time) and Party Play (up to 4 players on the same device) – useful for that lap time rivalry. This does mean however that there will be no actual races with other cars on the track. [RELATED_ARTICLE]
You might wonder how Jump Games intends to provide a realistic feel of racing simulator on a mobile device, without an analog controller. They've apparently managed to do so by using an 'innovative sliding acceleration feature', and customizable control and assist settings.
The F1 2010 game for iOS devices also features social elements with its integrated Game Center and Open Feint leader boards, where players can submit their best endurance and lap times onto the world leader board, and also share their game achievements on social networks such as Facebook and Twitter.
Do also check out our review of the original F1 2010, for PC, Xbox 360, and PS3, here.