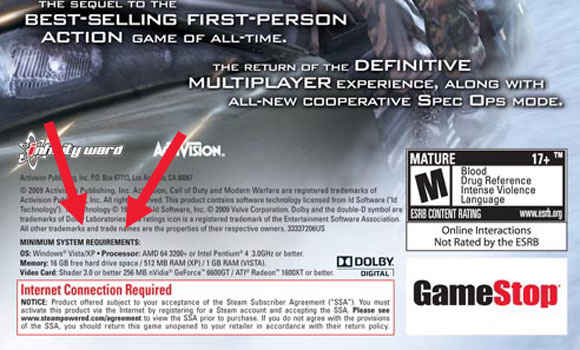 The one thing that all PC gamers had on the back of their minds was one nagging question. Will my trusted PC be able to run the most sought after game of 2009 – Call of Duty: Modern Warfare 2?
GameStop has done the whole community a favour in answering that question by revealing the game's back-cover (see picture) which also features the minimum specifications required to run the game.
In case you're too lazy to peak at the rear-cover, here are the minimum requirements posted for your comfort:
OS: Microsoft Windows XP, Windows Vista and Windows 7
Processor: Intel Pentium 4 3.2 GHz or AMD Athlon 64 3200 processor or better
Memory: 1 GB RAM
Graphics: 256 MB NVIDIA GeForce 6600GT or better or ATI Radeon 1600XT or better
DirectX: Microsoft DirectX 9.0c
Hard Drive: 12GB of free hard drive space
Sound: 100% DirectX 9.0c compatible sound card
Internet: Broadband connection required for Multiplayer Connectivity
Indian price
Meanwhile, over at IndianVideoGamer, the prices for different versions of the game in India have been revealed.
The Xbox 360 and the PlayStation 3 version of COD:MW2 will cost Rs. 3,499 for the standard edition. The 'Hardened Edition' will cost Rs. 4,999, while the Prestige Edition (complete with night vision goggles) will come for Rs. 9,999.
The PC version is set to retail at Rs. 1,299, but the launch of the same has been "delayed indefinitely".