For the very first time, Google has featured a doodle that is completely interactive and playable!
Yes, you have heard it right - 'playable'...
Yesterday it was the 30th anniversary of the famous arcade game, Pac-Man. It takes a Geek to celebrate this occasion, fortunately, Google has them in no short supply! It was Marcin Wichary, senior UX designer and developer at Google who developed this Pac-Man game, built with JavaScript, with its classic interface and sound effects intact.
Pac-Man is an arcade game by Namco, where the player has to control a character and guide it to collect all the pac-dots in the maze. There are Inky, Pinky, Blinky and Clyde, four monsters who roam in the same maze to catch Mr. Pac-Man. The player has to eat-up all the pac-dots to advance to the next level, without getting caught by the monsters; if caught, it'll cost a life.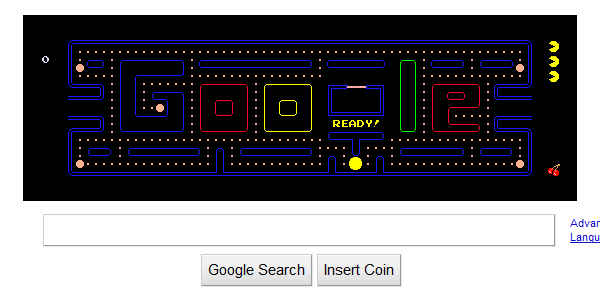 The "I am Feeling Lucky" button in the Google homepage has been replaced with a "Insert Coin" button, pressing which initiates the game. If clicked the second time, the game turns into a co-operative multiplayer game, with Ms. Pac-Man as the second player. The control set is the direction keys, and for the second player, it will be the WASD keys to control their characters.
As the game is 'too cool to keep for just one day',
Google will keep it ON for two days
. So, stay tuned; I'll be just back after a couple of Pac-Man session... (by the way, today is the second day - so hurry!)