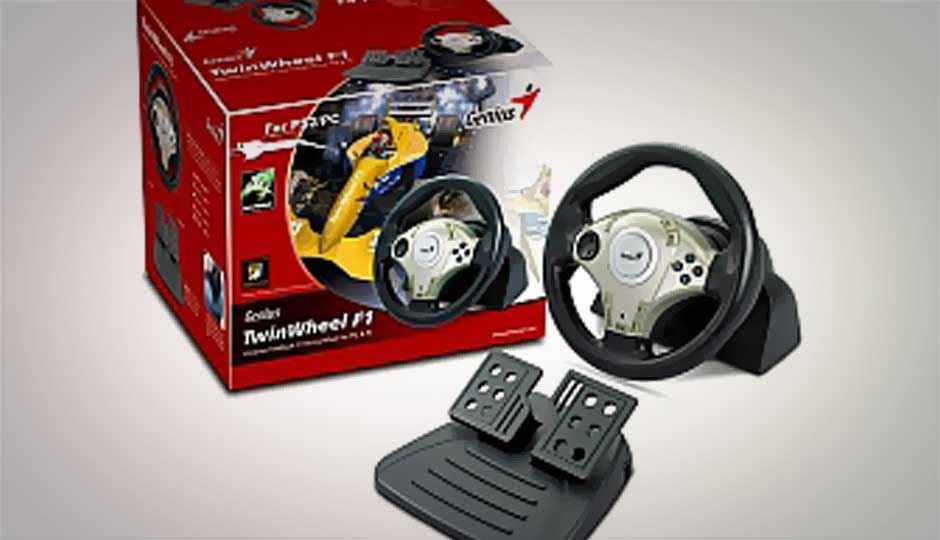 Genius has launched its budget-racing wheel in India, called the Gaming TwinWheel F1, priced at Rs. 2,622. The racing wheel is compatible with both PCs and PS2s, and has apparently been designed for F1-style racing gaming.
Features of the Genius Gaming TwinWheel F1 racing wheel include Immersion-patented TouchSense technology, advanced vibration feedback functions, a D-Pad, four action buttons, shifter gears under the wheel, two foot pedals, a central clamp, and a lap attachment.
The Gaming TwinWheel F1 will ship with a driver CD, and the user's manual. Genius has provided a 1-year warranty on the racing wheel. Speaking at the launch, Sudhir S, Managing Director at Inspan Infotech, said:
"Have a greater experience of racing games with Genius TwinWheel F1. It's very well designed to suit ones passion for gaming. It has all the required features for richer experience. This is a wonderful product that could be addressed and targeted to kids."
System requirements
For PC
IBM PC Pentium 233 MHz compatible or higher
Available USB port
CD/DVD-ROM Drive for driver installation
Microsoft WindowsXP/2000/ME/98SE

For PlayStaition2
PlayStation / PS One / PlayStation 2 computer entertainment system
PlayStation's standard game pad interface