I must confess, I don't really spend too much time hunting down deals on PC games online. When it comes to buying PC games, I usually just login to Steam or order a physical copy from Flipkart/Snapdeal/Amazon/NextWorld. Recently, with the Dragon Age: Inquisition launch fiasco in India, I was looking for other sources to buy the game from and discovered G2A.com
Now, as it turns out, G2A is relatively popular among people looking for deals on PC games but I'd never run across it. At first glance, the site looks like any other that sells digital editions of PC games but a few minutes exploring it highlights its differences. If you look at game prices from a global perspective, G2A sells game codes/CD-keys for serious discounts. Now, while some PC games in India are being sold at very reasonable prices, many publishers have started selling them at the same price as console titles. In such cases, G2A does stand out as a significant alternative. Some examples of the great deals include Call of Duty: Advanced Warfare on sale for Rs. 1,838 (Flipkart MRP: Rs. 3,799), Diablo III: Reaper of Souls on sale for Rs. 1,600 (Flipkart MRP: Rs. 3,499) and Starcraft II: Wings of Liberty and Heart of the Swarm on sale for Rs. 918 and Rs. 957 respectively (Flipkart MRP: Rs. 2,499 for each).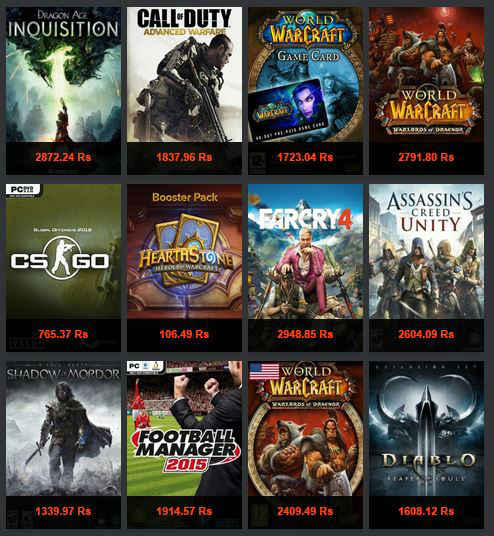 Something that popped up in my head when exploring the site (and the low prices) was the question, "Is it legit?". As it turns out, I was not the only one who wondered about that. The Internet is packed with gamers who've got the same question and the general consensus seems to be that although the G2A site and the deals may appear 'shady', the game codes sold on it generally work and are legal, i.e., they're accepted by services like Steam, Origin and UPlay.
Of course, since G2A also has individual sellers, there are some risks involved. A seller may be offering codes that are region locked or for games in specific languages other than English or in the very rare cases, a seller may have already used the code. However, all these worries seem to largely theoretical and I can't couldn't find anyone who has actually been swindled this way. Still, if you're planning on using G2A, keep these risks in mind.
In order to offset the risks, G2A offers a paid 'Shield' program which gets you personal support for your purchases. Unfortunately, it does appear that G2A's support service is largely inefficient.
At the end of the day, considering that PC games in India are consistently launched late or run the risk of never being launched, and their prices are also on the rise, G2A is a good alternative to legally buy games. Just keep the risks in mind.
Other Popular Deals
Samsung A7 2016 Edition Golden

Rs. 18990 *

Buy Now

OnePlus 6 (Mirror Black, 6GB...

Rs. 34999

Buy Now

Redmi 6 Pro (Black, 3GB RAM,...

Rs. 8999

Buy Now
*Includes Cashback
​