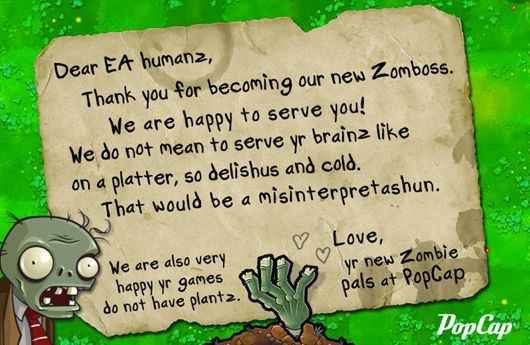 Electronic Arts will be acquiring Seattle-based developer, PopCap. Known for its casual, mobile and social games, like Plants vs. Zombies, Bejewelled, and Zuma, PopCap has developed titles for a wide variety of platforms, including Windows, Mac, DS, Wii, Xbox 360, PlayStation 3, mobiles phones, and iOS devices.
The deal is expected to go through by August this year, with EA spending roughly $750 million dollars to acquire PopCap. It is reportedly also going to pay PopCap $550m more, if they meet certain performance targets. [RELATED_ARTICLE]
Speaking about the deal, EA's John Riccitiello said: "EA and PopCap are a compelling combination. PopCap's great studio talent and powerful IP add to EA's momentum and accelerate our drive towards a $1 billion digital business."
David Roberts, CEO of PopCap, added: "We picked EA because they have recast their culture around making great digital games. By working with EA, we'll scale our games and services to deliver more social, mobile, casual fun to an even bigger, global audience."