A bright sunny afternoon, warm air and a gentle sea breeze greeted Mumbai on Thursday. Of course, gamers preferred the cold confines of a hotel banquet hall and the warm glow of several LCD screens showcasing the upcoming titles from Electronics Arts.
Christopher Ng, General Manager for Electronic Arts – Asia Pacific, kicked off the event by introducing four of the soon-to-be-launched titles: Brutal Legend, Dragon Age: Origins, The Saboteur, and Dante's Inferno. He also spoke about the year's other big releases, such as Need For Speed: Shift and FIFA 10, unleashed a bunch of breath-taking videos and then invited us to try our hand at the games they had set up for previews. [Read our preview of
Brutal Legend
and hands-on experience with
NFS: Shift
]
The two most impressive titles out of those that weren't available for gameplay at the event were The Saboteur and Dante's Inferno.
The Saboteur
The Saboteur is a third-person shooter set in Paris during World War II. The game is going to be set in a greyed out environment with only Nazi soldiers and targets set in colour which sort of helps you navigate and know exactly where you are going and what you have to do – a bit like the concept used in Mirror's Edge, where your path was marked in Red.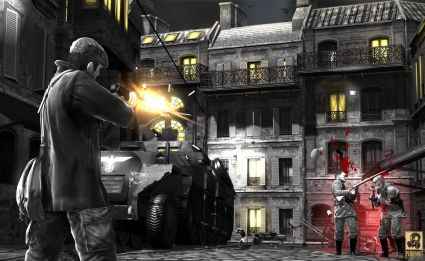 The name of this strategy/action title derives from the 'one step at a time' style of defeating the Germans based on sabotage, like killing a superior officer.
As you progress and defeat Germans in a particular place, you restore colour to that area, a metaphorical reference to giving back hope to Paris.
The Saboteur will be available on the PS3, PC and Xbox 360.
Dante's Inferno
As the trailer of Dante's Inferno drew to an end, everybody at the event started clapping and cheering as audible "wows" escaped their lips. Christopher Ng saved the best for the last as this game is something that we're sure everybody is dying to play.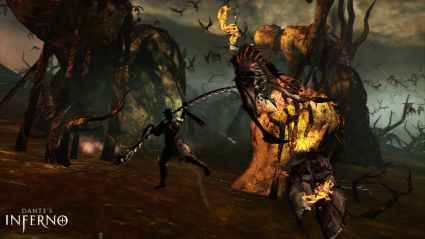 The game is based on the first part of Dante Alighieri's epic poem Divine Comedy, as you take on the role of Dante who has to go through the Nine Circles of Hell and defeat Satan himself to retrieve the soul of his beloved Beatrice.
Dante uses either a scythe (that of the Grim Reaper's, in fact) or powers such as a holy cross (seen used by paladins in many games) to defeat the creatures of Hell.
Each of the Nine Circles has its own boss and the environments are also changing accordingly, adding depth to this multi-level game.
This is going to be one hell (sorry, couldn't resist) of a hack-slash game with a lot of gruesome monsters to kill with one of the coolest weapons ever.
Dante's Inferno will be available on the PS3, PSP and Xbox 360.
Release Dates
EA announced the release dates of several games:
1. NFS Shift: September 17, 2009 [PS3, Xbox 360, PC, PSP]
2. FIFA 10: October 2, 2009 [Xbox 360, PS3, PSP, PC, Wii, DS]
3. Brutal Legend: 'Rocktober' 13, 2009 [PS3, Xbox 360]
4. Dragon Age - Origins: November 6, 2009 [PC, PS3, Xbox 360]
5. Saboteur: December 8, 2009 [PS3, PC, Xbox 360]
6. Dante's Inferno: February 12, 2010 [PS3, Xbox30, PSP]
7. MySims Agents: September 25, 2009 [no platforms indicated]
8. Dead Space: Extraction: October 3, 2009 [no platforms indicated]
9. NBA Live 10: October 6, 2009 [no platforms indicated]
10. Need for Speed Nitro: November 17, 2009 [no platforms indicated]
11. Battlefield: Bad Company 2: March 5, 2010 [no platforms indicated]