Launching November 16th, the latest Need For Speed Hot Pursuit (or like true need for speeders would call it - NFSHP) was shown off at EA's E3 2010 press conference, in a serious display of environment, draw distance, car geometry and texture. Though it should have been called Need For Speed Hot Pursuit 3, EA has chosen to take the confusing route, and has not serialized it.

The title was developed by Burnout veteran, Criterion Games. They set out to create a NFS that went back to the roots of the franchise. The original game had exotic cars and great police chases, and Criterion is out to "re-imagine Need For Speed in a Criterion game style for the connected generation". That means, "exotic cars, epic drives, and hot pursuits", while playing through a full career, as both a racer and a cop. Criterion asks "Which side are you on?". The game launches on November 16th, 2010.

Autolog was also launched by Criterion, a "revolutionary suite of connected features", which lets players "connect, compare and compete with their friends".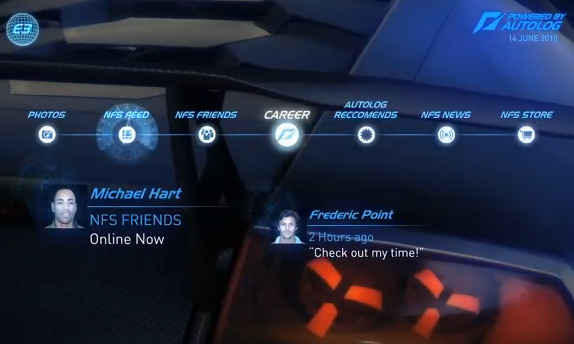 Criterion and EA revealed this gameplay footage of NFSHP3, with a interesting opening cinematic for the player versus player hot pursuit, which consisted of two Lamborghini's going head to head. Check out the crazy new HUD, with rear view even in outside view, and, nitrous!:
And this cinematic footage, which shows off a whole bunch of 'exotic cars', from the Bugatti Veyron to the Koenigsegg CCX , Shelby GT500 to the Pagani Zonda Cinque; and even helicopter laid spike strips: