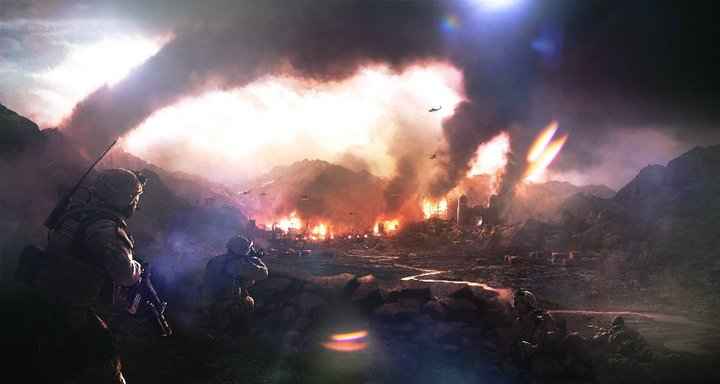 The next episode of one of 2009's most realistic period shooters, Operation Flashpoint: Dragon Rising, has now been announced by Zapak Games and Codemasters, and it will be titled Operation Flashpoint: Red River. The title marks the third game in the franchise, the first being Operation Flashpoint: Cold War Crisis, which was jointly developed by Bohemia Interactive and Codemasters.
Taking the series to Tajikistan, Operation Flashpoint: Red River will release in 2011 (no precise/approximate date available) and give players the chance to play an infantryman in the US Marine Corps again, clashing with the enemy along the beautiful Vakhsh River.
According to Codemasters, the Operation Flashpoint: Red River "depicts a fictional conflict with contemporary geopolitical themes, which will unfold over three distinct acts in both single player and drop-in-drop-out co-operative play for up to four players online. Faced with new counter-insurgency combat and the returning threat of the Chinese PLA, players will feel the tension, brutality and carnage of modern conflict from the perspective of a marine fireteam on deployment in a hostile country, thousands of miles from home."
Touted as an "authentic infantry co-op experience" in an "all-new theatre of war", Operation Flashpoint: Red River promises to bring "wide-ranging advancements including a deeper narrative-led campaign, streamlined inventory and control system, a refined enemy and squad AI system, player class roles including customisable XP upgrades and loadout choice, close-quarters combat, new air support options and comprehensive tutorials.
The game is apparently built around "four player co-op online play", but Codemasters insists the game will be enjoyed in single-player modes as well: "whether playing solo or co-operatively, players will experience the tense and exhilarating tactical gameplay the series is famed for, expressed through a range of gameplay enhancements and an exciting new setting and narrative." The game will also feature a brand new XP reward system that will allow them to customise and upgrade their weapons and equipment, and, new player class roles will also be available to provide fighting styles that suit each type of user.
Check out some concept images below (click to enlarge):