Cartoon Network, owned by Turner Entertainment Networks, has launched a massively multiplayer online game based on one of its most popular franchises, Ben 10. Developed in collaboration with Typhoon Games Studios, the game is entitled Ben 10 Omniverse: Rise of Heroes, and can be accessed at www.ben10.net. While it is only available in Australia and Hong Kong for now, it will soon be brought to other markets in the Asia Pacific region. Cartoon Network's first MMO, FusionFall, released early last year, and recently became free to play in April this year.
A spokesperson from Turner Entertainment Networks spoke at length about the game and what it would mean for Cartoon Networks primary demographic, children: "We are excited to be able to offer our fans a unique Ben 10 experience that lets them take an active role in deciding Ben's action-packed adventures. For Turner brands such as Cartoon Network, our goal is to go beyond just entertaining TV programs to providing engaging content wherever and whenever kids want to experience our characters and stories. Ben10.net and our Cartoon Network websites are increasingly becoming the entertainment destination for kids. We're focused on driving the expansion of our digital platforms through various initiatives, including multiple MMOs and casual games to be launched throughout 2010 and beyond."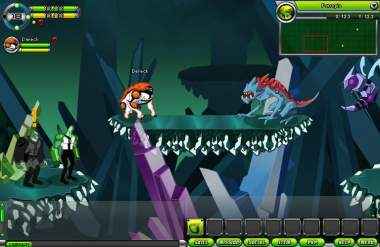 The storyline was written by the original writers of the animated TV series, and will be set between events of Ben 10 and Ben 10: Alien Force. Players of Ben 10 Omniverse: Rise of Heroes will be asked to take on the role of one of the students at Bellwood Elementary School, "who find themselves trapped in a strange world and transformed into one of three types of alien creatures after the Omnitrix overloads. With Ben, Gwen and Grandpa Max to guide them, they face a series of challenges and adventures in a fantastic new world. But will the students be able to return to their original human forms or are they trapped forever?"
Players will be able to absorb alien DNA, allowing them to morph into different forms and use new powers, just like Ben 10 can. As an MMORPG, Ben 10 Omniverse: Rise of Heroes will allow players to personalize their characters/avatars with unique alien combinations and other player customizations.
The MMORPG will feature player cooperation challenges, player versus player (PvP) modes, power and skill trading with other players, a safe chat system (emoticon-based) suitable for young players apart from a standard in-game chat feature for older players, an in-game Item Mall from where you can buy various skills and powers, and lots more.
Players possessing a Cartoon Network Team ID can use that to log in.