Asus India launched two new graphics cards in the market, apparently inspired by the design of Formula 1 cars – the Formula EAH4770 with 512MB DDR5 and the Formula EAH4890 with 1GB DDR5 memory.
It's a bit of a marketing gimmick, but it looks good and it improves performance, so we aren't complaining. ATI's 4890 line of cards had been seeing some heating issues anyway, so if this solves the problem, well and good!
"The ASUS Formula Series graphics cards are a perfect amalgamation of aesthetics and performance. Conceptualised and designed to give you that extra design exclusivity along with the performance to keep up with it, the Formula Series Graphics cards are for users who want their graphics cards to look the part they play – super cool and super fast. These graphics cards provide much better cooling than reference designed cards and run up to 33 per cent cooler which is a dramatic improvement over existing standards," said Mr. Vinay Shetty, Country Head – Components Business, ASUS (India).
The ASUS Formula Series graphics cards come with built-in double cooling solutions to cope up with the demands of high performance gaming. They increase overall heat dissipation efficiency by up to a whopping 33% in comparison to reference design cards. On top of this unprecedented cooling capacity, Formula Series cards are also up to 12.4dB quieter than cards with generically designed fan-sinks—a 30 per cent improvement—rendering them perfect for users who require maximum cooling without excessive fan rotation noise.
Taking its inspiration from the pinnacle of motor sports, the Formula Series incorporates design elements from the streamlined body of a Formula One racing car, relying on aerodynamic principles to increase airflow volume by 7 per cent and to draw heat away from the GPU and other components. A heat-sink boasting ASUS' proprietary Micro Surface Treatment improves heat dissipation by up to 14 per cent, while a fan sporting a unique dust-proof design provides cooling for up to 10,000 hours longer than conventional fans. The cumulative effect is an improvement in heat dissipation efficiency by up to 33 per cent as compared to reference design cards – propelling ASUS to the pole position in the graphics card cooling race.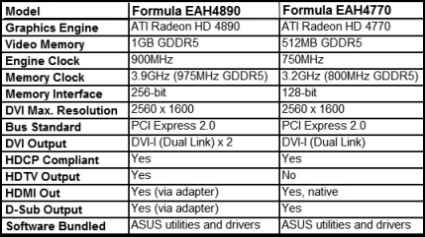 The EAH4770 Formula, with 512MB DDR5 RAM, retails at Rs 7,500, while the higher-end EAH4890 Formula costs Rs 18,250.