Late last year, Rovio released their take on Star Wars with Angry Birds Star Wars, starring their usual cast of pissed off fowl and avaricious hogs dressed up in Jedi robes and Storm Trooper armour. Now, Rovio has released a new image teasing an update that may see the game focus on the Escape from Hoth scenario featured in the second movie of the original Star Wars trilogy.
The image, tweeted from the official Angry Birds Twitter account, shows the Millennium Falcon flying towards the opening of a cave. The image was tweeted with the accompanying hashtags #ComingSoon and #EscapeFromHoth.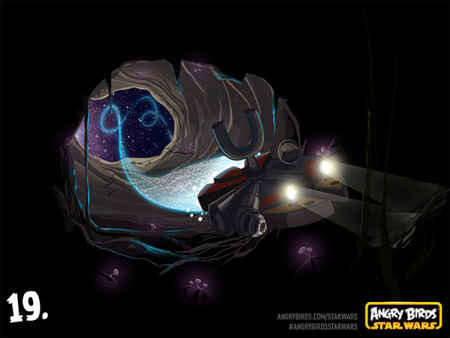 Angry Birds Star Wars had a successful launch last November when it rocketed up to the top of the US iTunes App Store within two and a half hours of its launch. It is available for multiple platforms including iOS, Android and Windows Phone (on the mobile) and Windows and Mac OS X (on the desktop). The Angry Birds series has emerged as one of the most successful game franchises of all time with over a billion downloads and an extensive merchandise portfolio.
Source: Pocket Gamer