Rovio's latest Angry Birds Space game has continued to create buzz worldwide. Angry Birds Space has now notched up 10 million downloads since it was launched last week.
Angry Birds' Twitter account broke the news that Space has seen more than 10 million downloads across the various platforms. The number includes all platforms that the game supports – currently that means iOS, Android, PC and Mac. A Windows Phone version of Angry Birds Space is scheduled to come later.
The new Angry Birds instalment, featuring the conventional bird-throwing formula in a bid to kill pigs, is set into outer space. The game has various new features such as gravitational fields and new angry birds – such as the Space Eagle. The game has 60 initial levels and six new characters and has what Rovio describes a "unique twist in a variable gravity environment".
NASA has partnered with Rovio to promote the game. It recently posted a video featuring an astronaut on the International Space Station describing the laws of physics using Angry Bird characters. The space agency described it "an exciting way to get people engaged with NASA missions of exploration and discover".
Researchers, however, say Android apps filled with advertisements such as Angry Birds Space drain the device's battery faster. According to a report by Microsoft and Indiana's Purdue University, ads (downloading and displaying) along with uploading of user information together account 75 per cent of battery demands of an app. Researchers had taken six apps including Angry Birds, FreeChess and Facebook into consideration. But despite that, the popularity of Angry Birds has continued to grow worldwide. Read a detailed review of Angry Birds Space here.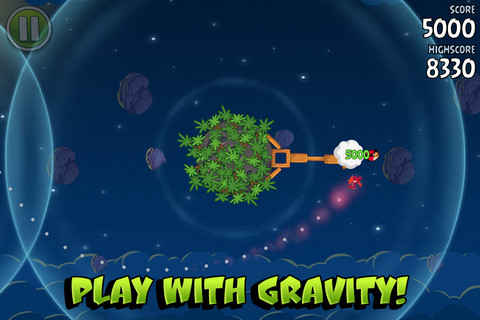 Also read,