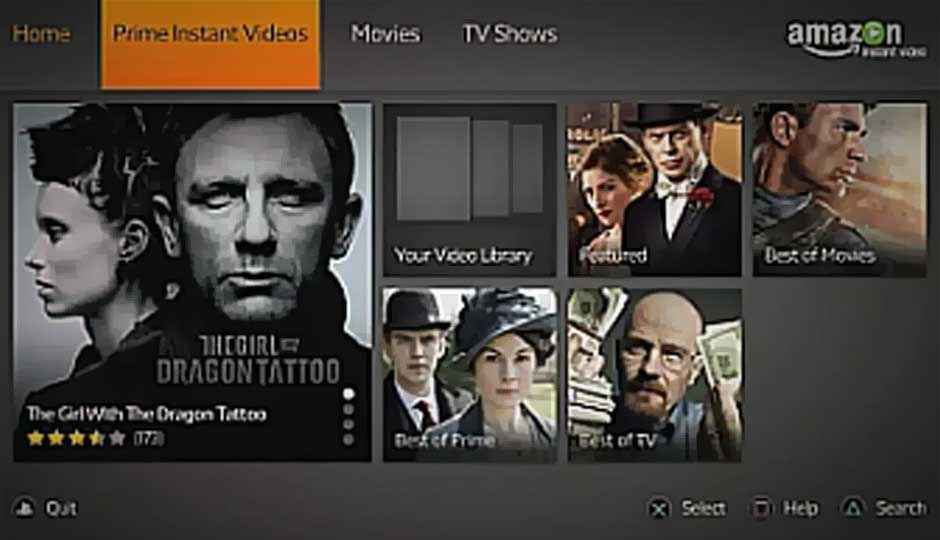 The one place where the PS3 lags behind the Xbox 360 is as a multimedia entertainment center of the living room. Sony seems to be taking this claim seriously and has announced that Amazon's digital library will be available on the console for content streaming.
The Amazon Instant Video app is the first time this video library app will be available to home console users. The Amazon Instant Video app brings over 1,20,000 movies and TV shows to users for purchase and rent. Amazon Prime members (users who pay $79 per year for unlimited access to content) will be able to access all content instantly, with no restrictions and at no additional cost.
The video streaming service gives consumers access to a variety of features such as recently watched, next episode and personal recommendations. Amazon's proprietary Whispersync service also makes an appearance here allowing users to seamlessly switch content viewing from one device to another. To mark the debut of the service on the PS3, all the customers can watch the first episode of more than 100 shows absolutely free.
Users can view Amazon content on the Xbox 360 but the service isn't as wide scaled as the app you can now download on the PS3.
There are a variety of other services available to stream content on the Xbox 360 and the PS3 such as Hulu Plus and Netflix. Recently we saw the launch of HBO Go but the service is exclusive to the Xbox 360. The PS3 also offers a number of other streaming services such as CinemaNow, Vudu, NHL, MLB.TV, NFL Sunday Ticket, SEC college sports, XOS college sports, and Sony Video Unlimited.