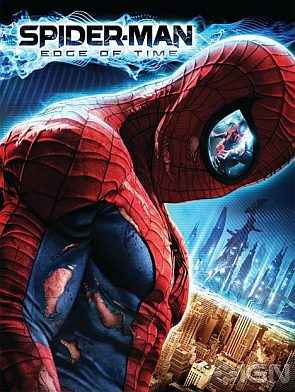 WonderCon 2011 saw an announcement from
Marvel
and
Activision
– a new web-slinging adventure – Spider-Man: Edge of Time. After mixed reviews for the platform-spanning title, Spider-Man: Shattered Dimensions, Activision has once again charged developer Beenox to create the next Spidey offering. Shattered Dimensions writer and Spider-Man 2099 creator Peter David is at the helm
once again
.
The Edge of Time's storyline could be thought of as a chronological sequel, but has been declared as a standalone piece. It has Amazing Spider-Man's Peter Parker die in a time-travelling evil scientist attack from the future – the world of Spider-Man 2099.
Seeing it all happen but unable to prevent it the first time around, Spider-Man 2099's world is turned into a post-apocalyptic nightmare due to the deleterious effects of Amazing Spider-Man's demise. Spider-Man 2099 then joins up with Amazing Spider-Man before his death, to solve the mystery behind the whole episode, and the game ensues.
[RELATED_ARTICLE]The player will play alternately with each timeline's Spider-Man, communicating with the other with a video overlay at the bottom-right of the screen. Effects of players' actions will travel through time as well, with changes at critical moments, or to the cityscape, causing effects in various timelines.
Beenox and Peter David have probably made a wise decision in limiting the game to Amazing Spider-Man and Spider-Man 2099, the two most balanced characters from the previous game - leaving out the specialized Noir and Ultimate Spider-Man.
Presumably, Spider-Man: Edge of Time will just like Shattered Dimensions be available across platforms as well, and is expected to release sooner than later – Q3 2011.