Line is one of the fastest growing messaging apps with more than 230 million registered users. The company has now passed 200 million cumulative downloads from its gaming platform.
Line is celebrating reaching the 200 million game downloads milestone with a 7-day game fest, each day putting special focus on a different game. Line has more than 36 games in its collection including Line Pop (iOS - Android), Line Bubble (iOS – Android) and Line Play (iOS – Android).
Line had crossed the 100 million registered users mark in Jan 2013 and had 200 million registered users by July this year. The messaging app posted a revenue of $132.3 million in Q2 2013, showing a 348.9 percent year-on-year growth and a 45.3 percent increase from the last quarter. The company stated that this was due to "healthy growth" of LINE and its advertising business.
The company gains revenue mainly from its In-game purchases in Q2 2013, contributing 53 percent in all, followed by sticker purchases at 27 percent and 20 percent revenue was generated by sponsored stickers.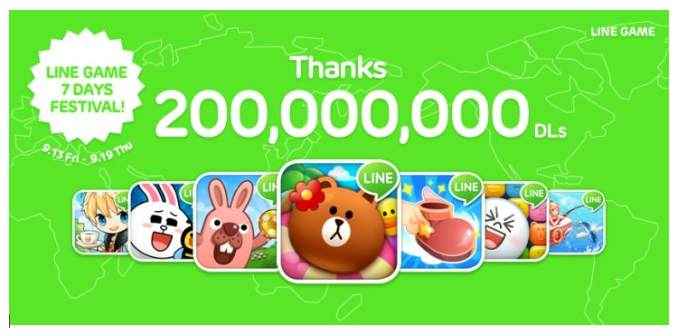 The company is targeting 300 million downloads worldwide by year end. CEO Akira Morikawa says: "We will continue to actively invest in new opportunities and conduct new challenges so as to become a common piece of communication infrastructure worldwide, and aim to achieve 300 million users within 2013."
Line faces competition from WhatsApp which has 250 million monthly active users and China's WeChat that has over 300 million downloads and 195 million monthly active users.