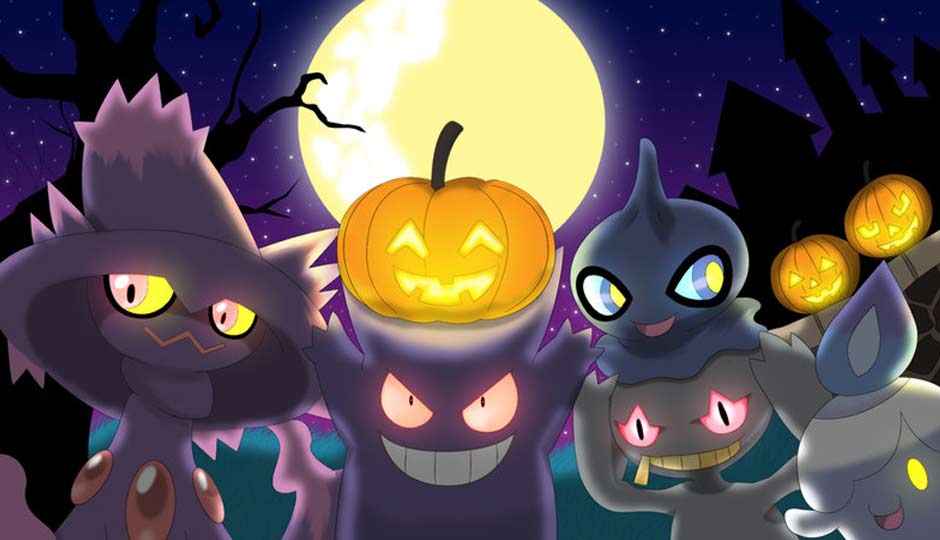 With Pokemon Go already taking over the world, we are about to see real life zombies in our neighbourhood. Theisgame changing augmented reality game makes you get out of your couch, hunt for Pokemons and battle with others in your locality. If you're getting obsessed with this, we offer you a list of tips and tricks that will help you prevail over your opponents in the force.
Get Pokemon Go on your Android device
Pokemon Go, officially, hasn't made its way to India. The company is repressing the release in the country for few reasons (server load balancing, we assume). Although this is the case, the game is already popular in India as people are easily able to get it on their Android device. If you have searched for the game on the Play Store already, you are dismayed already with the search results. However, there are two ways in which you can get the game running on your Android phone. iOS users have no alternative than waiting till the game is officially launched.
1. Take help of your US friend and use his account to download the game. (Safest)
2. Get the APK available online at apkmirror.com, and install it directly on your phone.
Disclaimer: The second method is unsafe and not completely legal. The APK might contain malware which will affect your phone. So proceed at your own risk.
Block Pokemon Go content from websites
Internet today is flooded with Pokemon Go content. If you are the guy who's sick of it and the very mention of the game makes you cringe, here is the Google Chrome extension that will hide Pokemon­Go related content. Named as "Pokemon NO! Pokemon BLOCKER!", it can be downloaded from here for free. Although there are few more extensions that serve the purpose, this one worked the best for us. It selectively removed all the Pokemon Go mentions without affecting the other content on the page.
Restart game frequently for better experience
We will recommend you to restart the game every 15 minutes for better in­game experience. This way the game performs better on Android device. Also, it removes the "phantoms" near you and makes the list of Pokemons stay current.
Start the game with Pikachu
Ideally, the game starts with Charmander, Bulbasaur, or Squirtle. However, this neat hack at the beginning of the game will give you Pikachu (only if you are willing to walk). It only works at the very beginning of the game so new players can try this out. For those who are already playing, you'll have to create a new account. After you've signed up and created your avatar, the game will start. Professor will prompt you to "Catch a Pokemon". Then, instead of catching, walk away from Bulbasaur, Squirtle, and Charmander. Once you've gone far away from these they'll respawn near you and your phone will vibrate. Ignore them and walk away again (in your neighbourhood). After doing it for multiple times, a fourth Pokemon ­ a Pikachu will appear. It takes 4-6 tries for Pikachu to appear.
Evolve all at once
Do not evolve your Pokemons past its first evolution. Stockpile all the waiting evolutions. At level 9 you get a "Lucky Egg", which doubles your XP gained for 30 minutes. Make the most out of this Lucky Egg by activating it and evolving everything you've got. This will give you twice the XP than you'd get otherwise. At level 10 you get another "Lucky Egg" use it for the same purpose. From that point, you get the "Lucky Egg" after every 5 levels. So save your candies for the next Lucky egg.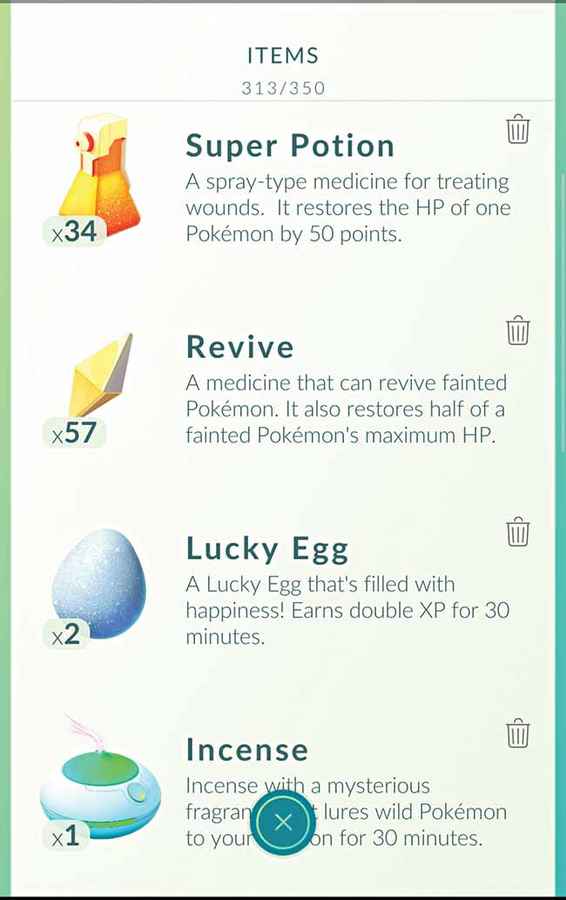 Activate the Lucky Egg only when you've enough Pokemons and candies.
XP Breakdown
100 XP – Pokemon caught
500 XP – New pokemon
10 XP – Curve ball
10 XP – Nice throw
50 XP – Great Throw
100 XP – Excellent throw
50 XP – Checking in at a Pokestop
100 XP – Battling an opposing team's Pokemon trainer at a gym
150 XP – Beating an opposing team's Pokemon trainer at a gym
50 XP – Beat a pokemon in training (a gym already your team's color) at a gym
200 XP – Hatch a pokemon
500 XP – Evolve a pokemon
Save battery while playing
The struggle to save phone's battery for a day was real, and Pokemon Go exacerbated it. The game constantly sucks the battery juice that will not only hamper your gameplay but also leave you with a costly paper weight. We have a curtailed list of tricks that will help you make your battery last longer.
Turn off AR
This augmented reality game will not offer the same experience if you turn off the AR, but it will definitely cut down on the battery consumption giving you some extra in­game time. A little toggle button appears at the top­right corner of the screen while you're engaging with the Pokemon or while at the gym. Toggle it to turn off the AR.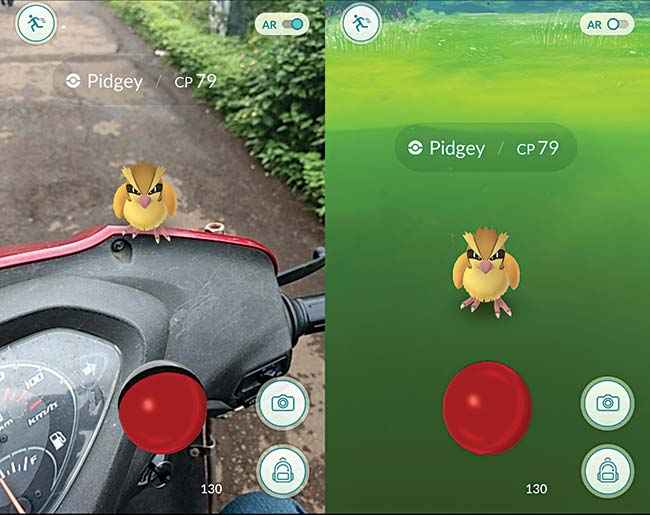 With AR (left), Without AR (right)
Walk with your phone upside down
This is an excellent trick to save your battery while playing the game. While the game is open, if you turn your phone upside down, the screen will go dark with a faint Pokemon Go logo. The game will still run in the background, count your steps, and alert you with vibrations if any Pokemon arrives as you walk, but the screen won't consume any battery.
Turn off music and sound effects
In the game­ settings, you'll find option to turn off the music and sound effects. Similarly, turn off WiFi and Bluetooth, and turn down the screen brightness. Additionally, put your phone on power saving mode.
Choose your Eevee evolution
If you're trying to evolve Eevee, this is the trick you should be knowing. Eevee, usually, evolves randomly to Flareon, Jolteon, or Vaporeon. However, you can control this random nature and selectively evolve it to one of the three.
To do this, before evolving your Eevee, navigate to its profile, tap the pencil button next to its name. This allows you to give it a nickname. Type one of the following nicknames depending on the evolutions you prefer.
Pyro = Flareon
Rainer = Vaporeon
Sparky = Jolteon

Rename your Eevee with one of the above names and hit "evolve". It will evolve to the creature associated with the name.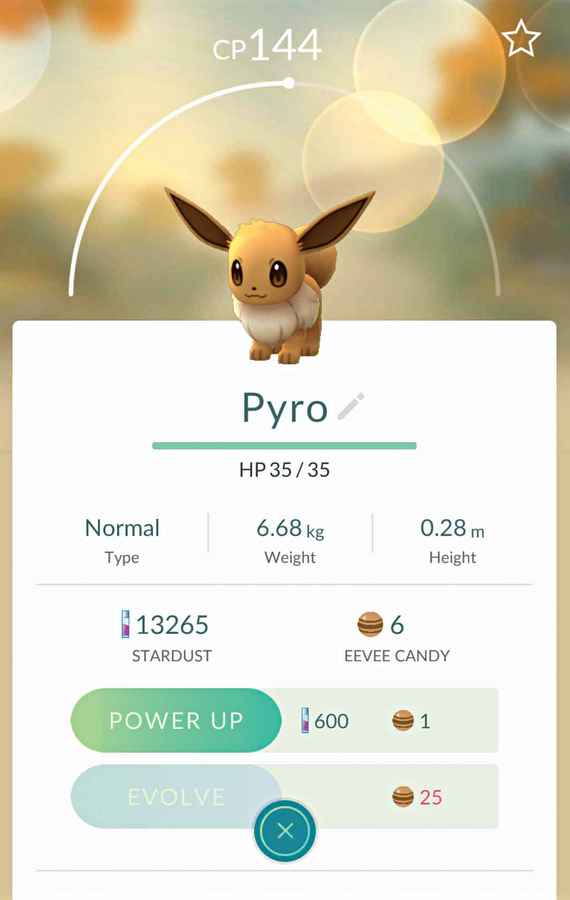 Tap the pencil and type a name.
Use Razz Berry for easy catch
One of the secrets to capture an extremely rare Pokemon is by using Razz Berry. Razz Berry can be found under "Items" on the map. Collect them and use it in tandem with Great Balls and Ultra Balls. Razz Berry slows down the Pokemon that crosses your path, thus, making it easier for you to capture it. Just feed the Pokemon Razz Berry, take out your Pokeball and throw it.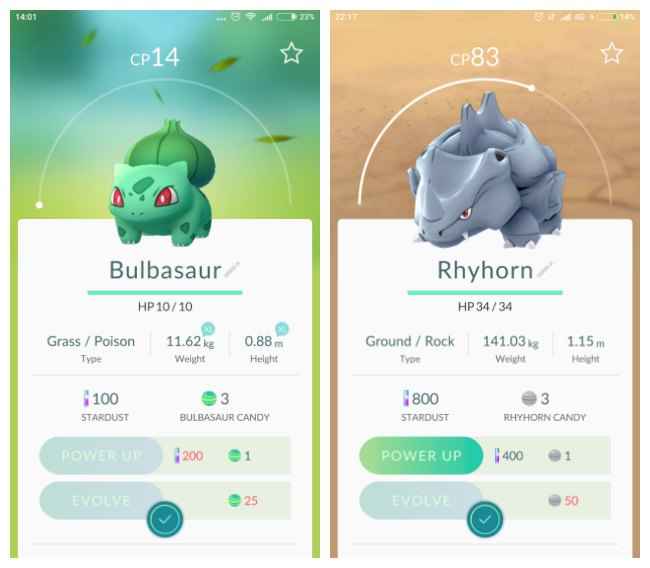 Earn free Pokecoins
Pokecoins are available as a part of in-­app purchases. But, there is a better alternative that will let you earn these coins for free. You have to be over level 5 as this trick asks for one of your Pokemon to defend a gym that your team controls. Leave back a Pokemon to defend one of your gym. Raise its prestige level by winning enough battles at your gym. Additionally, you may also capture enemy gym and leave your Pokemon there to defend it. For every day your Pokemon guards the gym, you are awarded Pokecoins.
Navigate using Nearby Pokemon panel
The nearby Pokemon panel is a handy feature offered by the game. While wandering around, you'll see a Pokemon silhouettes button located at the lower­right corner of the screen. Tap it and you'll find a full list of all the Pokemons in your vicinity that you can catch. The footprints below each Pokemon denotes the proximity; the fewer the steps, the closer the Pokemon. Further, tap the Pokemon that you wish to catch, and it will increase the chance of you finding it. Quite handy when you're out hunting, isn't it?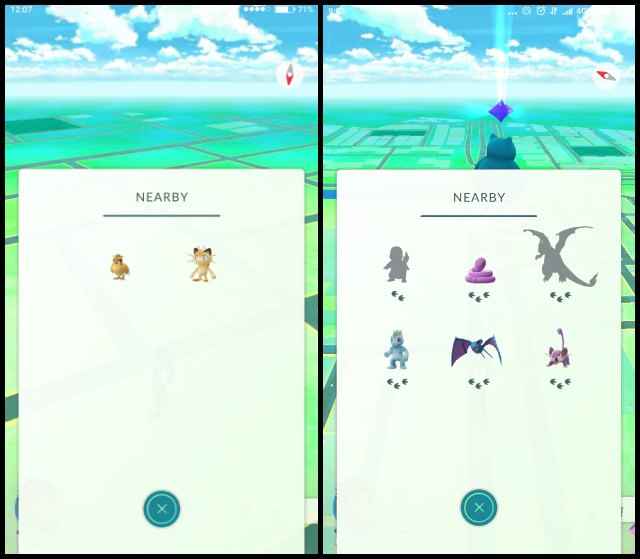 Use Ingress map to find Pokestops
Pokemon Go's location data is derived from Ingress, the company's earlier real­world exploration game. Major players of Ingress have uploaded the location data which is why Pokemon Go already knows the coolest places in your locality. Although the company has slightly retouched the map, it can be still used to find Pokestops. Download Ingress from your app store and create an account. After this, go here and you'll see the map. The white spots that you'll see are XM energy hotspots in Ingress game. The more XM spots in a particular area, higher the chances of finding a Pokemon there.
Efficiently use Incense to catch more Pokemons
Incense is an item in the game that allows you to catch Pokemons while sitting at home, work, or other place. However, sitting at one place and waiting for the Pokemons to come to you isn't efficient. It has been pointed out that if you sit at one place you'll be spawned with one Pokemon every five minutes, when if the player is moving at 7.5 miles per hour he is likely to get one Pokemon every minute. That means you'll have to move 200 meters between spawns. With this method you can easily capture as much as
15 Pokemons.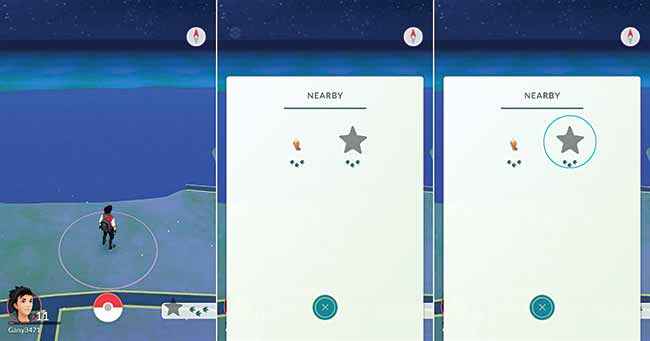 Periodically open the panel and keep checking the footsteps
Deal with common problems
One of the most common problem is not being able to connect to the server. This is very common and most of the time happens because of the overloaded servers. If you face this, just check the server status page here and try again after sometime. If the game says "GPS signal not found", make sure the location services are turned on. If they're already on then wait for sometime. As this error is displayed before the game is connected to the server. However, if it still persists toggle your location services.
If the game doesn't open on your phone, try restarting your device. If it still doesn't work, update the game. Else, delete the game and reinstall it.
If Lure modules and Incenses do not work then try to switch your phone's time to the network time that the carrier assigns.
If the phone freezes while you are catching Pokemons or during the battle, try restarting the game. Hopefully, the Pokemon that you were about to capture will still be there.
Install Pokemon Go on PC with Nox
Nox Emulator is a far better alternative to Bluestacks App Player. It's fast, simple and comes with Pokemon Go preinstalled. Download and install Nox App Player from here.
Launch the Nox player after the installation is complete and head over to Settings. We'll need to tweak some settings to make our system ready to play Pokemon Go easily. Under Settings, go to General > turn on "ROOT". Then, go to Advanced > set "Performance settings" to "HIGH" > Save Changes.
Add your Google Account (Settings > Accounts > Add Account). Go to Play Store and download these apps ­ "Lockito" and "Google Maps".
Download and install Xpose installer from
Open Xpose Installer > Framework > Install/Update. After the installation is done it will ask you reboot. DO NOT REBOOT. After this is done, click on "Soft reboot". Open Xpose Installer > Downloads > search for "Mock Mock Locations" > install it. Again open Xpose Installer >Modules > make sure Mock Mock Location is checked > reboot Android.
After the system started, go to Xpose Installer > Modules > Mock Mock Location > disable "All apps" > Add app > look for Pokemon Go. Now go to the phone Settings > About > tap Build number for several times and you'll be a developer. Under phone settings go to Developer options > check "Allow mock locations".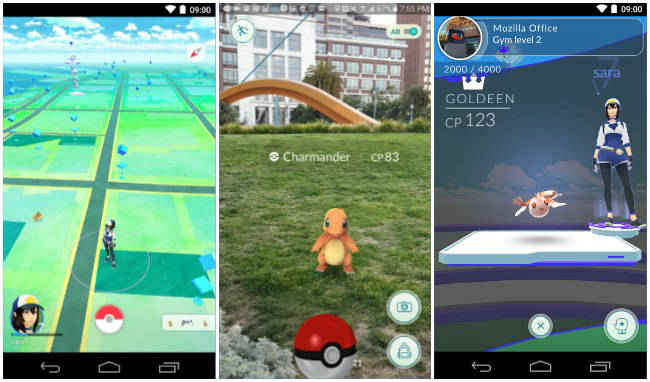 Spoof Location
Spoofing Location is easy.
Click on "Virtual Location" button located at the right side of the emulator > enter your local coordinates > click "Geocode" > hover over the white box at the bottom > click OK.
You're done. Launch and play Pokemon Go from your PC.
Place Lure modules at high­ density areas
With Lure modules users can stay at one place instead of roaming around and finding Pokemons. Although similar to Incense, it has subtle differences. Firstly, you cannot place a Lure module just anywhere. ­ You have to be at a Pokestop. Secondly, Lure modules are more powerful than Incense. Lastly, as Lure module emanates from a Pokestop, any player can share the effect. Placing a Lure module at a high­density Pokestop will attract lot of Pokemons.. A single Lure Module is available for 100 PokeCoins, however, you don't have to buy it. Once you reach a particular level you'll be automatically rewarded one. Just remember to use it wisely.
Other Popular Deals
Samsung A7 2016 Edition Golden

Rs. 18990 *

Buy Now

OnePlus 6 (Mirror Black, 6GB...

Rs. 34999

Buy Now

Realme 1 (Diamond Black, 4GB...

Rs. 12990

Buy Now
*Includes Cashback
​