VR beyond gaming: 7 industries adopting virtual reality tech
HIGHLIGHTS

While the whole world is still pumped about the concept of gaming in virtual reality, we look at some applications beyond pretend-playing tennis that are poised to shake things up.
Virtual reality is a vibrant, computer-simulated artificial environment, touted as 'the next big thing' after social media and at times, the internet itself. We couldn't agree more. But truth to be told, we are even more delighted to observe that it has started to evolve and permeate itself into other, vastly different verticals.
Although the platform is still in its nascent stage of price gouging and assessing the public's reaction, some industries have already tasted its success, resulting in VR now being on the verge of mass adoption. The gaming industry, for instance, was one of its earliest advocates and some might even go as far as to argue that they were the ones who revolutionized the usage of VR on an industrial scale. This might be true given the fact it was the Oculus Rift which made a splash big enough to turn heads, making all of us rethink the potential of this technology.
Gaming, however, only manages to shave the tip of the iceberg that is VR. A behemoth of a concept, it would be technological crime to limit it to just gaming.
Why is VR adoption on an industrial scale a necessity?
Before we delve into the details of which industries are on the path to bringing VR into their daily routines, it's important to know why they should adopt it. The basic description of VR is more than enough to point out why VR is welcomed by open arms. Let's break it down:
1. Gain hands-on experience of real life scenarios in an immersive environment.
2. Words can be so confusing when trying to convey them over long distances. Go for the visual method and show your customers what your product is all about.
3. It can be really tricky to understand what sellers are trying to convey via text descriptions. How cool would it be to try out new products before you really buy them?
4. Be present wherever you want without ever leaving your bedroom.
Quite self-explanatory, eh? Now let's look at the industries which are ready to roll out VR within the next couple of years.
Entertainment Industry
Entertainment has become an integral part of life today without which we would probably lead very bland lives. But if the content stops evolving like it seems to have in recent times, it won't be too far into the future that we start to lose our interest in it. In an age when innovation and development in mainstream entertainment have come to a standstill, VR can only be described as a god-sent angel to rescue this industry. It transports you back to the times when you used to wish you were present inside the frame, except that now VR actually enables you to do that.
TV
3D TVs have become ubiquitous today and we've gotten adapted to it as effortless as we did with TVs a couple of decades ago. 4D, however, takes your TV viewing experience to a whole new level. While the world is still trying to wrap its head around the concept, CNET's CEO Hasley Minor has gone ahead and unveiled his brand new VR broadcast solution which could potentially replace the good old 3D television. It has redefined the way entertainment is mediated in the modern era and opened up a Pandora's Box in terms of the potential of VR.
Virtual Amusement Parks
The entertainment industry is welcoming VR with open arms, if the new Galactica roller coaster introduced by the Alton Towers in UK is anything to go by. This may have something to do with the vapid sameness of theme parks around the globe and the fact that none of them are offering the visitor anything new. Since they couldn't build a 'Jurassic Park', they decided to go with the next best thing in market: VR and invent a ride that promises to make you see stars – quite literally – with their space content.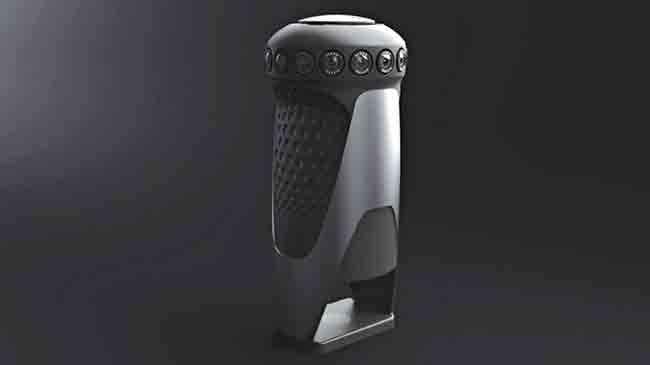 The Quantum Leap VR camera for 360 degree content distribution.
Adult video industry
After TV, the adult video industry is sure to take a liking to VR given how they have never shied away from experimenting with new avenues, to make their content more fun and exciting. In fact it may be a shocker but many technological developments have been "conceived" just to "satisfy" this industry. Much like how a lot of tech developed for the Space Race soon found its way into regular spheres of life, the Adult industry has been "seminal" in much the same way. The 'immersive reality' factor, however, is sure to take the err…viewing experience up by several notches for the viewer (caution oldies!).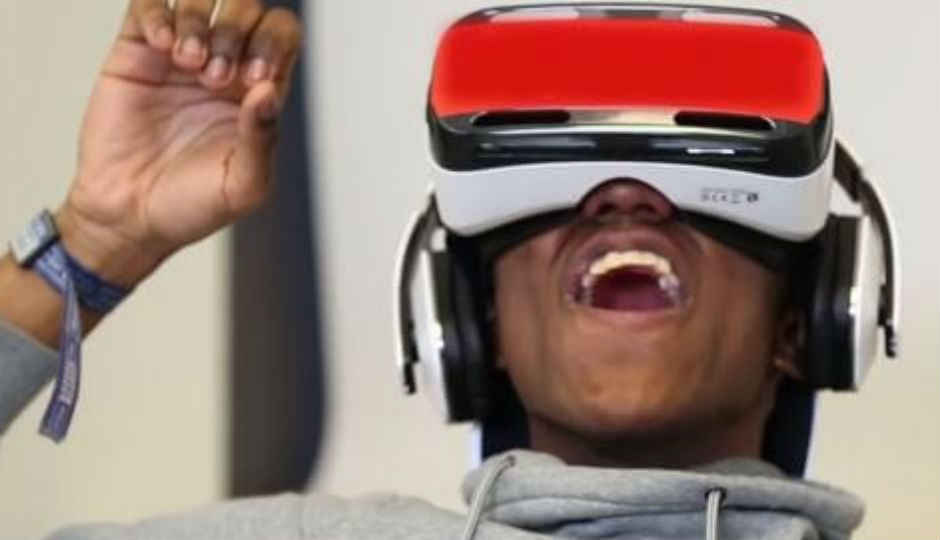 Content creation and development
The content creation industry too, has gotten onto the VR bandwagon. Interestingly, even before the entertainment industry started grappling with the idea, content creation solutions were available worldwide – it's just that people, at the time, weren't aware of the potential of the devices they held. Take for instance:
Click @360 degrees
Modern day entertainment is woven around the very concept of good photography and videography – case in point: Youtube. While cinematographic cameras have always developed content for us, 360 degree cameras have recently started coming into the picture. One fine example is the Nokia Ozo used to record VR-compatible content.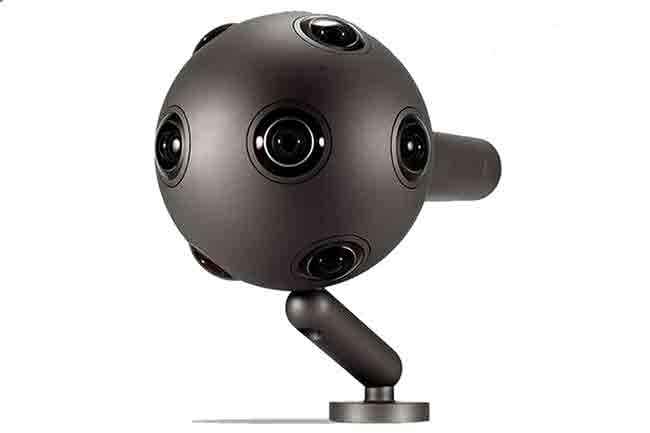 Nokia OZO the new 360 degree camera.
VR development
While every other company is trying to come up with new ways to target the consumer, there is one which is sneakily but smartly focusing on the developer community. Envelop VR has created a whole suite of VR software including VR inside VR development suite, 3D projects and data visualization suite among others. Perhaps they realized: 'if everything is for the consumers, who is going to develop relevant content?' and decided to do something about it!
Medical Industry
Medical sciences have always been on the lookout for new avenues to increase patient support and improve healthcare. The usage of robotics for modern day surgeries, for instance, was a great move. The community had this brainchild even as the world was contemplating how to make our day-to-day lives lazier using robotics, and history repeats with VR:
Let experience this surgery
Medical Sciences display immense potential for migration to VR simulation, and they're getting onto the bandwagon faster than any other industry – a statement supported by the fact that just some days ago, Dr Redmond Burke of Nicklaus Children's Hospital in Miami successfully operated an infant with only one lung and half a heart, a condition which most doctors had rendered lethal and inoperable. In order for the infant to survive he had to connect her aorta with her pulmonary artery and place a shunt from the right ventricle to her only pulmonary artery – a task near impossible to do without visualising the whole surgery. But thanks to a Google cardboard (an idea suggested by one of his colleagues), he did the impossible and used human tissue to regrow the organs besides building the shunt in place.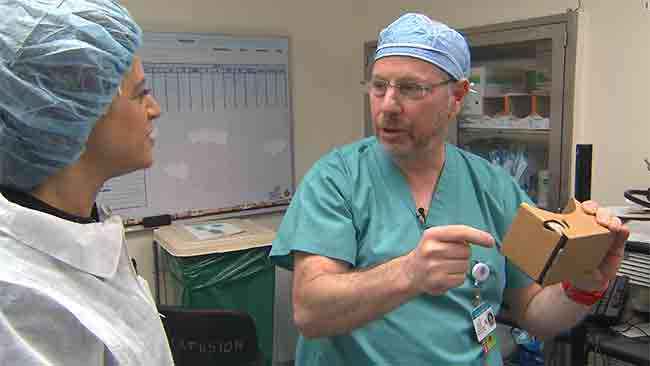 Don't just sit and game
Gaming in VR can be very intuitive, but as they say, there are two sides to every coin. Virtuix has attempted to rectify this miniscule flaw with its new Omni. "Gaming to be healthy", is what Virtuix calls it. They have an Omni gaming platform replete with tracking software and motion sensors which track your gestures as well as movements and respond accordingly inside the gameplay. In other words, they want you to move to play and win.
Another similarly great product is Infinadeck – a treadmill bundled with VR headset and sensors. It is literally infinite, owing to its omnidirectional movement capability and a harness which stops you from running off of the device.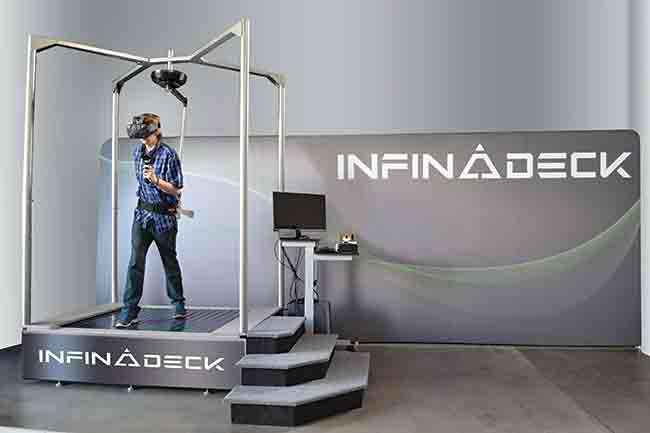 Education Industry
Education is the one sector which has managed to remain unaffected by the magic of VR despite all the technological development surrounding it. We owe this to a very simple fact – the sheer lack of alternatives to the standard learning process – thanks to which our education system still thrives on texts. But all that can change with the introduction of VR. Visualizing what we learn about is as important as learning itself; it enables us to understand facts better. Therefore, we can control content and its mediation. For example, you are studying a chapter on the Battle of Waterloo, wouldn't it be brilliant to be able to simply walk into the battlefield and find out for yourself why Napoleon was defeated? Doesn't it sound like a much more fun of studying history than listening to a teacher yammer on about it? Not just that, you could probably even simulate how an induction motor works.
Field Trip from classrooms
Field trips needn't be on the field anymore. Google Expeditions enables students to visit all the popular landmarks where schools generally take them to. It is a combination of Google Cardboard and StreetView. Exhibit A: Quest Elementary, Florida took their fourth graders to a field trip to 'Mexico' without ever setting foot outside Florida.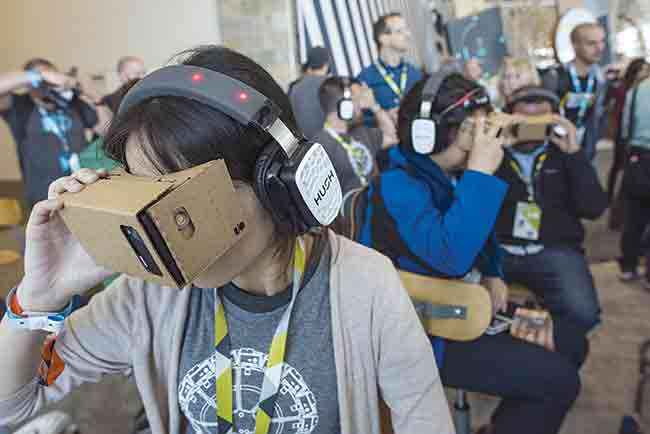 Students trying out Google Cardboard for their field trip.
Be an astronaut from your bedroom
Many companies are coming up with virtual imaging solutions, but none of them indicated how content would be distributed. Besides, of course, SpaceVR, who came up with a virtual video recorder. Once installed on the International Space Station, the content recorded would be distributed to every individual on earth to empower them to explore space beyond what is visible to the naked eye. In short, you can now be an astronaut from the comforts of your own bedroom.
Simulation and Training Industry
Experienced personnel always have an edge over newbies. But how do armies and astronauts or even everyday factory employees gain experience without ever having faced a disaster? There are no wars to fight and we haven't yet created any anti-gravity devices which can create humans or factory accidents to save yourself from. This is where simulated training comes into the picture.
Sergeant get these ladies up and ready for training
The US army has been using simulation training for decades now and are the earliest adopter of VR – even before gaming conglomerates swooped down on the concept. The army has taken this platform to the next level with their usage of haptic feedback systems for providing the soldiers with real world senses – a system which supports VR and in turn provides the user with a precious, immersive experience. So, to sum it up, using simple VR + haptic feedback, a soldier can learn the tricks of warfare without having to go to a war.
Walk on space from earth
Astronauts have to train in hundreds of simulated environments to get a sense of how it feels to be in space. But that too, does not provide the real experience. NASA, however, in collaboration with the US army, introduced the same haptic feedback system and VR module to present to scientists with the same space training. And the results were better than when they used other head mounted display (HMD) simulations.

Better be safe than sorry
Industrial training and safety are a niche area that is yet to evolve. But what if they adopted VR? It would lead to an explosive growth in the industry as real world experience beats textual knowledge, any day. Manufacturing companies should look into integrating VR for simulating various hazardous situations while training new workforce.
Marketing Industry
Everything gets commercialized at one point or another – it's just a matter of time. But what about industries that are already based on this economic model? As content is becoming VR-compatible, products also need to be VR-ready. Imagine how cool it would be to try a shirt and see the VR shop assistant suggesting your exact size, and getting it delivered to you the next day. It's like the garment's designed for you alone.
Try it before you buy it
What if you could try out an article you're buying before you spend money on it? Following this example, Boursin Sensorium tried to sell soft cheese via a new VR commercial. As immersion takes off, we could have a whole lot of products customized only for us.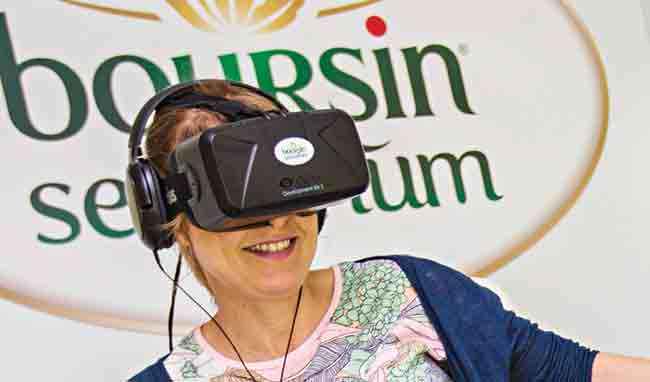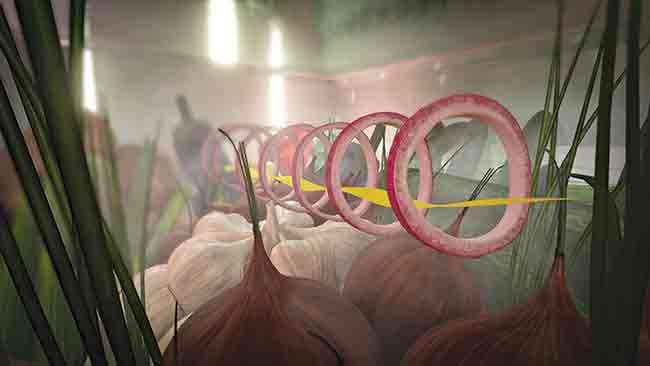 People trying the Boursin Sensorium commercial and how it looks inside the commercial.
Miscellaneous Industries
Knowingly or unknowingly, we have entrapped ourselves in this web called socializing. VR, of course, boosts it up a notch.
Dating from bed
Forget all the running around and mind crunching over what to wear, how to look, and what makeup to use while getting ready for a date. Just pick up the most popular look to go with. This makes us think of the day when virtual sex won't be just showcased inside movies like 'Demolition Man'.
Who's going to win this race?
At the moment, it's a strictly grey zone. But when we look at each industry part by part, we may have a better understanding. Let's look at the data and analyse:
1. The entertainment industry will easily win customers over because they are not charitable enough to hand over content for free and we are not obstinate enough to dismiss watching TV or videos ever.
2. Content Creation and development will be the ultimate winner of this race because…let's face it, no industry can survive without content or evolve without developers onboard.
3. The stagnant industries are education, training and simulation as they are never meant for gaining profits, although people will pay money to buy their stuff nonetheless. But this fund will be directed towards improving the ecosystem.
4. Medical science is a field which can show both positive and negative outputs based on the way people perceive it.
5. Marketing industry will get a kick out of this whole ecosystem, as they can convey their products to a more specific customer set which is really invested in buying it.
Wrapping up
The aforementioned is just the beginning of the virtual reality revolution. Although these industries have been on the forefront of this race, they haven't been able to bring out the total potential of this platform. The day, however, is not far ahead when, if you want to learn a cuisine, you could just work beside world class chefs. What would be really interesting though is the rise of mixed reality, which will enable us to walk between AR and VR without toggling between HMDs.