Virtual Reality is the future of gaming, entertainment and every company wants a piece of the pie. We have seen Sony demo the PlayStation VR for gaming and Oculus is the first company to begin pre-orders for the Oculus Rift. HTC has teamed up with Valve for the HTC Vive and Microsoft has taken the augmented reality route with Windows and the Xbox.
Mobile devices too have been a part of the VR bandwagon, thank to devices such as the Google Cardboard and more. Companies like OnePlus launched the OnePlus 2 using VR, meaning VR tech is popular to say the least. There have been complains about nausea and headaches after prolonged use of VR and those are issues we think developers of this technology are addressing. Samsung has been on the VR bandwagon as well and for its Gear VR headsets has tied up with Oculus. Today it showed us the Samsung Gear VR, which is priced at Rs. 8,200 and will only work with the Galaxy S6, Galaxy S6 Edge, Galaxy S6 Edge Plus, Galaxy Note 5 and the Galaxy Note 5 dual-SIM. So, unless you own one of these smartphones, you are better off looking for other VR headsets.
Coming to the build of the device, there is a housing up front where you can place the smartphone. The audio jack of the smartphone is exposed and you can attach your own headphones here. Or you can simply connect a pair of Bluetooth headphones to the smartphone. The Gear VR headset is made mostly of plastic but feels quite sturdy. They do have controls on the right side, which you can access with ease. I am one that wears glasses and one of my biggest concerns was whether the Gear VR headset would be comfortable or would I need to remove my glasses to enjoy the VR. The good news is that if you wear glasses, you can still wear the headset. The downside is that I could feel my glasses pressed against my face and that might not be comfortable for all.
Coming to the experience, the headset fits very well but after my third demo, the Samsung Gear VR headset did start to feel a bit heavy. There were no interactive demos up for grabs, just a pre-rendered demo that gives you a glimpse of the future and potential of VR technology. There was a space dog fighting game, 360-degree worldview and immersive experience from the film, The Martian, and a few more. All I could do was move my head around and see these environments that I was immersed in. What I am looking forward to is playing a bunch of VR games that are already available for smartphones and enjoying a few feature films. Yes, VR has the ability to give you the feeling that you are sitting in a theatre and watching a movie even though it is playing on your smartphone's small screen.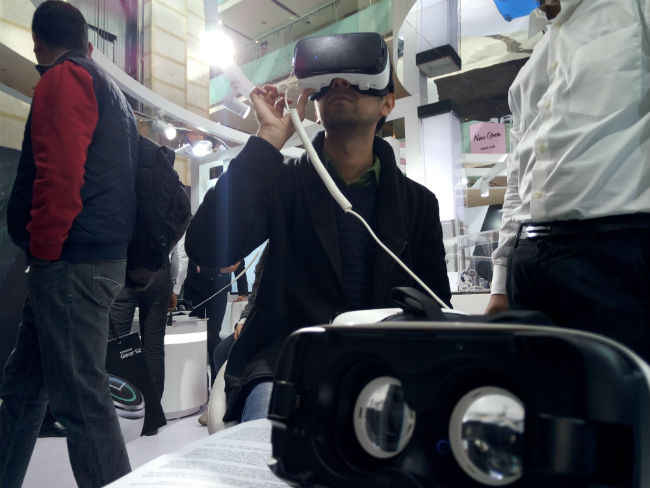 Considering the price on offer (the Samsung Gear VR is priced at Rs. 8,200) it isn't expensive. Some will argue that there are cheaper alternatives out there and I agree with them 100%. But there is a reason that Samsung tied up with Oculus to bring VR to consumers and we are waiting to see how this pays off.
I have had the opportunity to experience a bunch of VR games and I can tell you that the experience is a mixed bag. Some games felt really immersive where as others, which were essentially ports of console games, made me very nauseous.
There is little more to say after experiencing the same 3-minute demo three times. The quality of the headset is good and we will definitely put it through its paces and give you an in-depth review of the Samsung Gear VR. We must say one thing though, the future of VR looks to be promising.