Digit Rating: 71/100
Pros:
Good option for first-time VR users, Procus Pro has integrated headphones, Cardboard brings ample free apps
Cons:
Optics are not of the best grade, Feels basic in comparison to Samsung Gear VR
Procus, the India-based company, has been one of the notable names around in the affordable virtual reality headset segment. The company has so far come out with two virtual reality headsets till now, both based on Google's Cardboard technology. While the Procus One VR headset is the more affordable one, it offers lesser paraphernalia around it than the Procus Pro. We've played with them for a while, found reasons to love them, and found some more to still have doubts about their excellence of being inexpensive budget VR headsets that give you the perfect beginner's VR experience.
Let's begin with Procus One. The Procus One has a fairly simple layout, covered in black livery. It resembles Samsung's Gear VR in terms of its overall dimensions and build quality, but entirely lacks buttons for controlling content on the screen. Fundamentally, while the Gear VR is powered by Oculus, the Procus One is powered by Google Cardboard. It weighs 380 grams, and supports smartphones that include gyroscope, with screen size between 3.5 inches to 6 inches. In comparison, the Procus Pro is a more well-equipped VR headset. The main module (the one that sits on your eyes) is slightly broader but sleeker, thanks to good designing by Procus. It houses a heat-relaying outer casing, an integrated pair of headphones with a 3.5mm audio cable, focal length and pupillary adjusters to suit your eyesight, and volume control and a single action button to the bottom of the headset. The button placement is not ideal, but you do get used to it eventually, albeit somewhat grudgingly. Both offer ample cushioning to ease the weight of wearing a pair of oversized, specialised spectacles on your eyes. There is nothing exceptionally uncomfortable about it, neither is there anything really special about them.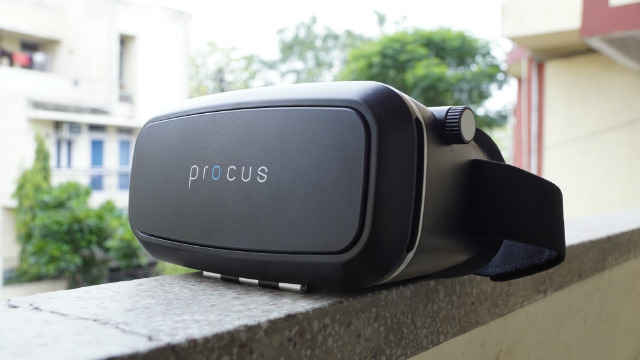 The Procus One has a magnetic attachment button for the cover that keeps the phone inside, while the Procus Pro uses a clip-based unlocking procedure that is easier to use. In all practical purposes, both are equally efficient. Focussing on the Procus One first, it is essentially as barebone as you would expect your first VR headset to be. The outer casing that holds and protects the device inside has openings on the sides to allow charging the device or plugging in headphones when you see VR content, which is a neat addition. The mechanical adjustments to focussing feel somewhat limited, and with my poor eyesight (I have astigmatism), I really struggled to find the sweet spot of focus for my eyesight. This is a very fundamental and crucial obstacle that you may face. It is fine in terms of wearing comfort, though.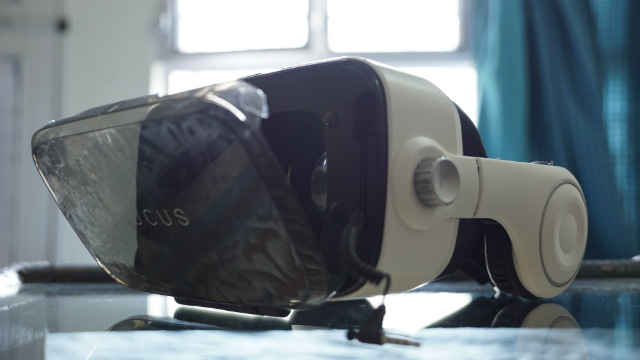 The Procus One is only decent to view 360-degree videos on. The field of view is restricted, which makes it particularly difficult to play games with. While videos also look restricted and you will end up turning your head more than what is ideally comfortable, they are still watchable. Playing 360-degree motion-based games become difficult, as you will end up being shot down by enemies from corners that are barely accessible and in focus, in more difficult levels of games like Deep Space VR (Cardboard, Free). Watching compatible concerts do attempt to offer the theatrical experience that VR is capable of offering, but it would have been much more comfortable had the field of view been wider.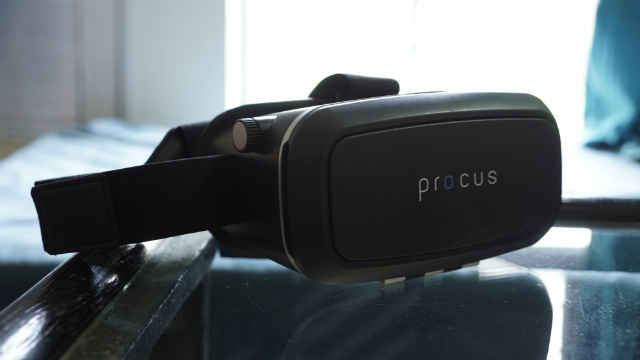 Most of us have first encountered VR and 360-degree content with Google's Cardboard, and the experience of content consumption on Procus One is somewhat comparable. Moving on to the Procus Pro, the experience is considerably better. For one, it is more comfortable to wear. The field of view is wider, which in turn allows you to adjust the pupillary focus more easily than in Procus One. The Pro also houses a slot to plug in your charging cable, and comes with integrated headphones. The headphones are not really great, but you can make do with them for short spans of VR gaming. The presence of dedicated volume controls, select button and call answer/reject button add to the deal.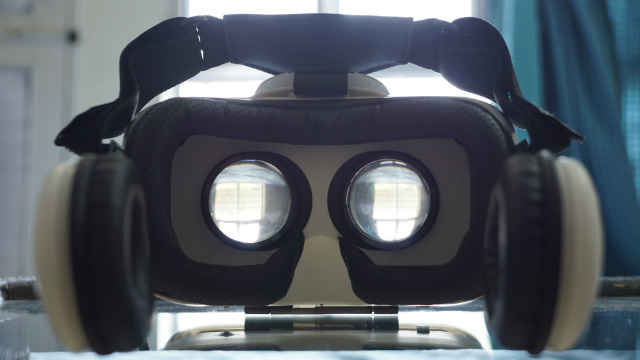 At Rs. 3,699, the Procus Pro is a sweet deal for anyone aiming for the very first VR experience. The Procus Pro is reasonably comfortable to wear, although you should plug in your own pair of wired or Bluetooth headphones for better audio experience. The construction makes plugging in your own pair of headphones a tad difficult, which is a con for this particular pair of headphones. For basic VR gaming experience, we paired a smartphone with a Bluetooth-enabled mobile gaming controller to play Hardcore. The experience is fairly enjoyable, although you will miss the variety of motion-based free games that Samsung provides for Gear VR. The overall quality of optics is not the best, but then again, for the price you pay, this is great value for your first VR experience.
The Procus One is the very first step towards marginally enhanced Google Cardboard-powered VR experience. The Procus Pro is the one that creates an impression, with decent build quality, better optics and an overall better experience of VR content watching and/or gaming. The affordable pricing adds to the deal, and I would love to own the Procus Pro within a stringent budget. Procus has been one of the first movers in the field of VR in India, and has all the potential to grow in quality and numbers.
The first VR headsets from Procus is rather basic, but for what they aim to provide, it is job well done for the Chandigarh-based firm.