Have you ever sat day dreaming? Imagining a world that doesn't exist anywhere except in your head? Isn't that the beauty of video games? Donning the role of a war hero, or an alien or a Bandicoot and enjoying the spoils of living in a world that is only virtual. Beautiful isn't it? Well, how about taking it a step further? You not only delve into this world through a two dimensional TV but immerse yourself. Not watch Bruce Wayne put on his cape and cowl on a screen but experience it first hand! That's what I experienced at the India Gaming Show 2017 held at Pragati Maidan, New Delhi.
The Sony PlayStation VR is launching in India in March and at the event I had the opportunity to spend some time with Sony's VR headset. The PS VR bundle with the PS4 camera will cost Rs. 41,900. PS VR bundle without the camera will be made available later this year at Rs. 37,990.
Let's kick things off with the headset itself. It doesn't feel heavy when you wear it. The weight is well distributed throughout. The best part about the headset is that if you wear glasses, you will still be able to wear the headset comfortably. I tried on the Oculus Rift at the event too and it was slightly uncomfortable because of my glasses. So good points to PlayStation here.
Secondly, there is a small adjustment wheel that you can rotate to make the headset tighter. Despite tightening it completely, there was still a little light leaking into the headset but I think this is because I was sitting under a direct source of light and a lot of people had tried the headset before me.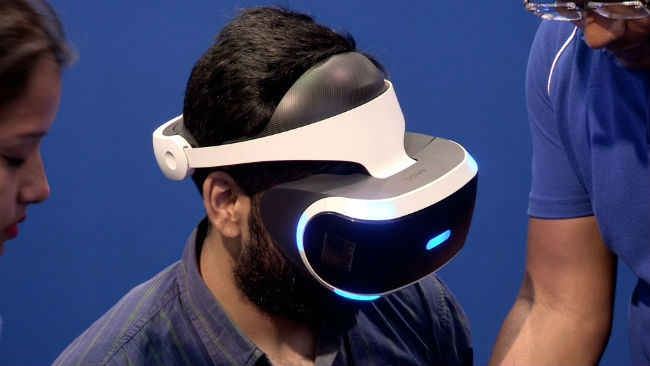 Coming to the games there were six demos available but I experienced two of them – Batman Arkham VR and Resident Evil VII: Biohazard. I experienced the opening sequence of Batman: Arkham VR where you put on the cape and cowl of the caped crusader. It's quite a feeling watching yourself in a mirror and looking at Batman instead of your own reflection.
The Resident Evil demo was the same that was released before the game hit store shelves and I have to tell you, despite anticipating the ending where Mr. Baker catches you it still made me jump. I can only imagine what it must feel like playing the complete game in VR.
Overall, you will end up paying a lot more than 41k if you are interested in enjoying the PSVR. The device works best with the Move Controllers and if you don't have them, then that's an investment. Add another 30k at the very least if you don't already have a PS4 and you are looking at quite the investment.
The bottom line is this. I don't see myself wearing a headset and gaming for hours on end, so unless you want to experience technology in its nascent stage you may want to stay away from VR for some time. If you are however a PS4 or PS4 Pro owner and are looking to experience VR games then yes, you can consider it. If Resident Evil is anything to go by, then the future of VR gaming looks bright.