How many of you remember this show called Johnny Quest: The real adventure? You know, the one where this group of teenagers strap themselves in the virtual world. It was one of my favourite shows growing up and I always imagined what it would be like to experience something similar in the virtual world. The technology may exist today but we aren't close to having that experience in every household. Don't get me wrong, there is no dearth of content for the virtual world. It's just too expensive and not for everyone.
At Build 2017, Microsoft's annual developer conference there is a lot of talk about AI, IOT and how all of this will come together in a cloud first, mobile first world. I, however, am more interested in the workings of Microsofts HoloLens and how that fits into this ecosystem. Some of the demos I experienced were absolutely fascinating, but, unfortunately I wasn't allowed to shoot a video of some of them. One of my favourite experiences was a game where a group of people use the HoloLens to have a bird's eye view of an island and another bunch of players put on their Acer VR headsets to visit the island, trying to navigate it. The players using the HoloLens, guide the VR headset enabled players, to reach the center of the island and launch a rocket. The premise is simple, but it's the execution which is so entertaining. At all times the HoloLens players know the position of each player on the map and can guide them to perfect synchronicity to solve this deviously simple puzzle.
Player using the hololens to navigate the map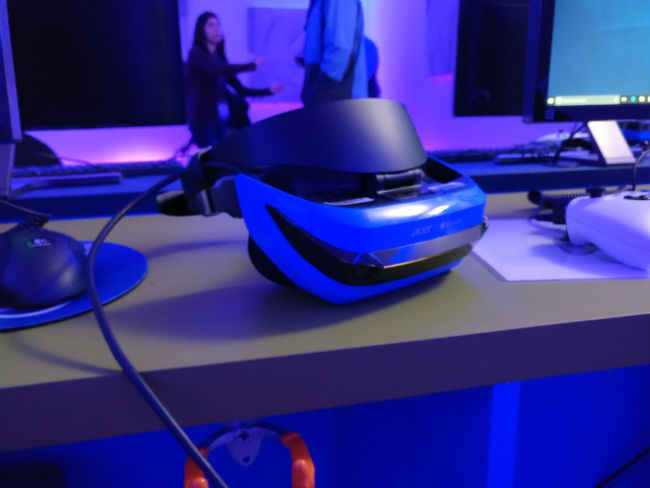 I used to Acer headset to run around the map
Let's take this game and place it in a real world scenario. How many of you have played Mystery Rooms? It's fun right? Solve the puzzles in one room to get out. Imagine if the HoloLens and VR headset combo was added to this. How fascinating and interesting would it become to solve the mystery? Or, do you remember the board game Scotland Yard? Imagine how much fun that would be in the virtual/mixed reality world catching the criminal.
Applications of AR and VR go beyond gaming and entertainment, and that was evident at Build 2017. There are headsets which let you run Windows 10 apps in the virtual world. There are some apps with HoloLens that map a golf course and tell you the trajectory of the players' swing or help you map a room. Imagine entering a construction site for a house you wish to buy, and with the power of mixed reality, you convert an under construction project into your final house? Or, at the very least visualise what it looks like.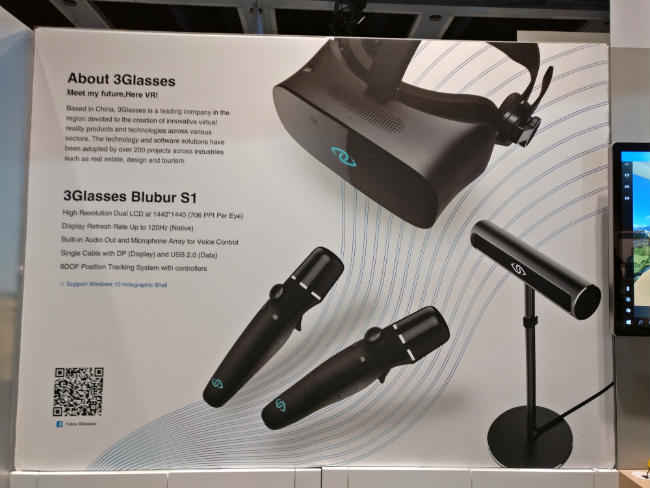 The 3Glasses headsets lets you run normal windows apps in the virtual world. You can play your games in VR using this headset too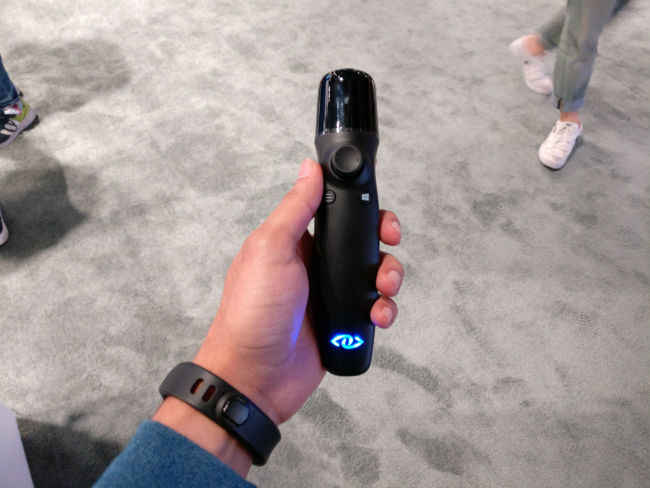 The controller is very similar to the Nintendo Wii remote control or the Playstation Move controller
Despite the awesome feel you get when experiencing these demos, a lingering question remains, when will mixed reality become a reality? When will we be able to do all these cool things from the comfort of our living rooms at an affordable cost. This is a question only headset manufacturers can answer. With the likes of the HTC Vive costing a whopping Rs. 90,000+ in India (not counting the cost of the powerful PC you need to run it), we think the reality of mixed reality is a distant one. But, before you leave this story disappointed, remember one thing. Experiences like the PlayStation VR have helped gamers translate from playing as the caped crusader in numerous Batman games, to finally putting on the cape and cowl thanks to Batman Arkham VR. Sure, the entire experience feels gimmicky after some time, but don't tell me you didn't get goosebumps when you put on the cape and cowl in the virtual world and looked at yourself in the mirror (all in game of course).
Everytime I think of a practical implementation of what HoloLens and mixed reality are capable of, I'm reminded of Minority Report. Sure, we have all seen Pranav Mistry's 2009 Ted talk about the thrilling potential of Sixth Sense technology and its been 8 years since. Have we come close to making mixed reality a reality?
Despite talking to numerous developers here no one can give me a concrete answer to that question. There are some limited use case scenarios where mixed reality exists in our world. A good example of this from a consumer perspective is Smaaash, but hey, I'm looking forward to the day I can enjoy this with my family in the comfort of my living room.