When it comes to "experiences," every device maker's goal has been to make it more and more immersive. Smartphone manufacturers call their paltry 6-inch displays immersive, overlooking the fact that many users would probably have a bigger display (in either a laptop or monitor or even a TV). Game manufacturers for PC and consoles have been working on making games more fluid, better detailed so as to make the experience more "immersive." Then in 2015, the world got wind of Microsoft's HoloLens, a mixed reality headset, opening up a whole new world of reality to explore.
Three years have passed since and AR/VR & Mixed Reality headsets are finally starting to make their way into consumer markets. HP was kind enough to hand deliver their newest Omen X VR backpack machine (which you can sling around in a backpack) along with their Windows Mixed Reality headset. Mixed reality implies that the headset is capable of mixing both Augmented and Virtual elements into one reality. I always wondered what it would like to watch a movie using such a headset. In fact, I've wondered about this for many years and finally, I had the chance to find out.
Setting up the Headsest
So I used the Omen X for this whole exercise, but the headset should work on any PC with a graphics card (and other specs) that support VR. Getting into the "experience" was literally as simple as plugging the headset into the Omen X's HDMI port. The headset's cable has a display port cable on one end (that goes into the headset) and an HDMI+USB 3.0 cable which goes into your machine. Once you plug the headset and put it on, Windows will automatically recognize the headset and get the setup going. Kinect may have tanked as a product for Microsoft, but the industry did learn very valuable lessons about space constraints and how it can impact "experience." I liked that I had the option to map my room during the setup, where the app would tell me if it was enough area to use the headset safely. In my case, my room was too littered, so not enough space. The good news was that I could still use the headset in a seated position. A quick calibration (which lasted less than a few seconds) later, I was "inside."
First Words in a new World
"Whoa!" I found myself repeating the word a few times as I turned my head, mouth gaping. It was like being inside a really poorly produced cartoon from back in the late 90's, when they had just started to get the hang of textures, but hadn't really got it right. There was a little "shopping bag" with the Windows Store logo and a bunch of other windows. Using the controllers, I "walked" around the house and explored elements. The movement was surprisingly easy and becomes intuitive after a few minutes. After moving around the house (and trying to jump out into the water, which I couldn't) I happened to chance upon what looked like a room designed to be a home theatre. Quickly hobbling over, I saw in front of me the Films and TV app, which allowed me to load up a movie file from my USB drive and before I knew it, I was sitting on my couch, watching The Dark Knight Rises on what felt like a semi-theatre grade screen. I had some trouble getting the sound to come out of my 5.1 home theatre setup, but I'm sure I'll figure it out when I spend more time with it.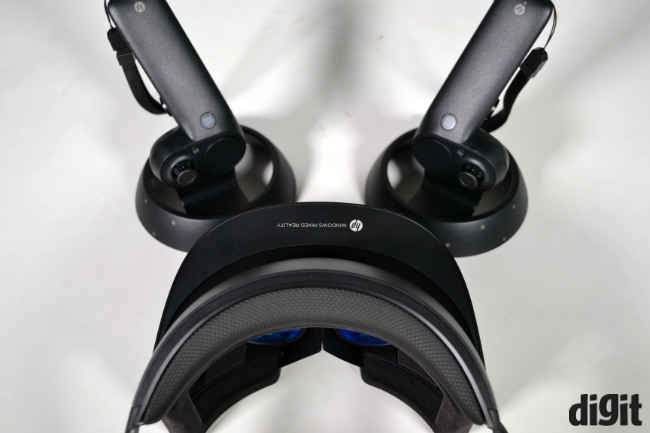 Gaming in Mixed Reality
Watching movies through the HP Windows Mixed Reality headset is fun. Definitely, something I could get used to. However, what was even more fun was playing Super Hot. This is a game where time stops when you stop, and it starts to move when you move. You're being attacked by a bunch of red dudes, so you have to strategically "time" your movement so as to get them before they get you. I've played the game on the Xbox One, but playing this in AR was an experience like no other. Being immersed in the game takes the "experience" to a level that I am yet to articulate into words. It definitely increases the fun factor by a considerable amount, changing the engagement from "the front" to "all sides." This is something I can so totally get used to and believe me when I say this, so will you.
Closing Thoughts
When I first put the headset on, the ease of setup was definitely impressive. What was weird though was the fact that the headset lacks any kind of diopter adjustment, so as someone who wears glasses, I couldn't see anything clearly with the headset on. This is because I thought I couldn't wear it without taking off my glasses, but I was wrong. The headset has been designed to accommodate most reasonably sized glasses and wearing the headset for long durations shouldn't be very uncomfortable. You do have to screw the thing on tight though, as any little movement of the headset does cause the image to become slightly hazy. Regardless, I know that every free evening I have until the day HP takes back this review unit I am going to be spending watching more of my favourite movies and playing games. Probably going to go buy Doom VFR now.