Let's face it, reality is boring. And sometimes, we do feel the need to transcend to an alternate reality, don't we? To leave our schools, colleges and work behind and dive into a completely different world with its own rules. Well, that's no longer a farfetched dream. For the last few years, Virtual Reality and Augmented Reality technology has become much more than just a concept in the labs.
Chew on these facts: the HTC Vive started shipping in April, Steam has a dedicated VR section on its store, the Lenovo Phab 2 Pro is built with AR capabilities, Xiaomi launched its own Google Cardboard inspired headset and there are many Indian VR startups who are doing brilliant work in VR and AR at a national and international level. Seems more like a mainstream medium now, doesn't it?
On that note, it is also evident that VR and AR development are serious career choices right now, with the technology just beginning to grow in our country. And as with any emerging field, there is a dearth of information regarding how exactly should one approach this. Like any other field, this does require a specific skillset, has a specific demand and knowing all of this will only increase one's chances of actually making it big in this industry.
The Roleplay
Aspiring to become a VR or AR developer is commendable, but not enough to even get started down that road. Remember, when some of us as kids used to say that we want to become scientists? We were never specific. It was always just scientists, not chemists, physicists, biologist etc. This is not that different, except for the fact that this decision for VR and AR needs to be taken from the get go.
Why is it so? Because this field consists of work that is extremely diverse, ranging from story creation to audio expertise to graphics and 3D design and even more. We are over that phase where work in VR and AR solely required technological expertise. Now a fair share of creativity is also involved. With the rise of these technologies more as experiential mediums, students can choose from both technical roles that involve programming, hardware, algorithms and game development, as well as non-technical roles in the field of business, management, marketing and operations.
Chandan Singh, VR Head, SmartVizX (a VR design studio), says "An AR/VR project, like any other real time rendering project, has two sides: art and tech. Granted, one person can also make such a project, but it's better done with people who are specialists in their fields. So we need 3D artists to make the art and programmers to add interactivity and functionality. Creating high quality AR/VR experiences require carefully created and optimised art, and a good understanding of the human perception system as we are trying to fool the brain to think that it's looking at something that doesn't really exist. If I had to broadly classify the roles students can target to achieve, there will be three of them: artists, programmers and designers."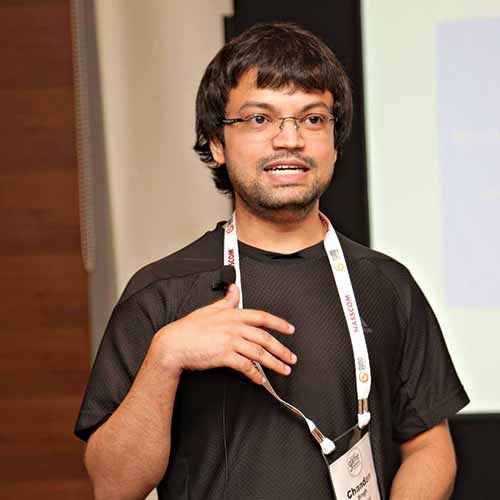 Chandan Singh, VR Head, SmartVizX
Based on inputs from several industry experts, we can say that some of the significant roles in the VR-AR industry are as follows:
3D Artist – Content Coordinator
Senior Technical Artist
3D Artist
VR-AR Project Manager
Account Manager
Marketing Concept Artist
Social Media Specialist
Web Developer
Unity Developer
Software Engineer
Interaction Designer
Frontend/Backend developer
Design technologist
Graphic Designer
VR Game designers
Oculus developers
VR/AR programmers
Augmented reality app designers
FX technical artists
Gameplay engineers

Abhishek Gupta, Co-Founder and CEO, GreyKernel (a VR content outfit), puts forward an interesting way to decide which part of the VR development you can be a part of. "The choice effectively follows the life cycle where the first skill set needed is of a Storyboarding Artist - One who conceptualizes the entire script, story and requirement for end visualization. Then on the basis of the input received, a 3D artist would design the environment, characters, assets required for the experience. Lastly, once the 3D environment is ready a VR Programmer would utilize the 3D environment to prepare the VR/AR experience basis the need of the story". He adds, "Although every role for VR/AR is equally important/in-demand, but still students from different streams/qualifications could try leveraging their interests to find a suitable career in VR industry. All the creative content writers with a great sense of scene building and strong photographic imagination usually fits well for role of the Storyboarding Artist. Creative Designers/Developers having decent understanding about the global art building/styles should aspire for a role of 3D Artist. Just in case you have a strong affinity towards gaming and logical programming at the same time, VR Developer is the role for you."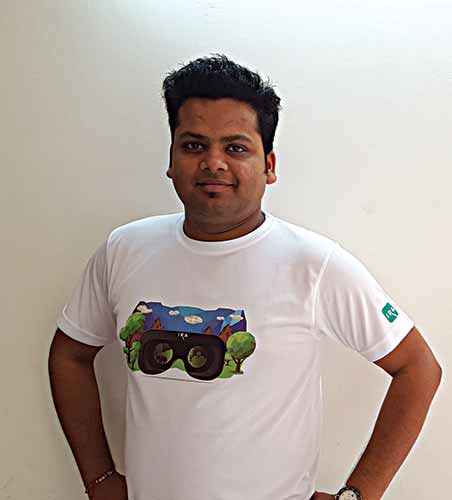 Abhishek Gupta, Co-Founder and CEO, GreyKernel
The Training
Once you have a role in mind, or even a general area within VR and AR where you would like to work, it's always better to start preparing early for it. As Mr. Sushant Baliga, CEO, SpectraVR explains, "India is an opportunistic ground for the AR and VR technology. However, the same is at a very nascent stage, especially in the educational department. There are universities abroad that provide short courses in the same like the Stanford University, but those are also at a very preliminary stage." He further adds, "Developers largely include 3D artists, Unity managers, programmers, game developers, and app developers. Non-developers include cinematic VR creation, i.e. camera knowledge, shooting techniques, planning, project management, business analysts and more. Though the best way to get yourself savvy is self-learning. Keep oneself updated on the latest VR trends, follow VR blogs, forums, attend webinars, conferences, go through YouTube videos and get some hands-on experience."
It is true that resources and actual courses in India are quite scarce now. There are some international universities that do offer courses. University of Illinois at Urbana-Champaign has a course, CS:498, dedicated to understanding the fundamentals of VR and providing practical experience to students so that they can learn how to create better VR content. Deakin University from Australia also has a dedicated VR Lab, which makes it a good destination for studying VR. Apart from these, there are quite a few online courses available. Layout VR is a provider of one such introductory course that focuses on enabling you to develop content for Oculus Rift and Vive using the Unreal Engine 4. Also, Udemy has a large number of courses on this topic, with specialisations ranging from creating virtual reality movies to converting your existing 3D projects to VR. The prices on Udemy range from free to up to $50, so give the free ones a shot before you pay for the course of your choice. On the Augmented Reality front, Coursera offers a course titled "Getting started with Augmented Reality" that is created by Institut Mines-Télécom, which is France's premier group of engineering and management graduate schools.
The push to create a better situation for VR and AR learning in academic institutions has to come from the VR and AR content industry. "Unfortunately, there aren't any specific courses offered by any of the universities so far in Indian-sub continent which specifically cater to career building in VR/AR industry.", says Mr. Abhishek, "But as we speak, ecosystem is getting better every day and the universities are trying to establish partnerships with young startups working in VR/AR space to build a curriculum specific to advance visualization. We are also specifically in conversation with some of the Tier-I institutes in India/Singapore region for creating some VR specific learning modules".
Also, if you were looking for a reliable source online to get some valid qualifications in VR, Udacity has recently launched its Nanodegree for VR developers. This specialised course was built in collaboration with Google VR, HTC Vive and Upload to create a course that is based on the Unity engine. Also, if students happen to have an HTC Vive or an Oculus Rift available, they can opt for a high concentration track on 'High Immersion VR'. The course, over a period of six months, covers skills like Mobile VR, Desktop VR, Game engines, VR user interaction design and several important VR platforms like the HTC Vive, Oculus Rift, Google Cardboard and even Daydream. The course also takes you through several projects that you will be building during the course, ranging from building your own apartment in VR to a full scale VR app. For more details, check out here.
The Armory
Before you go for a full fledged course, or even if you have started learning more about the basics, you should be aware that there are a great number of tools out there for both sides of the game - technical as well as artistic. And that is one area where there is no dearth of resources. In fact, self learning on these tools using online resources is actually the best way to gain expertise in VR and AR right now. There are mainly two categories of tools that are required for non-capture type VR content. Modelling tools let you create the world and things in it, and then you move those to real time engines to create the entire VR experience.
Here are some of the most popular real time engines in VR and AR development right now:
Unreal Engine: In the game development industry, Unreal Engine needs no introduction. From a platform that lets you create experiences varying from retro-looking 2D platformers to full scale AAA realistic games, it is no surprise that they dived into VR when the time was ripe. They have an active marketplace from where you can obtain the resources to be used in your project, along with a very active community that creates a lot of tutorials and demonstrations. And if you don't know this already, Unreal Engine is free to use.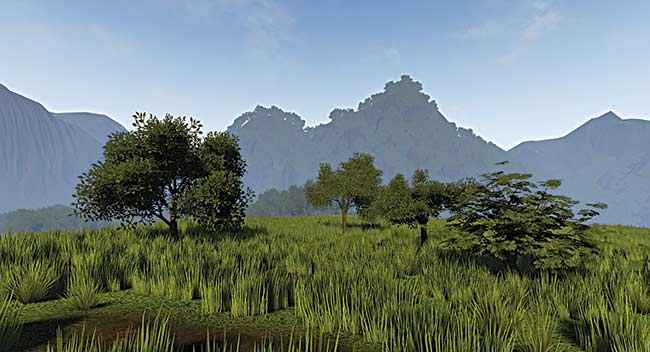 Unreal Engine has been used to create some of the most beautiful virtual experiences out there
Unity 3D: From a small development engine, in the past few years Unity has rapidly grown to become a considerable competitor to Unreal Engine. And with the upcoming number of full scale VR devices, there is a huge opportunity for Unity to fight toe to toe with UE for the development share, since they are actively going after the community. It is quite easy to use and you can download it right now to get started on your first VR project. Oh yes, this is also free.
Cryengine: One of the most visually rich development platforms out there, games developed on Cryengine are probably the most used to benchmark the true capabilities of a computer. The free-to-use trend from the other two big players in this field has recently influenced the pricing model of this engine as well. It used to be paid, but now developers around the world can pay what they want to get access to this engine, even nothing.
Some of the more popular modelling tools are:
Blender: The open source software world has given us some really good options, and Blender is no different. This free modelling and animation software has grown on to rival industry leading tools like Maya and Softimage. The number of tools and features available on Blender are powerful enough to be your only tool for creating the world for your entire game. The inbuilt game engine is also useful, but not as VR capable as some of the RTEs mentioned earlier. And as with most good open source software, there is a very vibrant community with a lot of helpful content out there.
Sculptris: This one is for the sake of doing one job really well. While this one has limited capability, creating models in this software feels exactly like sculpting clay and offers a lot of detail. Give this a shot if you are up for trying something different.
Other Alternatives: Some of the other good options are Sketchup Make, Wings 3D. Equinox 3d, Daz studio, 3D crafter
Capture type content refers to VR video, which essentially has the entry barrier of hardware. But if you do manage to get a good setup in place, some of the software tools that you can use to work on VR capture content are:
Adobe After Effects
Final Cut Pro
Kolor
Video Stitch
PT GUI
Adobe Premier Pro

The Battlefield
The ways in which VR and AR can be applied are only limited by imagination. While both the fields were trudging on for a long while in the Indian marketplace, recent availability of affordable hardware and smartphones with greater capability have driven the demand for VR and AR content from almost all sectors. According to Mr. Abhishek, "AR was already here for last three years and the adoption was almost static. But major breakthroughs in visualization came in with VR and since late 2015, India is going crazy about VR. Other than the direct purchase of VR headsets/ Google cardboards by the end consumer, businesses getting into promotional distribution of Google cardboards for VR based brand promotion is working as a critical catalyst for VR adoption."
The architecture and real estate sector has seen a lot of traction when it comes to using VR for commercial purposes. Increasingly, real estate developers are using VR walkthroughs of planned projects to present it to their potential clientele. This definitely saves them the cost of maintaining a brick and mortar demonstration house/flat. Simultaneously, it increases the range of potential buyers to a much larger area.
Another strong potential market is education, which is already picking up fast in terms of VR and AR content creation. There are apps that work with your smartphone on the Google Cardboard or similar headsets to provide educational content to students of all ages. Advertising and product demonstration in general have also shown a lot of interest in implementing VR and AR. SpectraVR, an Indian VR startup, has worked with the likes of Mercedes, Maruti, Kingfisher, Wonderla, Shahrukh Khan among others to create promotional VR content.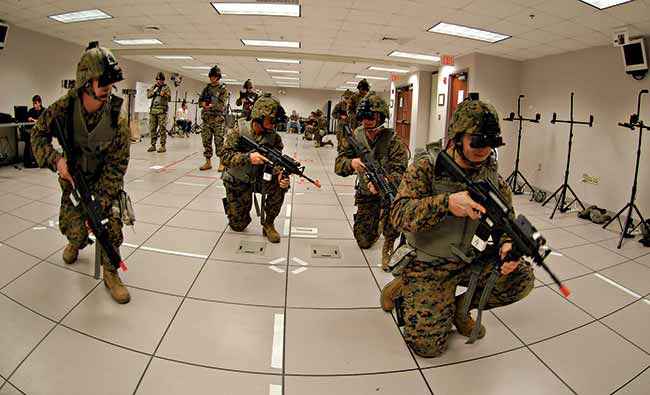 VR is being used even to simulate war and flight trainings
The Rewards
Both VR and AR are at a very nascent stage to actually have an observable remuneration trend. It is more dependent on the kind of work that is being done at the particular company where you want to work. A company that is using VR as a promotional tool is less likely to pay a developer any different as compared to a standard game developer. Programmers on an average get paid more than the artists, and the compensation varies quite a lot depending on the experience level / employers.
Compared to that, a company that works on full scale VR content and involves a greater degree of development work from the ground up is likely to compensate better. The salaries there would be higher than the industry average of how, let's say, IT professionals are being paid. For example, a good VR developer having less than three years of experience could easily draw a compensation of approx. 8-10 lacs INR.
In Conclusion
Whether you chose VR/AR as a career option because of the growing demand or because you are passionate about creating a world of your own in any form, industry initiatives will always be a big boost to your goals. And it is good to know that there are actually quite a few Indian companies working on that. GreyKernel is running a 'VR Developers' community to bring all VR enthusiasts on one platform. "We organize workshops/meetups in institutions to spread awareness as well as kickstarter knowledge packs in the form of free resources and learning sessions for enthusiasts to get into VR development", says Mr. Abhishek Gupta.
Meraki VR is another startup that is working on developing a strong developer base for VR and AR by taking sessions on VR in colleges and institutions to create awareness of the medium. "At Meraki, we've used VR to craft unique experiences for marketing, training, sports and entertainment among other areas. While its applications are valuable to a whole lot of industries, is the consumer going to be as excited? When and how will VR go mainstream are questions that remain as the medium will continue to metamorphose to accommodate advancements in AR and Mixed Reality", says Mr. Sairam Sagiraju, Creative Director, Meraki.
Think about it. Now, you have the roleplay set, the training right in front of you, the armory waiting for your choice, the battlefield ready for your assault and the rewards right there for you to plunder. Grab that VR headset and dive into this game right away! We couldn't help make that game reference on this one. On that note, let's hope that pretty soon we will see a surge of VR and AR content with Indian developers behind them
This article was first published in September 2016 issue of Digit magazine. To read Digit's articles first, subscribe here or download the Digit e-magazine app for Android and iOS. You could also buy Digit's previous issues here.