Tesseract is a name you would probably and commonly associate with the ancient Asgardian infinity stone with unmeasurable power, owned by Thor's father Odin (Marvel fans will know).
But, in the real world, Tesseract is an Indian startup on track for greatness, and instead of making mythical cosmic cubes, they make 360 degree Virtual Reality cameras, which can map any room or location in 3D. I had the opportunity to meet with Tesseract CEO & Founder - Kshitij Marwah, who was carefully arranging his products for a showcase at the WPP Stream unconference, held in Jaipur recently. The tech lab at Stream is great place to discover some immensely talented homegrown startups, with one thing in common - An undying passion for technology. So, this, a single hall flooded with aspiration, is where I found Kshitij, Tesseract...and a very geeky story.
Methane: The First 360 degree 3D mapping camera by Tesseract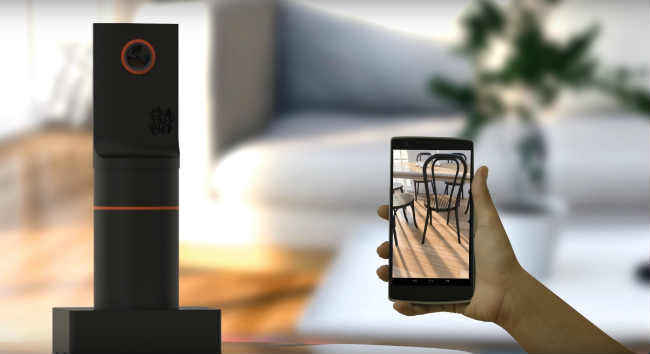 Methane, the first India-made 360 VR camera by Tesseract
"If VR headsets are the future of seeing media, we are going to invent the future of capturing media." With that one statement, Kshitij kicked off his presentation of the Methane 360 VR camera. Mounted atop a cylindrical base, the Methane has a 360 degree revolving head that houses the camera unit. The purpose of Methane is to map any room or location in 3D and 360, ensuring multiple use cases for the likes of real estate companies, hotel booking websites, travel portals and more. Imagine looking for rental properties without actually enduring the pain and hassle of visiting hundreds of houses in a day. With the help of images captured by 360 VR cameras like Methane, users will be able to do a virtual walkthrough of houses, rooms and spaces, without having to visit them in person. This though is just one of the many use cases for Methane. The 360 camera can also become a tool for architects to create floor plans automatically. Some well known names in Tesseract's client list include Commonfloor.com, Housing.com, NestAway and more.
The Methane can shoot in three different modes:
9 MP Full Spherical 360 x 340 (2-Cam Mode)
12 MP Full Spherical 360 x 340 (3-Cam Mode)
Auto Exposure and 3 High Dynamic Range (HDR) Capture Modes
Methane houses a single camera setup, rotating on a particular axis, which is assisted by onboard High Dynamic Range (HDR), stitching, blending and compression of 360 VR images and walkthroughs. Powering the camera for all the computations, the Tesseract team packed in a dual-core 1 GHz processor with 1GB of RAM into an Anodized Aluminium body. Wi-Fi 802.11 b/g/n along with a 3D unit for mapping dimensions were placed on board and the whole body of the camera was made to act as an antenna. The result - a 360 VR camera that can click 200 360 VR shots in a single day. Methane takes 2 minutes to scan a single room in 360 VR with dimensions and 20 minutes to scan a full 2 BHK house, with real-time upload. The whole package is powered by a 6500 mAh battery. The Methane can be bought in two variants, with or without a 3D sensor and the price ranges between Rs. 1.5 lakh to Rs 2 lakh.
With the explosion of Virtual Reality viewing devices such as the Samsung Gear VR, Oculus Rift, HTC Vive and future consumer grade headsets like the Playstation VR and Microsoft HoloLens, there is also a major need to grow the VR content space. Let's face it, these headsets don't and will not come cheap in the near future and if you end up buying one, the endless possibilities of virtual reality will always leave you wanting more. This is where startups like Tesseract come in.
The Virtual Reality and Augmented Reality industry has always been a ground for startup innovation. Oculus, one of the most commonly uttered names for head mounted displays was a startup that was later acquired by social media giant Facebook for a whopping $2 Billion. Magic Leap is another AR startup that is now backed by the likes of Google, Qualcomm and more.
Tesseract though, is a startup on the other side of the VR spectrum. While head mounted displays mushroom, we will also see the advent of consumer grade VR cameras, hopefully housed in the smartphones of the future. The innovation behind such devices will come from startups such as Tesseract. Another factor that makes Tesseract stand apart from the crowd of Silicon valley VR startups is the fact that all their products are designed as well as manufactured in India. From the fabrication of the product in Marol, Mumbai to packaging in Dharavi, the largest slum colony in the world, Methane is a thorough desi-bred 360 VR camera.
"All the manufacturing is taking place in Mumbai, Pune and Gurgaon. All the electronics are being manufactured in Ahmedabad, Surat and Bangalore. We actually spent 6-7 months discovering the manufacturing processes and whether it is possible to do it in India. We took a bet that most people go to China, but we're going to make a product that has been made end-to-end in India," boasted Marwah.
The Future of Tesseract's VR Imagery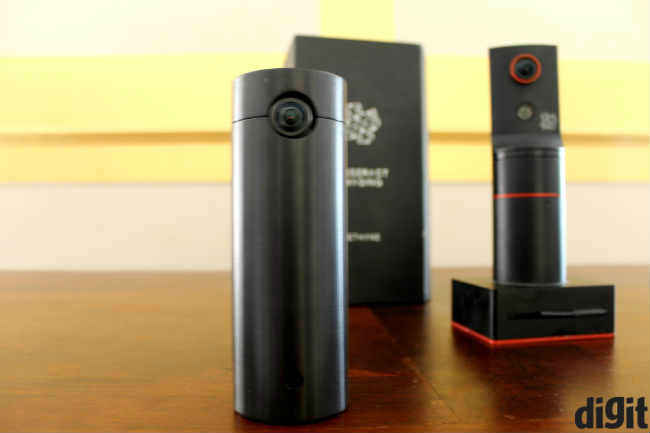 ViCam, the upcoming 360 VR camera from Tesseract
Tesseract also has another 360 VR cam in the pipeline called the ViCam. While the Methane captured 360 VR images using a single cam, the ViCam houses 2 cameras that sit inside of an aerospace grade Aluminium body. "You can drop it off from the third floor and nothing will happen to the body," claims Marwah. The ViCam features a 5MP sensor from Sony and a 2GHz quad-core processor for undistorting, stitching and blending videos and images. The Vicam is powered by a 3000mAh battery which can last for 1 hour for continuous recording. Marwah says that his team is working on optimising the battery before the market launch of the ViCam and their plan is to enter the market "with at least 4 hours of recording." Neat, Isn't it?
So, that is the story of Tesseract so far. An emerging star in the niche Indian hardware startup space, Two amazingly innovative products and a team of dedicated techies, foraying bravely into the vortex of virtual reality. While we wait for Tesseract to do greater things, you can come back to this space for a video demo of the Tesseract Methane and the Tesseract ViCam. Until then, keep it with Digit for more coverage of interesting tech startups emerging out of India.