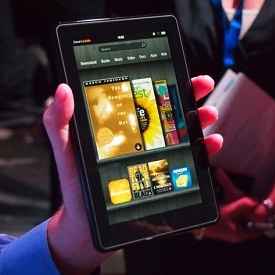 Amazon isn't losing $50 on every sale of its
new Kindle Fire tablet
, but it will be down more than $10 before each new owner boots up a newly purchased Fire and begins buying digital content.
That's because the Kindle Fire, priced at just $199, costs about $210 to produce, according to IHS iSuppli. The research firm said Friday that Amazon's bill of materials cost for the Kindle Fire is $191.65, with additional manufacturing expenses bringing the total cost to produce the tablet up to $209.63.
Amazon will make that money back and more with sales of digital content, according to IHS iSuppli analysts, but the margins will be razor thin. The research firm expects the average sale of digital content to each device will deliver a profit of about $10 per Kindle Fire sold.
[RELATED_ARTICLE]