Samsung recently reinvigorated the tablet segment with the launch of its exciting Galaxy Tab S8 series. The series includes three amazingly versatile tablets - the Tab S8 Ultra, the Tab S8 Plus, and the Tab S8. These are powerful tools carefully crafted to help you stay at the top of your game. Be it productivity-oriented usage, immersive gaming, or expressing your creativity - the new Galaxy Tabs are a fun way of getting all you need done!
Amazing display to get things done
On a tablet, the display is always a priority. A consumer investing in the form factor would naturally want a mesmerizing screen and the Galaxy Tab S8 promises to excel on this front!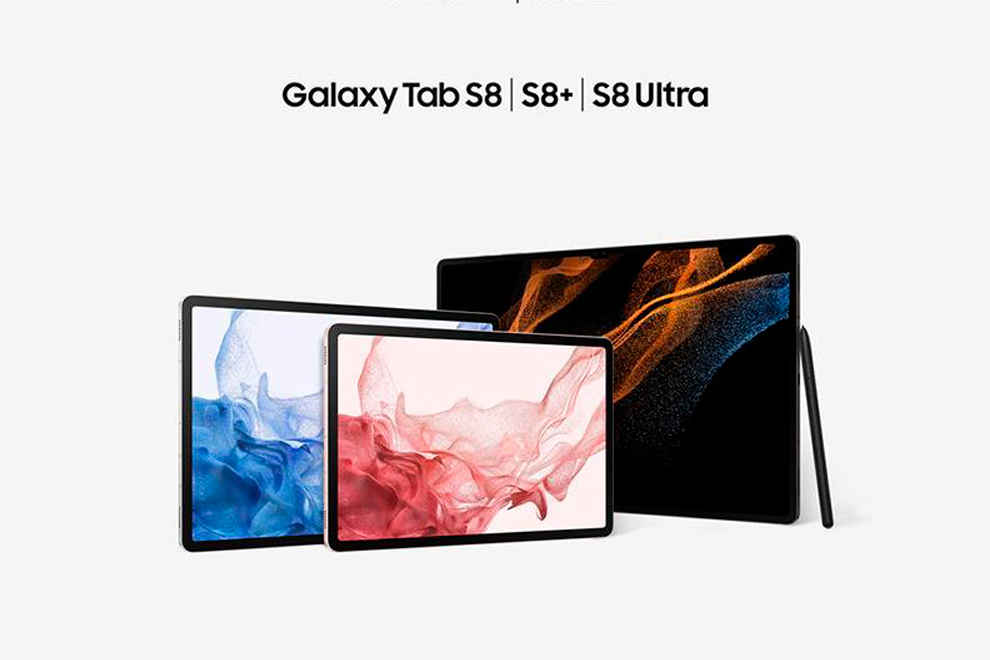 Samsung offers 120Hz panels on all three variants, and on the Galaxy Tab S8 Ultra, you get 14.6-inches of dazzling AMOLED awesomeness.
The large display size opens up all kinds of possibilities. You can intuitively multitask like a pro and seamlessly work with several apps. Consuming content and gaming should be an absolute treat, and you can also use the large canvas to catch up with all your friends!
The ultra-wide cameras with features like 4K video recording and auto-framing, and four powerful speakers tuned by AKG should elevate the video calling experience to the next level.
Unleash your creativity with the S Pen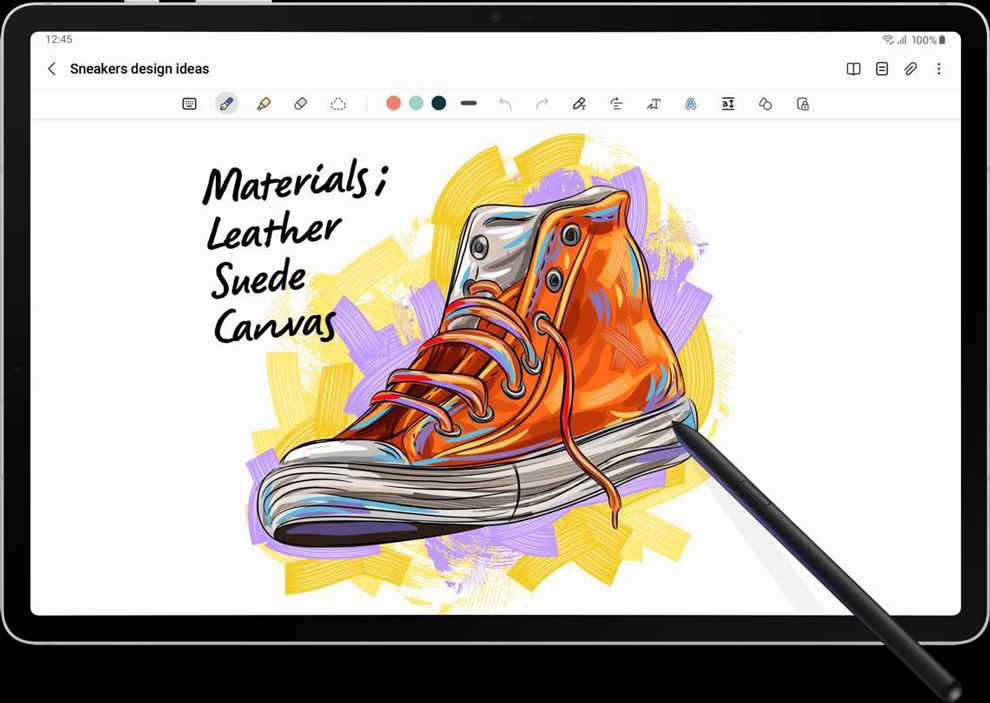 The S Pen that is bundled with all Galaxy S8 Series tablets is an exceptional tool that Samsung has perfected over the years. You can use it to doodle on the display or touch at precise spots to conveniently interact with complex software like video editing apps.
Users can use this powerful and versatile companion to draw and paint with a very natural feel, quickly scribble notes and ideas, sign documents, fill in PDF forms, and accomplish a lot more with ease.
And when the job is done, the S Pen magnetically snaps into a groove on the back for charging. Slick and simple!
Stay connected, stay productive
Even more impressive is how effective the new Galaxy Tabs are for getting some real work done. To start with, all of the Galaxy Tab S8 series tablets support super-fast Wi-Fi 6E connectivity. And if you are on the move, there's support for up to 5G to ensure that you can access the best cellular connectivity options available.
Trying to work on the move or while leading a fast-paced life can get incredibly simpler if all of your devices can seamlessly communicate with one another. And that's another key advantage you can leverage with the new Galaxy Tabs.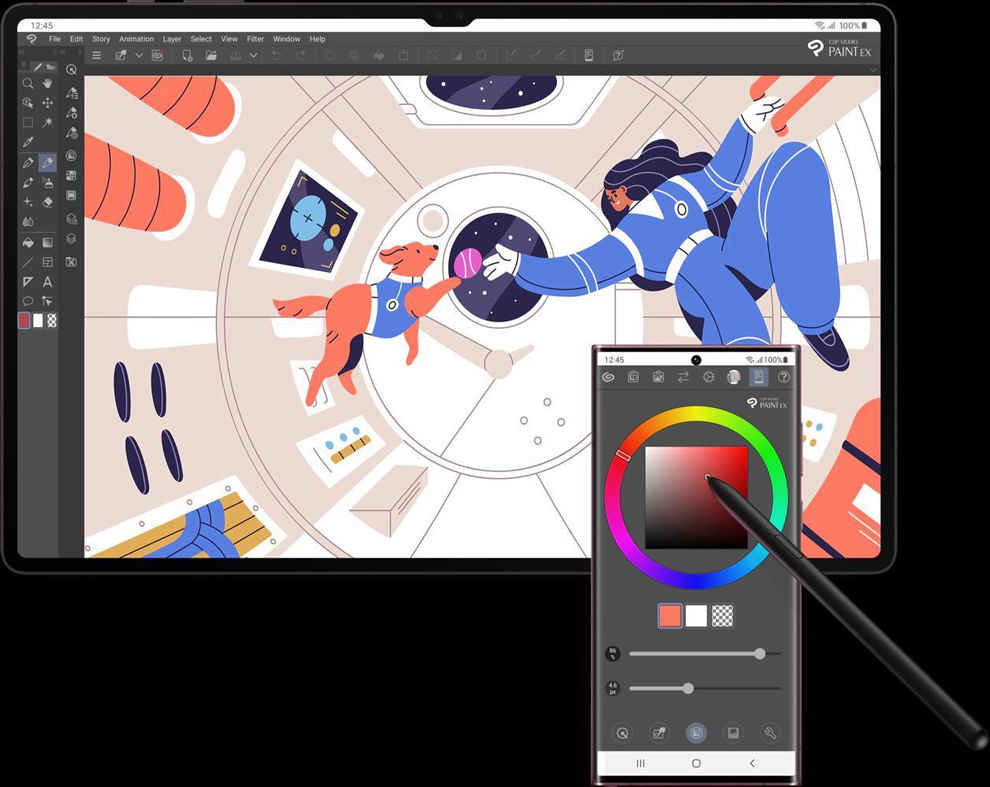 For instance, you can seamlessly sync notes between multiple galaxy devices including your phone and laptop, or quickly transfer your work files back and forth between different Galaxy devices.
Or you may even team up the Galaxy S22 series phones as a palette to pick colours while keeping your tablet display clear to paint!
With the Galaxy Tab S8 series, you not only get the assurance of all-day battery mileage and fast charging, but these tablets can also share power and juice up other Galaxy devices when needed.
If you often work on the go, you can buy a keyboard cover case to further boost productivity. Attached with the keyboard, the Galaxy Tab S8 series tablets can quickly switch to Dex mode for a convenient and familiar desktop experience.
Performance you can rely on
Samsung employs Qualcomm's flagship Snapdragon 8 gen 1 which is capable of flawlessly driving such amazing experiences.
Needless to say, all of these tablets can handle powerful apps like Microsoft office and demanding games without breaking a sweat! There's ample RAM and storage backing up the chipset and you can also add up to 1TB of secondary MicroSD card storage.
Take your pick

There are three premium options to pick from and you can choose the size that fits your needs the best.
The Samsung Galaxy S8 Ultra with a 14.6-inch display is extremely slim (5.5 mm) and the Armor Aluminum frame makes it tough. This flagship tablet includes dual front cameras, an on-display fingerprint reader, and an 11,200 mAh battery.
Here's how the Galaxy Tab S8 Ultra stacks against the competition: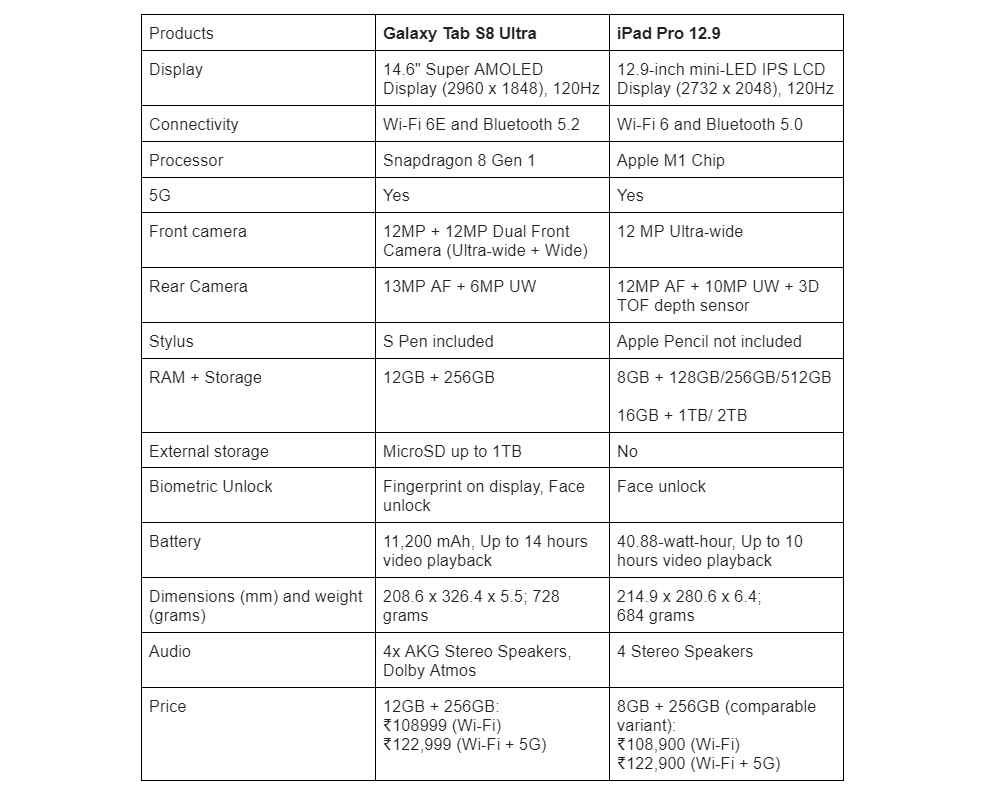 The Galaxy Tab S8 Plus strikes the perfect balance between power and portability. It includes a 12.4-inch Super AMOLED display with a 120Hz refresh rate and an on-screen fingerprint sensor. This one has a 12MP front camera and houses a 10,090 mAh battery with 45W fast charging support.
The Galaxy Tab S8 is incredibly easy to manage. It has an 11-inch LTPS LCD display with a 120Hz refresh rate. This one makes room for a 8000mAh battery with 45W fast charging and a 12MP ultra-wide front camera.
Incredible for work and play
The amazing displays of the new Galaxy Tab S8 series tablets are driven by powerful performance hardware and paired with thoughtful, intuitive software making them incredibly versatile devices. The Galaxy Tab S8 series will open up a world of possibilities for you to get more done in the most efficient ways.
The Galaxy Tab S8 Ultra is available in 12GB+256GB storage and is priced at ₹1,08,999 for the Wi-Fi variant and ₹1,22,999 for the 5G variant. Galaxy Tab S8 and Tab S8+ are available in the 8GB+128GB storage variant.
Galaxy Tab S8+ is priced at ₹74,999 for the Wi-Fi variant and ₹87,999 for the 5G variant. Galaxy Tab S8 is priced at ₹58999 for the Wi-Fi variant and ₹70999 for the 5G variant.
Samsung is currently offering several attractive offers with the purchase of the Galaxy Tab S8 series including Cashback offers on purchases made using HDFC bank credit and debit cards.
Check out more offers and details here.
[Brand Story]