Apple today flipped the switch on the Public Beta program for iOS 13, iPadOS and MacOS Catalina. We've had our in-house iPad Pro on the developer beta program and now, on the Public Beta. We've been testing out and discovering new things about the next version of Apple's OS for the iPad and there's a lot to talk about, so let's just get started.
Dark mode
There are a number of really amazing features that are a part of iPadOS and one of them happens to be the introduction of Dark Mode. Introduced last year on MacOS, Dark Mode doesn't simply just turn the interface dark, but it looks like Apple engineers have spent a considerable amount of time working on the colour scheme. iPadOS can also tweak the wallpapers to suit Dark Mode's visuals. We found this to work well with built-in wallpapers, but custom images are hit-or-miss. Additionally, Dark Mode on the iPad is mostly an aesthetic feature as none of the iPad or iPad Pro models come with OLED panels, which really benefit from the Dark Mode's improvement in battery life.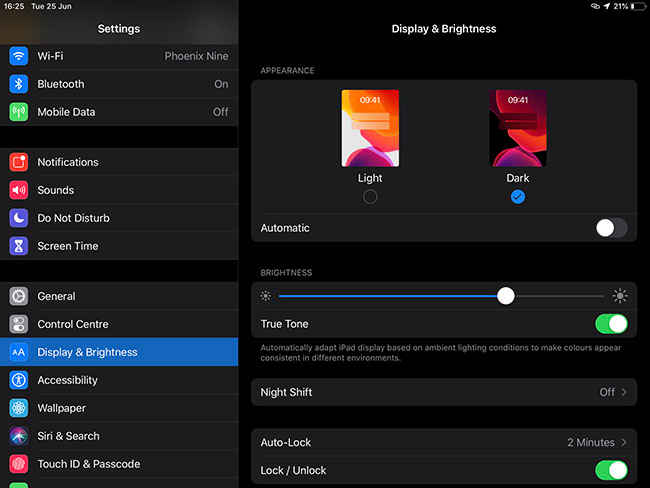 Dark Mode can be enabled from Display settings or directly from the Command Center
Files
The Files app on the iPadOS has finally been noticeably improved to offer greater flexibility for working with files. For starters, you can integrate Google Drive, OneDrive, Dropbox, Box and other similar services into the Files App. You can easily move files from your various cloud storage services either into the iPad's internal storage or into iCloud Drive. Did we mention that Apple's built a file compressor into Files?
Files integrates popular cloud storage services for easy file management
External drive support
Probably the single most exciting feature coming to the iPad is the support for external storage. If you have the new iPad Pro, the USB-C port will enable whole new possibilism. You can now connect your external hard drives or pen. For those who own an iPad with a lightning port, you will have to resort to dongles to connect your external storage to the iPad.
Direct Image Import
With Files and External Storage support coming to the iPad as part of iPadOS, one feature that creative professionals would really like is the ability to directly import media into your editing app. Currently, you can import your RAW files into the iPad, but you need a SD Card adapter to connect the card to the iPad. Even then, contents could only be imported into the Photos app, from where it had to be imported into Adobe Lightroom or Premiere. Now with iPadOS 13, you will be able to import directly into Lightroom, and if you have the new iPad Pro, then you should be able to directly attach the camera to the iPad. While iPadOS 13 allows direct imports, it is a feature that app developers will have to implement themselves. We know that Adobe is fast working on releasing an update to Lightroom Mobile for iPad with this feature.
Redesigned Home Screen
One of the best things about the iPad has been the larger screen offered by it. What wasn't the best was how spread out the icons were laid out on the home screen. With iPadOS, Apple's is squeezing in a widget bar on the left. Any app that supports widgets can be added here and actually makes the iPad's home screen a lot more useful. Additionally, the app icons are now placed a lot closer to each other, giving the home screen a lot neater look.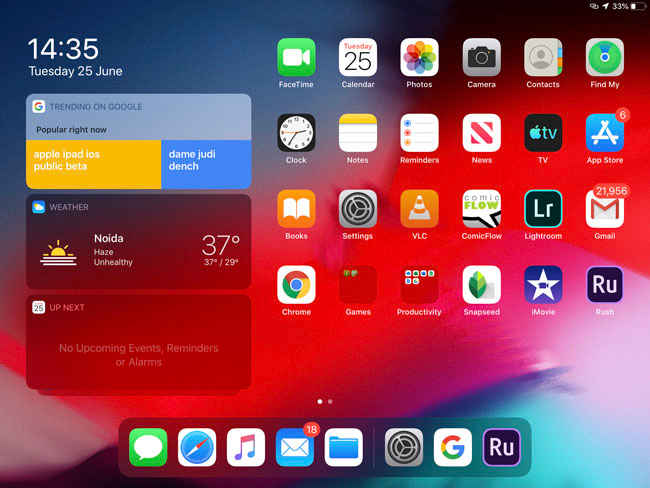 The new homescreen includes widgets and closely placed icons
Slide over
Apple is introducing a really nifty new way for you to interact with apps that you want to interact with, but don't want to give them the whole screen space. With Slide Over, you can open some apps in a side bar of sorts, which floats above whatever app you may have open. The feature essentially allows you to interact with any app, without having you exit whatever app you're already in. This is ideal for when you're reading a book or content on the web, maybe taking notes, but definitely not to be used while gaming.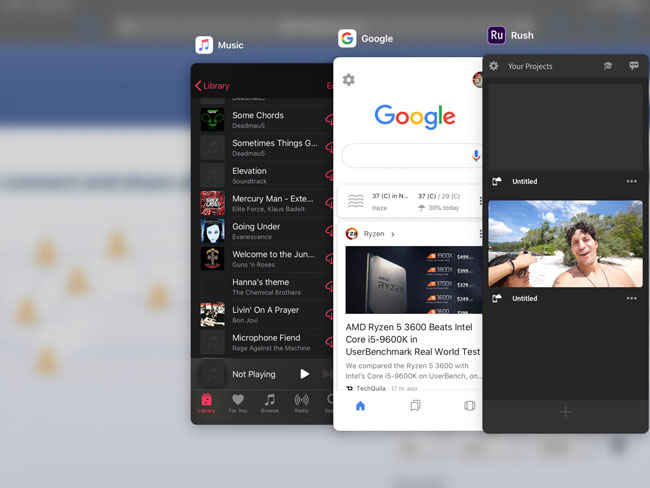 Slide Over is a great way to interact with non-critical apps, without leaving the main app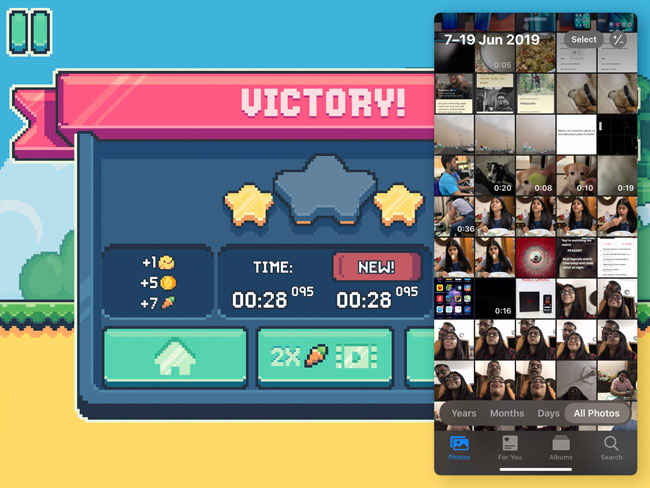 Not that useful if you're gaming though
Split view
Introducing some near-desktop-like multi-tasking, iPadOS allows you to snap two apps side by side and seamlessly switch between them. We've seen this on Windows 10 for a long time, but its nice to see it appear on the iPad as well. You can resize the split to your liking, without ruining the user-interface.
Split View allows two apps to run side-by-side
Easily resize the area occupied by each app
Swipe to Type
Called QuickPath, Apple has finally introduced the ability ot swipe around the keyboard to type. The feature has been around for a long time through third party keyboards, but for the feature to be integrated into iOS/iPadOS itself is definitely a huge plus. We can already see ourselves turning to this feature the most. Finally, all that Fruit Ninja sessions come to good use.
Controller support
Amongst the many new features, another one of our favourites is the ability to pair your PlayStation or Xbox One Controller to the iPad for your gaming sessions.
This is a list of the major features coming to the iPad and iPad Pro via iPadOS. Another major feature that we haven't covered here is Sidecar, which allows the iPad to not only be used as a second screen to your Mac, but also as a drawing tablet. We will be testing this feature out a little more before showing it off. There are also a vast number of smaller, UI/UX based changes, which we feel will be fun for iPad users to discover.
In our use of the iPadOS Public Beta, we've found the OS to be generally stable, with some games crashing occasionally. Slide Over and Split View do seem to be buggy in their activation gesture, but we feel that as the OS nears release, Apple would iron these bugs out. If you'd like to try our iPadOS on your compatible iPad, you can read this story on how to do so.