Almost three years ago we first heard of an ultra low-cost tablet to be launched by the Indian government. Then known as the Sakshat or the $35 tablet, it made it to the headlines across the world, with a common question all around – will India be able to develop the world's cheapest tablet?
A lot of things have happened since - the tablet was named the Aakash. The project then got delayed for various reasons including change of vendors. Anticipation reached its height when DataWind launched the commercial version of the Aakash tablet, UbiSlate 7, in December last year. In spite of massive hype across the world, neither UbiSlate 7 nor Aakash tablet has made it to the market yet.
The Indian government rejected the original Aakash tablet developed by DataWind over poor device specifications. The government said it would come out with an upgraded version of the Aakash tablet, which will have better specifications such as a more powerful processor, improved battery life, as well as a capacitive touchscreen, in April.
But now, the fresh deadline for the launch of the Aakash tablet has been pushed to May. Delays in the launch of the device and a lacklustre consumer support approach from the government have only irked millions of the Aakash fans, who have till date shown great enthusiasm for the device over the years. Fans are now beginning to losing their patience waiting for the device, and the excitement is rapidly fading away.
We've been covering the Aakash tablet since it first appeared on the scene, and we can see how differently fans are reacting to the Aakash now. People are finding it tough to believe the Aakash tablet will ever materialise. It looks like trust in the Aakash tablet is so low, people will only believe it once they get to see it...when it becomes reality.
Here are some comments made by ThinkDigit readers on stories on the Aakash: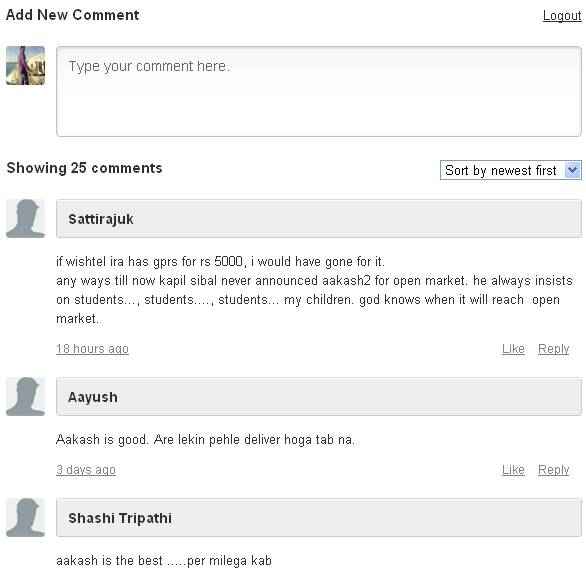 click to enlarge
Digit fans also criticised the delay on our Facebook page; have a look: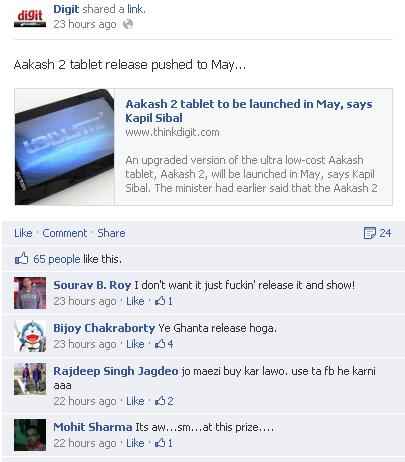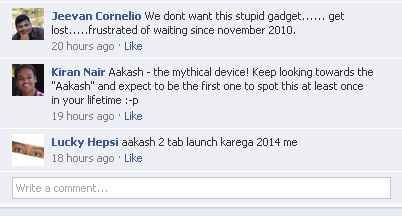 Evidently, a lot of people are frustrated over the delay. The Indian market is already awash with budget tablets (with better specifications as well) from Micromax's Funbook, Zync's Z-990, to HCL's new ME Tab U1 and MyEdu Tab K12 and HE. People, tired of waiting for the device, may be compelled to go for them.
The Aakash tablet, however, is supposed to be different. It aims to bridge the digital divide in the country and help students in rural areas. If successfully implemented, the government may actually succeed in expanding the reach of the state of IT in every nook and corner of the country.
But the reality looks very different. There are delays, controversies and blame games. We, just like our readers, wonder if the Aakash tablet will ever become a reality.
Also read,