It used to be fairly easy to decide on an iPad—pick your storage capacity, price, and whether or not you need cellular data support or can get by with just Wi-Fi. But not anymore.
Today Apple unveiled the long-rumored iPad mini, a smaller, lighter model with a 7.9-inch screen, instead of the 9.7-inch Retina display on the regular iPad. Just to keep things interesting, the company also boosted the existing, larger iPad, adding a new A6X processor, faster Wi-Fi performance, and the 8-pin Lightning connector, all while keeping the price the same as before—starting at $499 for the 16GB Wi-Fi model. Both also have 4G LTE versions available for $130 more, and you can get them all in 16GB, 32GB, and 64GB varieties.
So now which do you choose? Many people have extolled the virtues of smaller tablets. Most of the praise is centered around the ability to use the tablet one-handed, and to carry it in a coat pocket or an even smaller bag. That makes the iPad mini perfect for reading books, playing certain kinds of games, and just having it handy in a crowded coffee shop or anywhere space is constrained.
Don't discount the iPad mini's lighter weight, either. Amazingly, it weighs less than half of what the regular-sized iPad weighs, despite only losing 1.8 inches of screen diameter to its larger sibling. It's also $170 less expensive.
That said, there's still plenty of reason to get the larger one. The 9.7-inch model has four times the screen resolution, at 2,048-by-1,536 pixels instead of 1,024-by-768. It also has a new A6X processor that Apple promises is up to twice as fast as the earlier A5X in the iPad introduced this past April. Both of those processors are faster than the A5 CPU in the iPad mini, too. That makes the 9.7-inch model better for hardcore gaming and more CPU-intensive content consumption.
There's a lot more to consider, too, but we're getting ahead of ourselves. Instead, here's a spec comparison between the iPad mini and the 4th-generation iPad with Retina Display.
Pre-orders for the iPad mini and the iPad (4th Generation) start Friday, October 26th, with the Wi-Fi-only versions hitting Apple Stores on November 2nd, 2012 at 8am.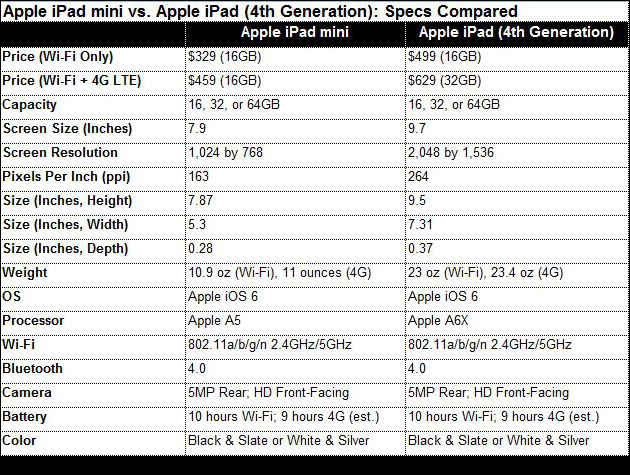 Copyright © 2010 Ziff Davis Publishing Holdings Inc