The low-cost Android tablet space is heating up. And just in time for the holidays.
Barnes & Noble have unveiled the Nook Tablet, a beefed-up follow-up to the popular Nook Color ebook reader/tablet. The Nook Color also remains in the company's arsenal, but with a lower price. The Nook Color is available now, while the Nook Tablet is available for pre-order and ships.
Amazon, meanwhile, last month took the wraps of its first color touch-screen ereader/tablet, the Kindle Fire, The big draw with these tablets is a tight focus on media consumption including video, music, and, most importantly books. The Kindle Fire taps into Amazon's massive book store, newsstand, and MP3 and video stores, while the cloud-accelerated Silk browser promises to deliver speedy Web browsing. The Nook devices offer on-device access to millions of books and magazines in the B&N book store, and the Nook Tablet is pre-loaded with Netflix and Hulu Plus for video.
It's unclear how many apps will be available on each of these tablets, but both Amazon and B&N promise that you'll be able to find your favorites. The Amazon Android App store is already considered a viable alternative to the Android Marketplace on other Android devices.
Another huge selling point: Price. The Kindle Fire and the Nook Color both slide in under the $200 mark ($199 each). The Nook Tablet, at $249, is still relatively inexpensive when you compare its price with current Android tablets from major manufacturers. B&N is hoping to justify the extra 50 bucks with some hardware upgrades, including twice the RAM and double the integrated storage of the Kindle Fire.
Until we get the Kindle Fire and the B&N Nook Tablet into the PCMag Lab for testing, take a look at how the hardware specs stack up in the chart below.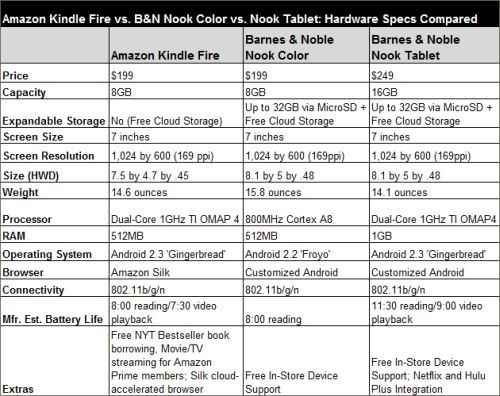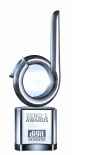 "Don't miss the Zero1 Awards in the December 2011 Collector's Edition of Digit. Book your copy now!"
Copyright © 2010 Ziff Davis Publishing Holdings Inc.
source: Amazon Kindle Fire vs. B&N Nook Tablet vs. Nook Color: Spec Showdown