Of late we have seen a flurry of low-cost tablets, ranging from the latest ClassPad to Beetel's Magiq series. However, none matched the massive popularity of the Aakash tablet, also touted to be the world's cheapest tablet. The Aakash a.k.a UbiSlate 7 sold out less than a week after it was released online. According to reports, bookings of the Aakash tablet have soared to 1.4 million units just two weeks after it was put on sale via shopping site NCarry.com.
The massive response from the public prompted DataWind, the makers of the Aakash tablet, to set up three new factories in the country to meet the demand. The UbiSlate 7 , the upgraded version of the Aakash tablet, has also got a similar response from the public. The upgraded tablet, also dubbed as the Aakash 2, sold out till February.
The ultra low-pricing of the tablet has definitely played a pivotal role in boosting the public interest. But it's pretty clear DataWind never anticipated such a mammoth response. The company had delayed the delivery till mid-January after the booking for the Aakash continued to soar. Unfortunately, DataWind's unpreparedness has caused a lot of problems to the users, who are struggling to track the status of their order or confused where and whom to contact.
Much of this was evident when users flooded our recent Aakash stories with their booking inquiries, seeking status of their pre-bookings. While many sought guidance on cancelling their bookings, several others looked for detailed information on the new device.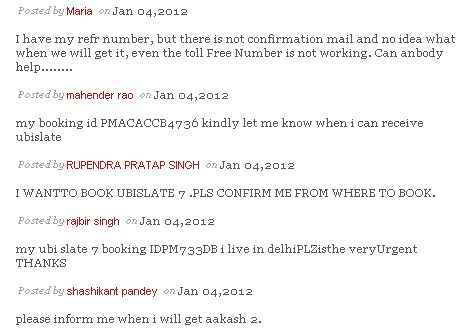 a screen shot from our comments section - users looking for information on Aakash

DataWind has two websites – aakashtablet.com and ubislate.com and a helpline number – 1800-180-2180 for assisting the Aakash enthusiasts. However, the help seems paltry and is apparently not reaching out to the public. It would have been really great had DataWind reached out to such users and provided them better support. The UbiSlate 7 is originally aimed at the young students, and without a proper support system it's unlikely to fulfill its purpose.
The Aakash tablet has already seen various delays previously and is still hitting various obstacles. Though the delays haven't slimmed down the volume of pre-bookings, a poor support system may dent the reputation of the Aakash/UbiSlate in the long-term.
Do you also think DataWind needs to overhaul its support system? Let us know in the comments section below:
Also read,