Data is everything these days, and every single person who owns a digital device be it a smartphone, a tablet, a MP3 player or even a camera generates or consumes quite a lot of data. When there is so much of important content being generated, we need space to store all of it. Which is why it becomes all the more necessary to store this data somewhere where it stays safe and is easily accessible by us. This is where storage devices come into picture as they play a major role in helping you keep your precious memories intact or your important documents safe. We've all been using storage devices like hard drives, SSDs or even memory cards from a long time now but external storage devices like portable HDDs are a godsend. Why you ask? Well, for one thing, they're like any other storage drive but with the addition of portability as a big driving force behind their existence. Not only do portable drives these days come in small, pocket-friendly sizes, but they're fast as well, thanks to USB 3.0. Advantages of using portable hard drives don't end there as nowadays some drives provide you with around 2TB of storage space as well which is at par with most internal drives.
Importance of portable storage drives:
You! Yes you! We know you've downloaded (or streamed) and watched your fair share of TV series or movies and even shared it among your friends. Afterall, the Internet is an indispensable source of information or data and since it's available almost everywhere now, people download, consume or share all that they can find. Some hoard, some consume and some archive this data after consumption. Whatever may be the case, storage plays an integral part of the process. Ever since the price of mechanical storage drives went down a few years ago, almost everyone tries to buy a hard drive with more capacity than they've ever used previously.
As humans, we never tend to be at the same place forever and always move around wherever we can. This here is one of the reasons why portability of data becomes important. If you have the option of taking your data along with you where you go, it makes a lot of sense right? This is why the idea of using and carrying around portable storage drives sounds good and Toshiba, with their expertise in storage have a huge portfolio of portable hard drives to choose from.
The Toshiba Canvio line of portable external drives:
When it comes to storage, Toshiba has a long list of options to choose from whatever may be the usage scenario. Be it, internal storage options for consumers or enterprises like 3.5 inch/2.5 inch mechanical hard drives or SSDs, or even external portable drives, they have it all. But let's talk about their Canvio line of portable hard drives here. Over the years, Toshiba has upgraded and has come up with diverse options within their Canvio line of drives. These diverse options include Canvio Basic, Canvio Simple, Canvio Slim II, Canvio Connect and the recent Canvio Connect II series of portable drives. Although drives from all these series are quite different in appearance but one thing is common between all of them which is their size. The entire Canvio line-up features drives with a 2.5 inch form factor making them ideal for carrying around. Drives from all the series support USB 3.0 by default and hence you can expect blazing fast performance from all of them.
Toshiba Canvio Connect II:
The Canvio Connect II range of portable drives are the new series of drives to join Toshiba's huge family of storage devices. Toshiba has given the Canvio Connect II a sleek design in a 2.5 inch pocket-friendly form-factor and the entire body of the drive has a cool glossy finish to it. This smooth glossy finish is complemented by a nice design to the body of the drive with rounded corners and the Toshiba logo printed on the top left-hand corner. Then there is a circular power LED to the top right-hand corner. For the more fashion conscious types, the drives from this series are available in five different colours like Black, White, Blue, Red and Satin Gold. This quick USB 3.0 based drive has a ton of cool features and some of the more advanced ones are really helpful. As for the technical specifications, the drive features an average seek time of 12ms along with a cache buffer of 8MB and speed of 5,400 RPM. The maximum transfer rate on offer is Up to 5 Gb/s.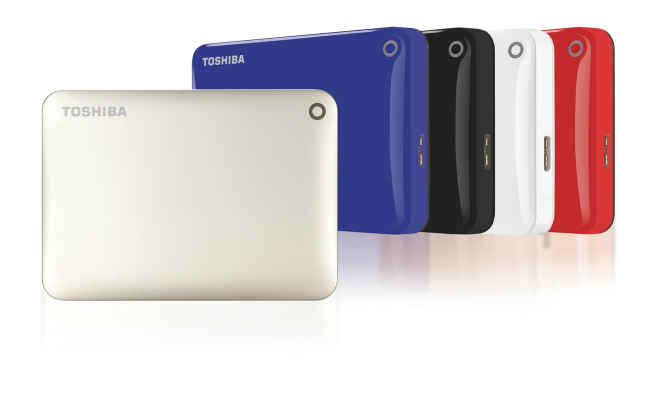 Free Cloud Storage:
Canvio Connect II series of portable drives come with 10GB of free cloud storage space allowing you to backup not only your important files but also your entire system. It gives you an option to customise or schedule automatic backups according to your convenience. You can also access and share content from this cloud account from any smart device connected to the Internet.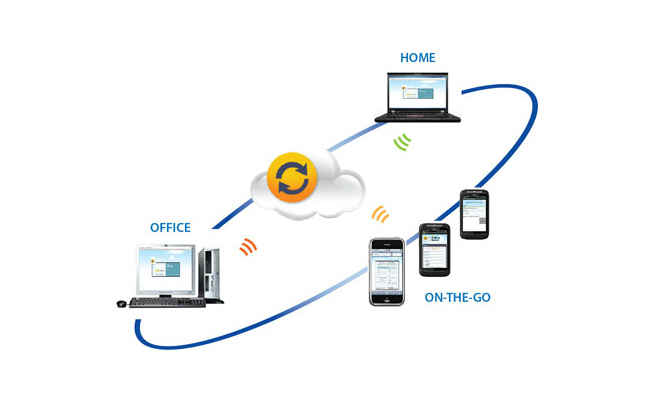 Complete Backup and restore functionality:
As far as storage is concerned, it's very important to have backups and the option to recover or restore data. This is why Toshiba does a good job of providing a complete backup, restore and full system recovery solution with the Canvio Connect II series of drives. You can schedule backups to your free cloud storage account as well. If you have some personal data that you need to backup, you can rest easy knowing that the backup solution also offers password-protected data encryption for securing your critically important data from prying eyes.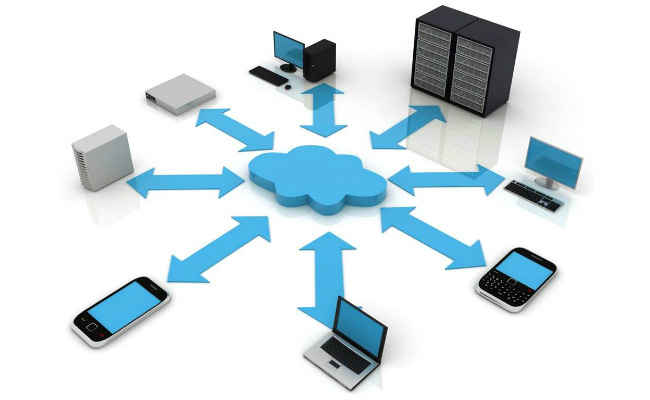 No compatibility issues and easy setup:
If you own a Mac as well as a PC, you must surely know how frustrating it is to use the same external storage drive between OSX and Windows. Primarily because you need to reformat the drive to make it work with OSX after you've actually used it on a PC. The Canvio Connect II makes short work of this task by including the NTFS drivers for Mac letting you use the drive without reformatting it again. Also, setting up the Canvio Connect II is a cinch as it's simply plug-and-play since the drive uses backward compatible USB 3.0.
Accessibility:
Your data shouldn't just be inside a closed environment but instead, it should be accessible from everywhere and all kinds of portable mobile devices connected to your account. This is precisely why, making use of the utilities provided with Canvio Connect II, you can access content stored on the drive remotely from anywhere and even backup data from your mobile device.
Good warranty:
The Toshiba Canvio Connect II or in fact all drives from the Canvio series come with a 3-years limited warranty thus adding some peace of mind when it comes to the health of your precious portable storage drive.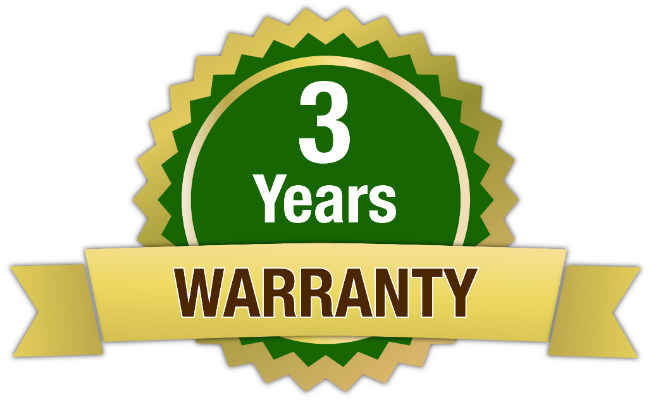 Other drives from the Toshiba Canvio line-up: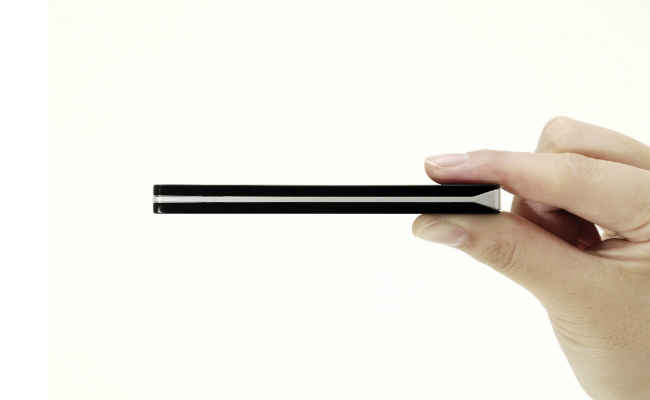 Toshiba Canvio Slim II:
If you're someone who's looking for a sleek, professional looking drive to go along with your MacBook or ultrabook, Toshiba's Canvio Slim II series of drives is for you. Not only has the Canvio Slim II won the prestigious Red Dot design award for its looks but also it's incredibly slim. Standing at just 9.0mm thick for the 500GB version, there isn't a word better than 'sexy' to describe it. Then you have the option to choose from colours like Black or Silver in a brushed metal pattern that would automatically find its place right beside your ultrabook. Cutting down on its size doesn't cut down on the drives features as you still have all the bells and whistles that come with any other drive from Toshiba's Canvio line-up. You have the option to select from among 500GB and 1TB from the Slim II series. The Canvio Slim II is also compatible with Apple Time Machine backup software thus making it the drive of choice for Mac.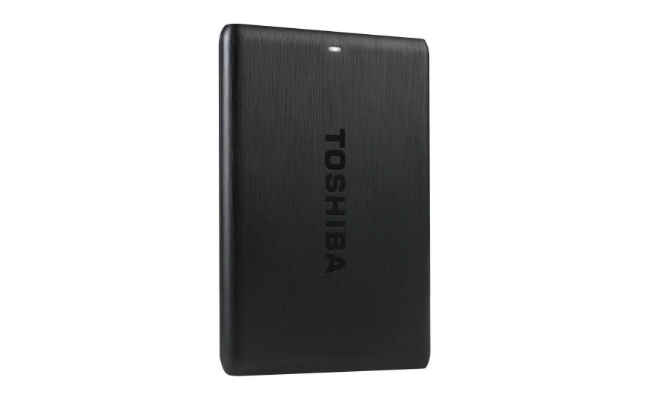 Toshiba Canvio Simple:
Don't let its name fool you as the Canvio Simple is anything but simple when it comes to its features and even looks. For one thing, if you're a fan of brushed finishing on devices, you'll love the finish on the plastic body of the Canvio Simple. Apart from that, if you don't require a lot of space, you can choose from among 320GB, 500GB, 750GB in the Canvio Simple range. But if you do need more space, the Canvio Simple series also has 1TB and 2TB offerings.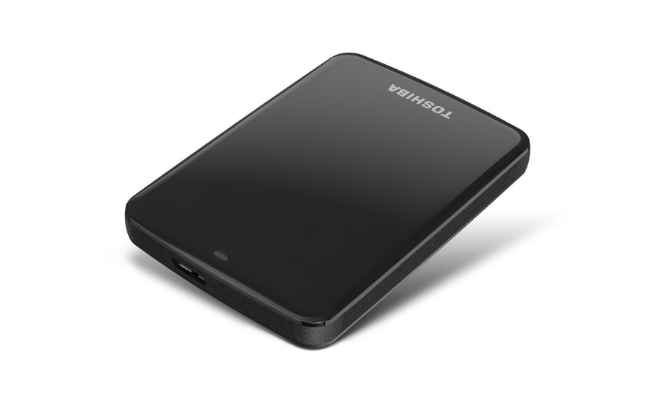 Toshiba Canvio Connect:
The Canvio Connect is another great series of portable drives from Toshiba with quite a lot of features up its sleeve. You can set it up with your PC or Mac instantly and don't have to worry about reformatting the drive when you use it for both a Mac and a PC because the drive comes with NTFS drivers for both operating systems. Canvio Connect series of drives also come with support for data encryption, complete backup using included NTI BackupNow EZ utility and system restore functionality and with a maximum storage space of 2TB for all your heavy storage needs. Then there is the option of choosing from among five different glossy shades of colours for the drive.
Conclusion:
With the host of useful pre-loaded software that helps you backup, access and share data, the amount of things you can do with Toshiba's Canvio line of Hard Drives is quite a lot. When you buy a portable hard drive from Toshiba's Canvio range, you can be rest assured that the drive will be your reliable storage companion with enough features to help safeguard your data over time. Apart from the amazing features of the drives in this range, you also get some portable drives that look trendy while some others that maintain a professional look around them. So, what are you waiting for? Head here to see the entire Toshiba Canvio range of portable hard drives and select the one that suits you best.