Synology gave away network attached storage (NAS) units to the Digit Forum members in a contest. These were for highly demanding and value conscious users, who were getting Synology's single bay NAS, DS120J. The community reviews are from Digit Forum members whitestar_999, RumbaMon19, _.yash007._, imcj and Dragonoid.
A lot of these users found the contest timely considering Google announced that it would be discontinuing free unlimited photo storage. As imcj explains, "if you're one of the several millions of people affected by this and are in the process of changing your default backup option to a cloud service that offers free storage for your photos (or a paid option like iCloud that has some cheaper plans) a NAS may just be the solution you need. Using a NAS also makes sense because even if you find a Google Photos alternative with unlimited photo storage, what will you do if the service no longer remains free like Google Photos or significantly hikes up their prices? Will you repeat the whole process again? Do you think having your own cloud to backup photos is a good idea? If your answer to any of these questions is yes then Synology's NAS solutions are just what you've been waiting for."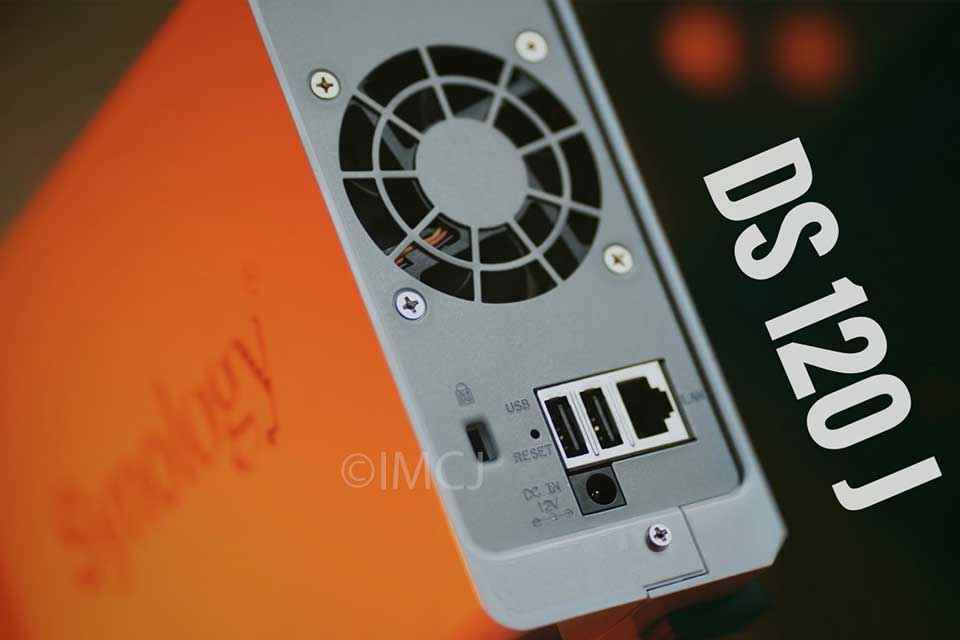 The interfaces on the back. Credit: IMCJ
Dragonoid writes, "Benefits of a NAS include low power usage, zero downtime and quiet operation. With storage requirements growing more day-by-day, a NAS ensures that all the data is organized at a place and can be accessed remotely." Whitestar_999 made a case for NAS "its main use is to save space & electricity consumption by replacing the need to run a full fledged PC system which can also achieve same objective of accessing your data over lan & internet albeit at a cost of installing & configuring various software running 24*7."
Build and setup
All the ports are in a compact cluster on the back, namely the power inlet, the two USB 2.0 ports and the single LAN port. Dragonoid notes, "The design of the Synology DS120j is pretty basic and has a solid construction, though the plastic is quite glossy and attracts a lot of dust and fingerprints. Both sides of the NAS have perforated vents inside the Synology logo to keep it cool. There is also a 60x60 mm fan in the rear that supports four modes; full-speed, cool, quiet and low power mode. There is a 3.5" HDD bay for hard disk installation which can be accessed by sliding front the left side panel." RumbaMon19 writes, "It has a sturdy build. It comes equipped with a silent fan for cooling. The front panel has 3 indicators, one each for Status, LAN and HDD activity. Below the indicators is the power button with a power indicator. The NAS comes with 512MB of RAM." _.yash007._ says, "the DS120j is a pretty sturdy build with a sleek look, you can put in a 3.5"/2.5" SATA Drive."
As with the DS220+, all the users found the installation and setup incredibly simple. "Setting up Synology DS 120 J NAS: - Setup of the DS 120J NAS is very easy as it is geared towards beginners or first time NAS users. You just have to plug in the LAN cable from your router and the adaptor to power up the NAS and click the power button," writes imcj. Dragonoid set up the device by plugging the ethernet cable directly into the laptop, "Setting up a Synology NAS is fairly simple. Plug the ethernet cable to the NAS and a wireless router. In my case, I plugged the ethernet cable directly to my laptop. The installation process is quite straightforward." RumbaMon19 marvelled at the speed of the setup, noting, "the DS120j is a beginner friendly device. It is very easy to configure too. I just removed two screws on the rear panel, installed the hard disk, secured the disk in the bracket and screwed it back. The finder was able to recognize my NAS immediately and opened up the Set-up page. I really liked the simple installation setup of the NAS. On the set-up page, I was only required to click set-up and within 10 minutes the NAS was ready for configuration."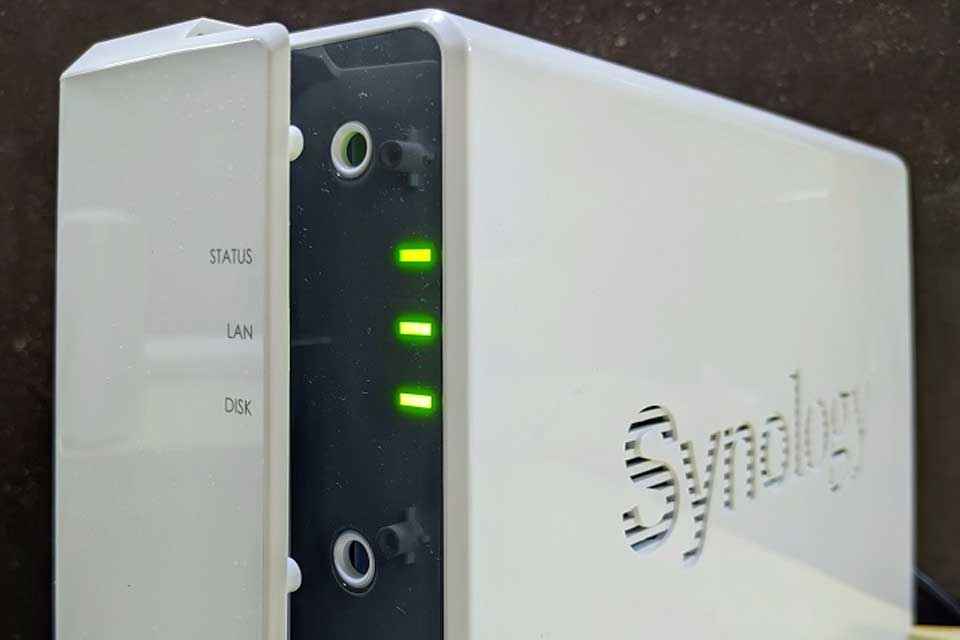 The Synology logo cut into the side. Credit: Whitestar_999
Whitestar_999 admits a nitpick when writing, "While initially installing the hdd in NAS I found out that only 4 out of 6 screws were required so I assumed the remaining 2 screws must be for the NAS unit back panel. Soon though I found out that was not the case & then I remembered another small pouch with 2 thin screws in it which turned out to be the correct screws for the unit back panel. A small suggestion to Synology here to please label the pouch containing the HDD screws as HDD/disk screws."
Performance
The specifications of the device are just adequate for the task, as imcj notes, "the brains of the DS 120 J are barebones to say the least as DS 120 J comes with a Marvell Armada 3700 88F3720 Dual Core processor clocked at 800 MHz and a mere 512MB DDR3L of memory," and then goes on to add, "don't get me wrong though firepower packed for the basic tasks that you can use DS120J NAS running DSM 6 is sufficient and I have personally never faced bottlenecks with respect to performance but it does mean that complex apps like WordPress would bog down the system with long demanding tasks." Then, imcj went on to posting the numbers, noting the limitation of data speeds caused by not using a gigabit router, "copying files from wired Lan gave me a constant speed or about 11.5 MBps as the network speed was a limiting factor. Smaller files like transferring 100 Gb of music was a lot slower and speeds were anywhere between 3 to 8 MBps. It was an overnighter for me to transfer 400 GB of data files onto the NAS from my system. For playback on PLEX, KODI or DS video station the playback was smooth till 1080p video files."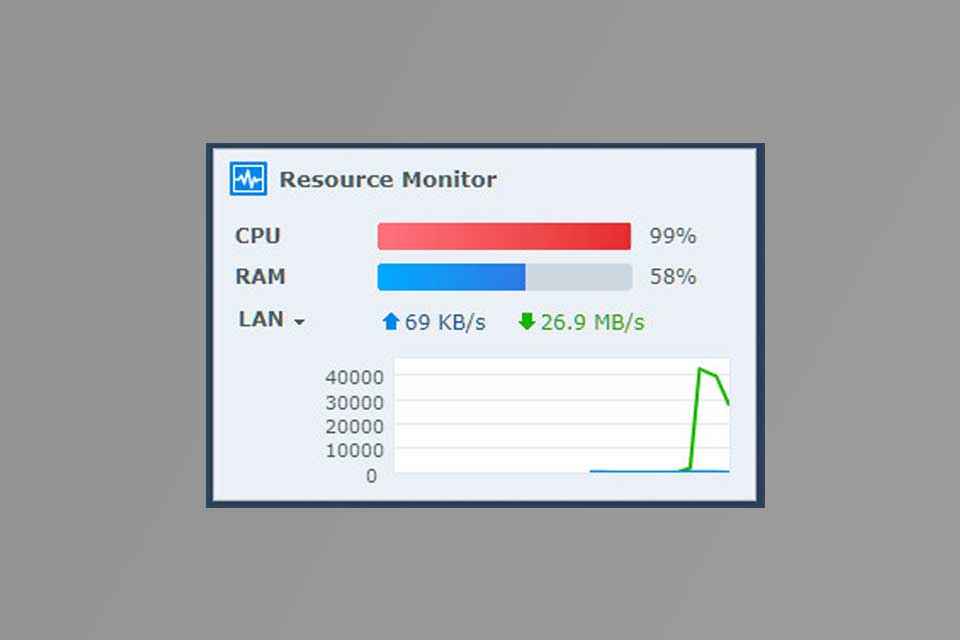 The NAS under full load. Credit: Whitestar_999
Dragonoid managed to push the device to its limits, to the extent permitted by the processing power on board, "for testing the transfer speed of the NAS, I uploaded a 1GB test file to the NAS over the ethernet and the maximum speed achieved was 61.9MB/s (it took 20 seconds to upload the test file). The max speeds are a bit disappointing as the 7200RPM HDD inside the NAS is capable of write speeds up to 135MB/s and the network is a Gigabit ethernet (around 120MB/s). While downloading the same 1GB test file to my PC, it downloaded in less than 10 seconds (max speeds achieved was 89.6 MB/s), which is great. Also, the CPU utilization while uploading or downloading was at 99%, thus confirming that the CPU is bottle necking the upload and download speed." RumbaMon19 noted that "the performance of the device is good for home users but not for those with very heavy workflows," and went on to add that the hardware could do with upgrades, writing that they did not like "the weak CPU, which is basically the cause for many other issues also. The RAM also acts a limiting factor while file transfers. So there needs to be improvements in hardware." Whitestar_999 also managed to run the device at its absolute limits, extracting the highest possible speed supported by the processor, noting "Max speeds achieved over ethernet was around 54MB/s which is slower than expected considering a 7200rpm HDD most likely because of processor struggling as evident in above pics."
Applications
Where the capabilities of the device really shined through, was the Diskstation Manager (DSM) OS and the bundled apps, which are essentially data storage services provided by Synology that extends beyond the capabilities of this one NAS unit. Writing about the DSM, _.yash007._ notes, "it is pretty much like using a windows OS. It is really user-friendly." Almost all the users found various use cases where the hardware came in incredibly handy, such as by imcj, who set up a communal storage solution for his family to pool photos over a number of weddings, "my DS 120 J has a shared folder for pooling all the photos taken by my family on their own devices to be backed up and stored together so it can be accessed like one very big photo album. Believe me, the simplicity of every member simply uploading their respective photos on the NAS during series of wedding functions is a god send. This use case of my NAS i.e. DS120J works as the long-term cost of cloud services can be huge compared to one time investment to be made in NAS and requisite Hard Drive(s) and the fact that my data is stored on a physical drive present in my own house just puts my mind to ease. Though it is not without any disadvantages."
Drogonoid found the Video Station app incredibly useful, "while the inbuilt File Station can be used view images and videos, the ideal package for viewing the video content would be Video Station. It has a nice layout and has tabs for various categories of videos that a NAS may be storing (Movie, TV Show, Home Video, TV Recording). Upon setting up a default folder for searching the videos from, it automatically categories them and if there is a movie, it pulls a short summary along with the rating and various details in a nice splash screen. It is a lot like Plex server and those who want to use the NAS as a video streaming server would be delighted."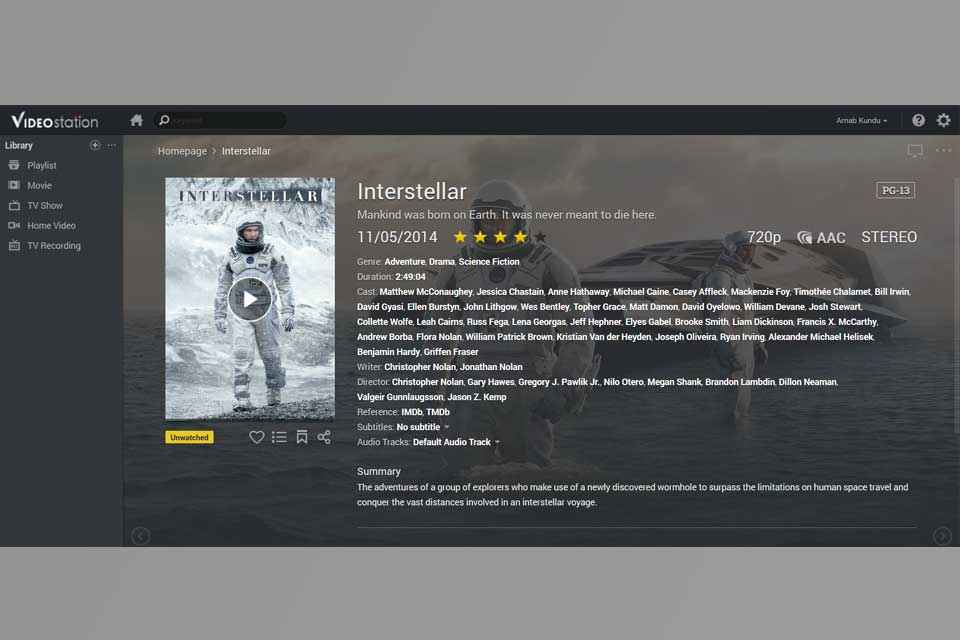 The video station. Credit: Dragonoid.
RumbaMon19 really liked the Moments photo app, and the ability to use the NAS server to download torrents and as a seedbox, "The download station is used to, as name suggests download things. It supports FTP, HTTP, Torrent and emule services. The download station is great add on to the NAS as It helps to store the files directly to it. I was able to download torrents as well as seed them from there within. The download station is pretty optimized and works without glitches."
Whitestar_999 set up an interstate video streaming service for his friend, "a major feature of NAS is their playback capability over internet so I decided to try it by enabling Quick Connect option in DSM setting. I got a friend of mine in another state to test this feature & made a guest acc for him to access a shared videos folder. Friend played the above video file in another state by using QuickConnect feature & playing the file in chrome browser in pc. The playback was smooth with no issues." In his review, Whitestar_999 has posted detailed screenshots of performance diagnostics under a range of video streaming conditions and parameters.
Coming to the SurveillanceStation, _.yash007._ notes, "This was the best thing that helped me out. Surveillance Station basically paired up with my Wireless IP camera and let me have a full access to it. The features that you get to see here are really awesome. Since I had a motorized camera, I could turn it around, toggle the flash, even record video manually. I think I can say that this was at par with the camera's official application. I could also do all this with my mobile."
Conclusion
All the users agreed that it was a satisfactory device for the price point. The reviewers might have initially balked at the specs, but then found that the device was surprisingly capable, as imcj notes, "From the above I want to emphasize that a there are a variety of circumstances where even a single bay NAS like the DS 120 J is a good, reliable and economic solution with very few caveats. I can understand that due to lack of redundancy DS 120 J might not be suitable for professional users but for beginner home users DS 120 J is a decent offering at the price point of Rs 8800 or 100 USD. The flexibility and power DS 120 J offers coupled with the fact that Hard Drives upto 16 TB are supported out the box is a big plus in my books. I am shocked at the value this device provides and even the performance of a measly dual core processor. "
While calling for upgrades, Dragonoid notes that the device makes for a very good entry level NAS experience, "the Synology DS120j is the cheapest offering from the stables of Synology, and it delivers a wholesome experience for the first time NAS buyers. The Synology DS120j was launched on October 31, 2019. It has been almost 2 years since the NAS launched and I think the NAS is due for a refresh. The CPU should be upgraded and atleast 1GB of RAM should be provided for a more fluid and consistent experience. That being said, for a NAS priced less than ₹10,000, it offers a glimpse what a NAS is capable of and allow users to experience a whole new world. "
RumbaMon19 agreed with Dragonoid on the device being a great entry level solution, and also noted that it was particularly suitable for Indian climate, "The device is good option for home users. It suits Indian weather due to cooling fan and keeps temp well below 55℃. It does lag on some features where it needs improvements. Overall, it is good, but some issues need to be fixed. It has those extra features which are essential too. I liked the device and overall I would give it 8.5/10" Whitestar_999 managed to push the drive repeatedly to its limits with just its video streaming capabilities, and writes, "Overall this entry level NAS from Synology should suffice the need of a typical user wanting to watch their multimedia collection in home or on the go without needing to turn or keep their laptop/pc on. Multitasking is not recommended for this model while watching videos so ideally only one user should access this NAS at a time for multimedia tasks but other than that it shouldn't be an issue for other typical tasks like photo viewing etc." According to _.yash007._, "this sure is the best option for you if you're a first-time buyer who is looking forward to having access to all the essential NAS functionalities."
To check out the community review of the Synology DS220+ NAS click here . To purchase Synology NAS head over to https://sy.to/jkk49 and to learn more about Synology NAS check out https://sy.to/ksptw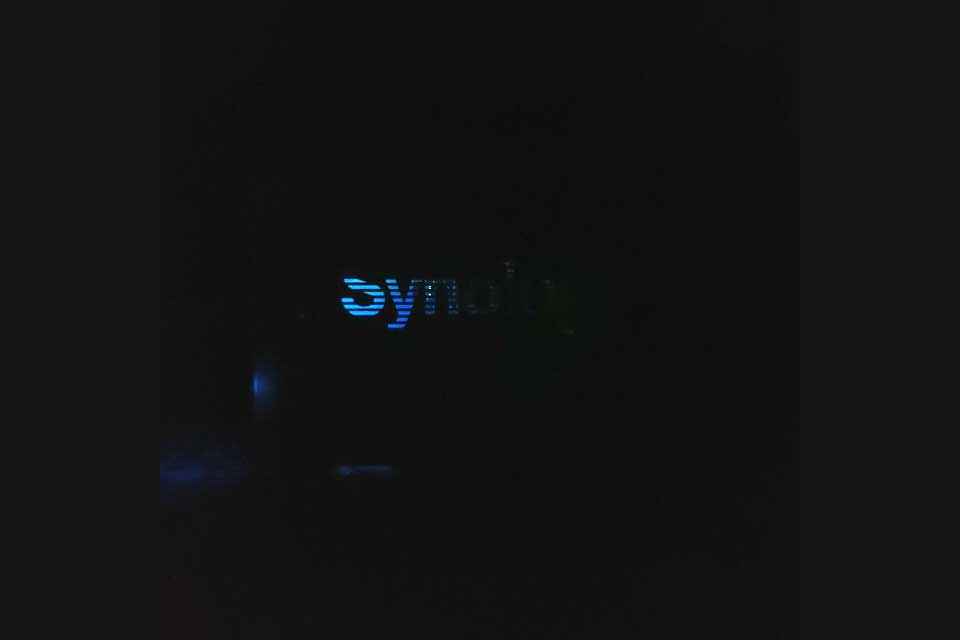 Mandatory "glow in the dark" photo by Whitestar_999