Ringlerr goes beyond telling you just who is calling, but also on why they are calling, allowing users to gain more context before every interaction. One of the ways Ringlerr does this is to use data science, to allow consumers to recognise business calls and give them the choice to proceed with the communication at their convinience knowing the intent of the call. The solution can also be implemented entirely within third party mobile applications, say of ecommerce platforms or property portals. We spoke to Ringlerr to understand more about their platform and how it is being used.
Digit: Please explain in detail about Ringlerr's applications.
Ringlerr: Founded in 2018, Ringlerr is a New Delhi based cloud communication platform offering a real time business-consumer engagement tech solution. We do offer suite of cloud communication APIs & SDKs empowering businesses to use world's 1st ever verified contextual communication technology and enable businesses to make real time engagement with their consumers over phone call. It is solving interesting communication problem in the $1 billion Indian cloud communication market. Our vision is to empower this world with Safe, Clutter free and transparent voice communication experience.
Digit: What problem is Ringlerr solving?
Ringlerr: Over 60% consumers prefer talking to real human agent over call to deal with complex queries and complaints. As per Google's recent report, businesses therefore have to spend $1.3 trillion on 265 billion customer service calls each year but yet 87% users do not answer business calls.
With consumers overwhelmed by endless spam (Avg. 25 spams in a month – Truecaller report 2019), brands find it more and more difficult to connect with their interested customers over phone call for legitimate purposes. This is because consumers see unknown numbers as spam and do not trust and feel unsafe while getting such unknown calls but the real point is that not all enterprise calls are spam, Right?
To solve this big communication problem, we have built Ringlerr which now empowers brands to make verified and personalized contextual calls to their consumers which mean letting end users know why business is calling them. This is possible by displaying caller identity with verified number and brand logo, as well call reason on the consumer's mobile screen while they receive a call so that end users can differentiate business calls from other unknown calls and can trust the caller and respond quickly.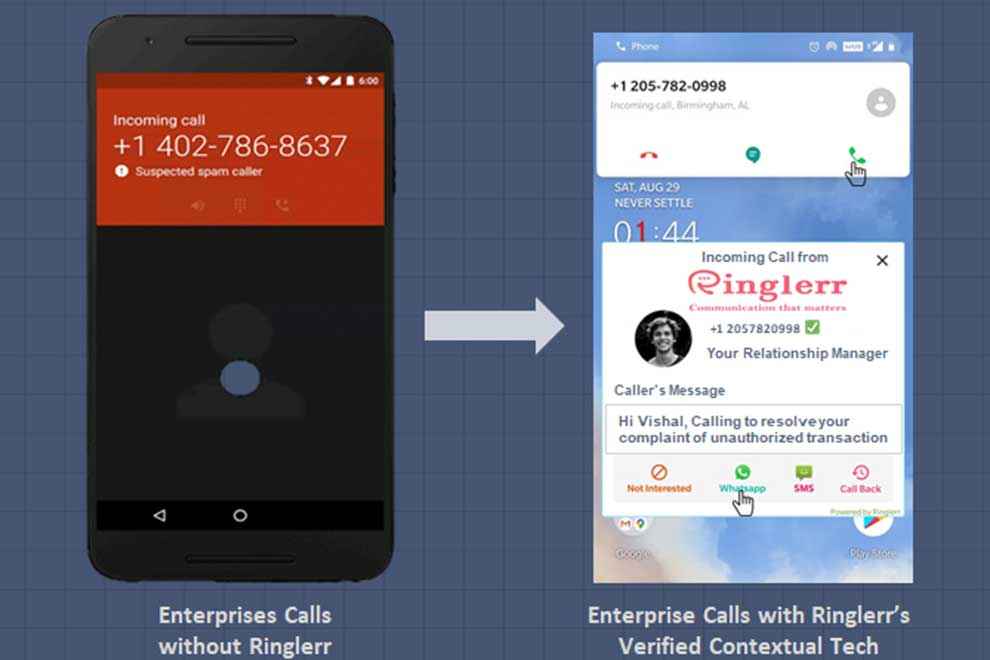 Digit: How Ringlerr solution is being used?
Ringlerr: Ringlerr solution can be used where brands do interact with their consumers over call using cloud communication platform like outbound and inbound dialer. This is for entire consumer engagement journey i.e. presales to sales to support.
Digit: How does Ringlerr boost sales and improve marketing ROI?
Ringlerr: With Ringlerr, brands are now able to come across as genuine caller in the eyes of their consumers. Consumers can now recognize business calls and hence respond faster to business calls. This in turn helps brands to increase their call answer rates by 20-25%. This will further increase overall sales funnel by 30-50%, marketing ROI by 70-100% and reduces service resource cost by 20%
Digit: List some companies where Ringlerr's technology is being used and how?
Ringlerr: Ringlerr is being used by IndiaMART, 99Acres, TradeIndia, Z-Centrix and Sulekha among others. In few of these companies, brands have integrated Ringlerr solution within their cloud voice communication platform to make verified contextual calls to their end consumers to have real time consumer engagement during presales to sales to support journey. Also, in some companies, brands have integrated Ringlerr solution within their mobile application so their mobile app platform users (buyers and sellers) can make contextual calls to each other and connect in real time. Ringlerr solution can be used across sectors because brands rely on voice communication to deal with complex consumer queries and complaints. So sectors like marketplace, aggregator, classified, lending, BFSI, doorstep delivery, online healthcare, travel, hospitality etc. where Ringlerr solution can be used for having real time consumer engagement.
Digit: What kind of analytics does Ringlerr provide?
Ringlerr: They say Data is the new oil. We say real time data is the new oil because that helps brands to take action in real time and get faster results. Ringlerr provides 1st of its kind customer's preferential data while call is ringing. This is possible because Ringlerr solution empowers consumers to even communicate back to the brands without even responding to calls. For example, with single click of button, Customers can tell brand whether he is interested in talking to or not. Customers can reschedule the call and ask brands to call back in his preferred time. Customers can start chatting with brand using their preferred messenger application. Everything happens in real time. Other metrics like connect rate, Avg. talk time, call back rate, response rate, CTR etc. can be measured using Ringlerr's real time dashboard analytics. This can be further filtered by each agent/caller, location, user group etc.
Digit: What communication gaps does Ringlerr fill?
Ringlerr: In today's world, voice communication has become cluttered, unsafe and lack authenticity due to bombardment of unwanted spam and scam calls. Consumers do not trust and feel unsafe while getting unknown calls and hence, do not prefer to respond to unknown calls. As a result, brands are not able to make real time connect with their consumers. To bridge this gap of trust, authenticity and transparency between brand and consumers, Ringlerr empowers businesses to let their consumers recognize and trust them while getting call.
Digit: Could you elaborate on how your experience has been with the Nexus Startup Hub?
Ringlerr: For us, Nexus has been a great experience. We were doing too many things without a structure and sharp focus, but Nexus helped us sort out our priorities and cut down clutter to focus on things that matters the most. Sometimes you need an outside-in perspective to help you move towards your goal by quickly identifying your critical bottlenecks and biases, Nexus has been game changer for Ringlerr.
We are very much thankful to whole Nexus team specially ERIC sir whose 1-2-1 mentorship actually allowed us to focus on things which mattered the most at that point of time. Nexus team was kind enough to support us by providing their state of the art office space where we could work with our team and could invite our clients for meetings besides providing us enough resources like laptop, printer, wifi, conference rooms, event space etc.
According to us, Nexus has been one of the best incubator programs and has been contributing a lot towards Indian Startup ecosystem. Nexus has been setting up the benchmark and other incubators should learn the best practices Nexus team follows to deliver high quality and personalized support to each startup.