Noida-based Inoviea Consulting & Services is a technical, management, marketing consulting and services company that has invented a novel patented technology that enhances the efficiency of solar panels. Inoviea was part of Nexus Startup Hub's Cohort 8 (pre-incubation program). The technology that the company has invented is termed i-PanelKlean nA2, which is a completely waterless solar panel automated-cleaning system that enhances overall electricity production. It is a fixed solution that keeps solar panels clean without the need for any manual interference. It's a two-fold cleaning solution – slippery nanocoatings are applied on solar panels in solar plants (existing or new) that prevent dust from sticking to them and compressed air is used to blow dust away from the panels multiple times a day. The process does away with the use of water completely for cleaning solar panels and also increases the overall power generation from anywhere between 30 to 100 per cent. According to Suchin Jain, Founder, Inoviea Consulting & Services, there is a large impact of "i-panelKlean nA2" technology that has per GW per annum potential to generate extra power worth 80 million USD, save 1 billion litres of water, reduce carbon emissions up to about 600,000 tons, save 100-150 lives of Roofers (sixth most dangerous job in the world) in the US alone, and world over total solar rooftop segment is over 100 Gigawatts. We had a conversation with Jain to learn more about the startup and the waterless solar panel cleaning technology.
Inoviea: improving the efficiency of solar panels
Digit: Can you elaborate further on "i-PanelKlean nA2, the company's patented waterless solar panel cleaning technology and how it can increase power efficiency?
Jain: i-PanelKlean nA2 is the latest technology in waterless solar panel self-cleaning system that is state of the art engineering solution, which more than doubles the benefits of your investment in rooftop solar power plants. Today, most solar power plants are performing way below their installed capacities due to many reasons such as dust deposition, degradation of solar panels, their structures and rooftop structures due to constant use of water for cleaning, use of brush causes aberrations on panel surfaces that decreases their yield YOY. Water is a scarce resource already and use of ground/potable water for washing purposes is illegal in most municipalities. Moreover, it's difficult to clean solar panels which are installed on high-rise roofs. It also poses life-risks to cleaning manpower due to possibilities of electrocution from high-voltage DC and falling from roof-tops.
Digit: What are some of the most highlight-worthy solar solutions provided by Inoviea?
Jain: Inoviea has been involved with solar since 2015, when we made a feasibility report on a 2GW solar park for an eminent industrial group. Though we started with an ambition to make a large solar portfolio but we saw the solar market changing at a very dynamic pace. Such that large utility scale solar business became mostly led by low cost foreign capital, and the rooftop solar market saw flooding of low quality solar solutions. Being an engineer, I decided to focus on developing niche and indigenous solutions in solar.
The first solar power plant set up by us was a hybrid solution with enough power backup that generated almost 5 units/kW annual average in Noida, which has been considered very high in this segment, whereas other plants in similar locations produced only 2.4 to 4 units. Primarily use of high quality components, taking care of each and every aspect in well-researched design helped us reach this milestone. We also converted a diesel powered boat to a solar charged Electric-boat in a very short time to reduce water pollution on Assi Ghat in river Ganga at Varanasi, India. It was launched by our honorable Prime Minister Shri Narendra Modi ji on 01 May 2016 and was called the first E-boat of our country.
Digit: The company seems to have a multi-faceted portfolio with innovations and services provided within not just the solar power sector but also IT, marine, market research and others. Can you elaborate on the company's work and growth in industries other than solar?
Jain: Inoviea began as a consulting company but the real growth came when I added services to its portfolio. At its peak Inoviea had regular employee strength of nearly 60 and had involved another 450 on part-time/contract basis on various assignments within short 4.5 years of its starting up in bootstrap mode. We delivered over a million packets for Amazon India under a contract. For another big client we helped them sell a record 300,000 LED bulbs within a short span of 4 months as part of GOI MoP DELP program. In my journey of sustainability and growth, I soon realized that it was my passion for innovation that had won. Being an engineer at heart and profession, I continued to invest in new technologies that could solve some nagging problems. Consulting approach helped me build trust with clients and took me closer to problems, Services approach got me finding real problems wanting to be solved and it was my passion for Innovation that helped me find marketable solutions to those problems.
In addition to solutions already detailed above, we developed an innovative app OMS (Office Management System) for employee attendance, performance, salary management all-in-one. Designed world class interiors for AC/Non-AC coaches for Indian Railways. Delivered market research reports in over 12 sectors and strategy consulting to eminent clients. And recently to fight COVID, developed a patent filed Touchless Intelligent Disinfection Gate that would be using AI to predict Corona onset among regular users and bring down its spread.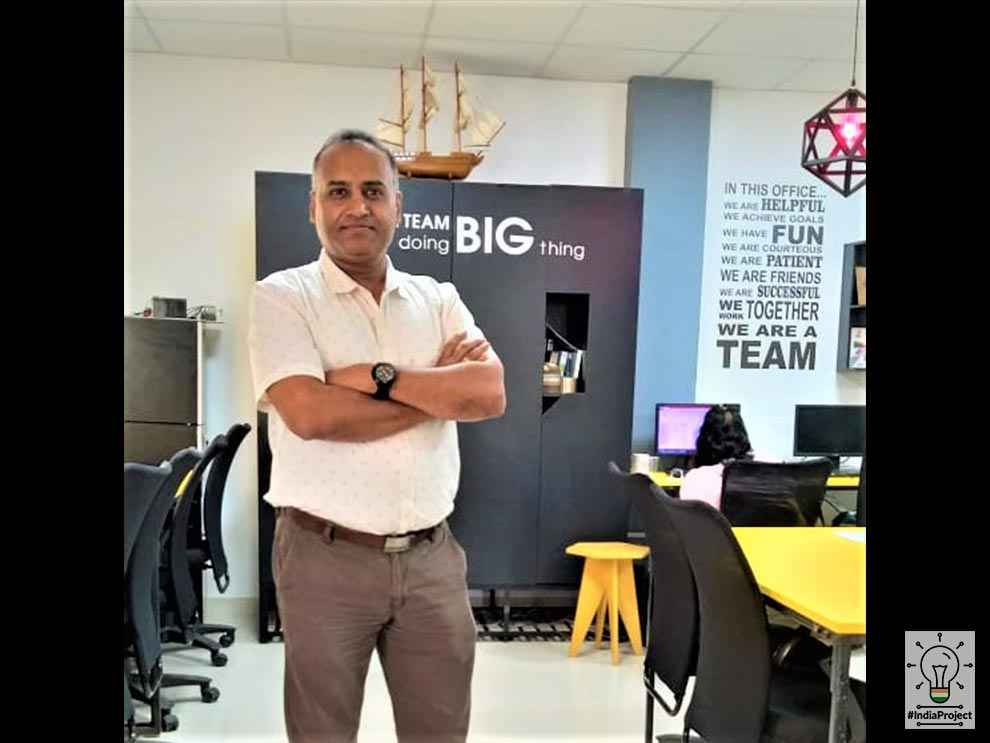 Digit: The company recently developed an E-boat prototype. Could you elaborate further on the technology used and if the company plans on venturing into development of other e-vehicles in the future?
Jain: Electric-boat has E-propulsion that uses electricity stored in batteries charged by solar power to propel itself for river transportation. Prime objective of this project was to provide an alternative to boatsmen and tourists visiting Assi Ghat at Varanasi, India and reduce air-pollution, water-pollution and noise-pollution from existing diesel powered boats that have been polluting river Ganga. I worked on converting this boat from Diesel power to Electric power along with my IIT Delhi interns team and within a span of eight days our first trial was successful.
This E-boat project has large potential to benefit lakhs of boatsmen across the country. In fact, the Government of UP has supported us in approving our proposal during UP Invest 2018 for manufacturing of E-boats. But due to market changes, global slowdown and now Corona has resulted in reduced tourism and made it difficult for a startup like us to go whole-hog into this venture, especially in the marine sector that is highly dependent on government support.
Digit: How has your experience as a naval architect for the Indian navy come to play in developing your startup?
Jain: As a Naval Architect, I'm primarily a warship designer. I undertook structural design analysis of our indigenous aircraft carrier 'Vikrant', been part of modernization of INS Vikramaditya, undertaken design, construction and repair of numerous other naval warships and submarine projects during 26 years' of my career in Indian Navy that positioned me in the Technical leadership role. In addition, my education at CUSAT, IIT Delhi and IIM Ahmedabad were of immense value in shaping my work, thoughts and passion.
My education and experience were dominant factors in what I chose in my entrepreneurial startup journey and utilize my expertise in technology to provide high-tech solutions and innovations. The kind of work done by my startup within our short journey of 5 years has been the domain of very big and well established companies, where even they would find it difficult to get solutions that we have found and implemented. Transition from an all life defense guy to an entrepreneur has not been easy for me. Economic and market changes, global slowdown and later corona have shown me the roller-coaster of the startup world that led me to focus on collaborative work culture and eventually convert my office into a vibrant Co-working space focused on innovation. My startup journey has been helping me find my mojo.
Digit: Could you share some of the biggest takeaways from your association with the Nexus Incubator?
Jain: As part of startup India program, I really value my prized selection in end 2019 for two months long full-time classroom course in Innovation series readiness and Technology Commercialization at Nexus, a US government incubator. It was conducted in collaboration with University of Austin at Texas. It was a great learning experience that fine-tuned my understanding in startup process. It was all crisp to the core. The Nexus team, Erik, Cliff, Vikas, Sameer, Visalakshmi and Mallika have been amazing people, who would go that extra mile without any expectations except professionalism to find answers to your queries, guide you and support the startup journey.
My biggest takeaways were to stay focused, visualize, plan and act. Market validation, pitching, funding, sales processes have been inspiring that gave me renewed focus to continue building on my passion for innovation with i-PanelKlean nA2.
Nexus Incubator is also now accepting applications for its 11th Virtual Cohort. Indian startups that are interested can apply by heading over to this link.