Where there is a will, there is a way. This cliche stands proven in Lalit Kumar's story. Lalit, a resident of Yamuna Vihar in East Delhi, had a dream of making it big. After securing an engineering degree from Krishna Institute of Engineering and Technology, Ghaziabad, Lalit went on to work with Bharat Electronics Limited for a year, post which he was employed at Centre for Development of Advanced Computing (C-DAC), Noida, for a decade long stretch as a research scientist. A professional pedigree, a coveted job and a loyal patronage at C-DAC, all this seemed like a fairytale for Lalit, but sadly, it was not to be.
An embittered Lalit recalls, "After 10 years of working at C-DAC, they conducted a review for 3 minutes and thereafter declared me unfit for employment. This is very unfortunate and I didn't expect that after 10 years of service and my dedication, they give me unfit! My story begins from that point."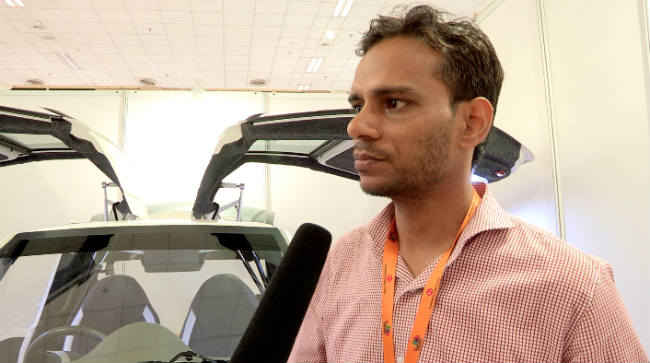 Lalit Kumar, Founder, Pixy: Standing next to Pixy at the Second Smart City Summit, New Delhi
After getting the boot from C-DAC (the reasons for which we are trying to verify), Lalit found a new sense of inspiration thanks to the current Government's Make in India initiative. With determination and vigour, Lalit resolved to make a name for himself, in a country where startups and innovation finally found their rightful place. That's when he had the idea to build an Android based Hybrid car, and that is how Pixy was born in a low key garage, in East Delhi's Yamuna Vihar.
Lalit chose the Tata Nano as the vehicle to build upon, customised it with a homemade 150cc engine, and sourced all the other parts from local markets of Delhi. He tells us, "There was no readymade components available in the market which can be fitted in the car. So, I made a visit to the local markets such as Jama Masjid, scrap markets and Lajpat Nagar Market, which is the electronic hub of India. I bought many components, I cannot even name them because I didn't know their names, I just bought it if I thought it could be fitted in my car."
After sourcing the required parts, Lalit created what is now the first hybrid Tata Nano. The aptly named Pixy, can run on electricity as well as petrol. One can switch between both modes with the tap of a button on the Pixy prototype app for Android smartphones. The smart car has an in-built battery charger, along with the ability to charge with solar energy. Pixy can easily travel for 4 hours on a single charge. The car's gullwing doors (yes, he actually fitted gullwing doors on a Nano) can also be opened and closed with a simple app command. Lalit says that he is also working toward giving the Pixy an autopilot mode, which is essentially a step towards making it a driverless car. To me, Pixy looked like a Nano on steroids, complete with flashing LED door lights and neon interiors. To Lalit, it is his prized possession and his life's work poured into a smart car, which took him all of 8 months to design and finish.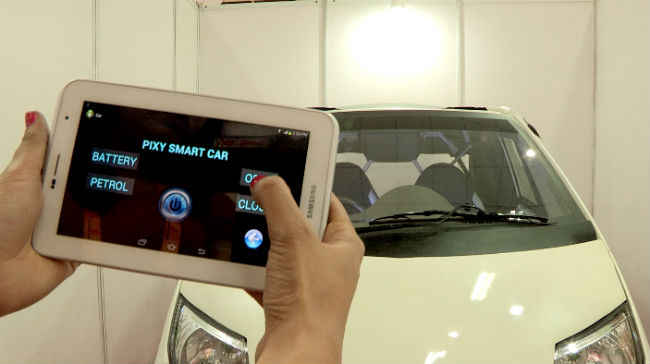 Pixy Android App
When asked about how he funded his project, given that he does not hail from a financially strong family, Lalit said, "My daddy supported me financially and my sister who was having some funds, I borrowed some money from them. "
Although his hard-work payed off in the form of a working hybrid car, commercial success is still far from Lalit's grasp.
"I approached every government agency, even the PMO. But, I did not get any help from there.
"I approached every government agency, even the PMO, when you can think of Government agencies, I approached every one of them, but I did not get any help from there. I got a response from PMO office, when I wrote to them that I have designed a car which can be a good initiative for Make in India. But, I got totally disappointed when I got a letter back which told me to contact SIAM (Society of Indian Automobile Manufacturers). I contacted Mr Saurabh Rohilla (now Associate Director, SIAM), who was also surprised that why the PMO directed you to contact me!"
"As I came to know from Govt agencies, they support nothing. They do not support."
A dejected Lalit still holds hope in his heart that someone, in some Government body, will give him the time of day and help him commercialise his ideas. He is determined that he wants his initiative to help the common man of India, rather than a private conglomerate. "I did not start my work for business," says Lalit. He adds, "My work was to motivate the Indian youth, to show them what we can do in our country, to make our country strong. But, as I came to know from Govt agencies, they support nothing. They do not support."
In Lalit's case, another cliche stands corrected - 'When life gives you Lemons, make lemonade!" Lalit will continue his efforts towards getting a Govt agency to support him, meanwhile, one can't help but notice the lack of Govt support to such entrepreneurs emerging from the streets and gullies of India.
If you appreciate Lalit's work and want to send him a word of encouragement, write to us in our comments section below and we'll make sure he gets your message.