All of us have walked into our fair share of glass doors, bumped into co-passengers on a local train, tripped awkwardly on low-lying cables, been hit by a slammed door and have had many such countless encounters in our day-to-day lives. All this, with the ability to visually see, judge and comprehend the obstacles in our path. If people with a healthy eyesight experience such run-ins, almost on a daily basis, imagine the plight of those with visual impediments. Navigating busy streets and crowded places is a herculean task for anyone, but, for those who are visually challenged, it is all the more difficult to steer through the complicated and busy environment surrounding us 24/7. Hopefully, a young entrepreneur from Chandigarh (also this proud writer's hometown) is going to change all that!
Abhinav Verma hails from the quaint little town of Chandigarh. Although not so little anymore, Chandigarh is not a place where entrepreneurs are born. Riddled with landowners and legacy businessmen, the city is usually a place where dreams come to settle. But, not this one. This one was born out of pure genius and an unwavering commitment to innovation.
Verma, a Mechanical Engineer by pedigree, has developed a one of its kind 'human augmentation device' for the blind, which is a smart and fresh take on the age old concept of carrying visual aids like a cane. Recalling his first steps, Verma tells us, "I had entered a competition at my university, Chitkara university, and the idea was to build something for the blind. Everybody was building smart canes and ultra canes, so I thought why not build something which completely eliminates the cane. That was the idea behind this whole technology. It took 2 years for us to develop it. The first thing that we built was a glove that a person could wear and it could sense obstacles in all directions and it would communicate that with haptic feedback. Then, we raised our investment with a single demo. In October we got funded, by December we had a finished product, which is this, the world's smallest, lightest travel aid for the blind."
Live Braille Mini
The first Live Braille product to enter the market is the Live Braille Mini. An excited Verma tells us that the demand for the product is so high that the first batch of units they sold had to be 3D printed. Live Braille Mini uses Ultrasonic sensing technology running at 50Hz. The sensing system, combined with patent pending wave-tracing and intelligent measurement algorithms precisely senses the direction, distance and texture of the object in the front. The proprietary technologies allow the same to happen consistently at 50 times a second. This information is then relayed to the user in the form of haptic feedback. "It takes about 30 minutes for a visually impaired person to learn the haptic feedback patterns. A blind person has great perception, that is why it takes very less time to train them. We have partnered with a few national level NGOs in India, so no matter where we ship it, we can provide training to those that need it," says Verma.
Expanding more on the tech inside the device, Verma tells us that the Live Braille Mini is powered by a custom made chip, designed by him and his team. "Basically the chip we are using has got 117 haptic codes," says Verma. The device is small and sturdy with a body that is made up of bulletproof polycarbonate, and medical grade implantable Silicon. Verma says, "We have seen that a lot of times users drop the device and step over it, because of which the device needs to be strong to withstand such falls." Although the Live Braille Mini seems quite durable, it is not yet waterproof. Verma says that because the device works on the principles of sound, if sealed for waterproofing, it will interfere with the device's core functionality.
In terms of battery life, the Live Braille Mini can last for upto 4 hours, post which it gives out a warning feedback for 2 minutes before shutting down. It uses a micro USB port for charging, which will be upgraded to a USB Type C port soon.
Infact, the next iteration of the product is also intended at solving the education problem for the visually impaired. Converting text books into braille is a challenging task and even more challenging is translating them into different languages. The next generation of the Live Braille Mini will be capable of storing audio books, with 32GB of storage. For the same, Verma's startup is in talks with Governments from various countries, for simplifying the education process for the blind. So, the second-gen Live Braille Mini will also include a headphone jack, along with volume controls and a micro-SD card slot. The company is planning to sell locked units, without a micro-SD card slot in countries outside of India.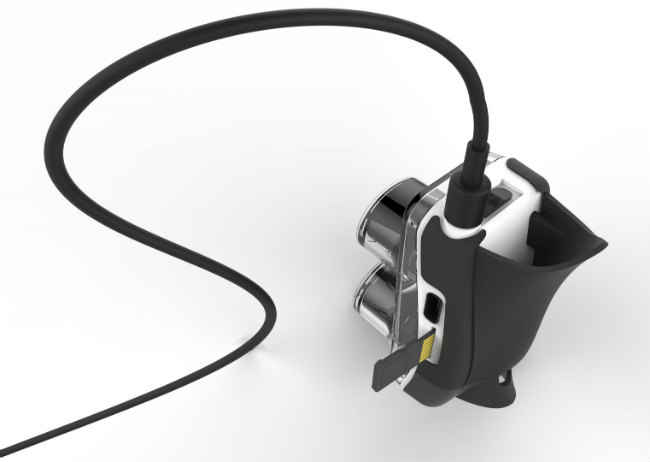 Live Braille Mini Second Generation Prototype
With Live Braille all set to brighten the future for the visually challenged, the most obvious question is that of the availability of the device. Currently, the Live Braille Mini retails for Rs. 5,999 in India. Units of the same device also retail from anywhere around $380 to $1000 in Latin America and Canada. Verma tells us that his startup works with 6000 organisations for the blind, worldwide. He also tells us that the Live Braille Mini will soon be available on Indian ecommerce platform Flipkart. As and when the demand for the product picks up further, Verma hopes to raise $2 Million to expand his business and grow his startup. Did I mention that Live Braille is assembled right here in India? Well, we hope Live Braille continues on its noble journey and that more such innovative, useful ideas emerge from India's ballooning startup ecosystem. We will also be getting you a complete experiential story of the Live Braille Mini soon. Stay tuned to our YouTube channel for the same.