Over the past few years, 'startup' has been the buzzword in India and now, with the Prime Minister's 'Startup India, Standup India' initiative, things are only looking up for budding entrepreneurs. But, when it comes to hardware tech startups, India is still to create a mark on an ecosystem dominated by western countries. While our country is big on app & service based innovation, hardware based startups are few and far apart.

Owing to this very fact, technology stalwart Qualcomm announced its 'Design in India' initiative back in December 2015. Qualcomm India President, Sunil Lalvani tells us, "Our Executive Chairman Paul Jacobs met Prime Minister Modi during the PM's visit to the US. Qualcomm had committed to a $150 million investment through ventures into India. This entails investments into the startup ecosystem and what we call 'Design in India'. And as you know, it is a key element of 'Make in India'. It fosters innovation and fosters the whole ecosystem into manufacturing in India. So we were encouraging manufacturing companies to come forward with their creative ideas."
So, with an aim to boost local manufacturing and design, Qualcomm invited entries from India's budding hardware tech startups to harness the company's technological prowess and create products that would hold the flag of innovation and bring about localisation to the Indian hardware design and manufacturing ecosystem. With 400 plus entries, Qualcomm had their task cut out for them. "We had panellists comprising of Qualcomm and Nasscom members. You know we are doing this in partnership with Nasscom. We had a very difficult task of shortlisting from 400 to 23 finalists and then a presentation by all these 23 finalists to the Jury members to select the Top 10," recalls Lalvani.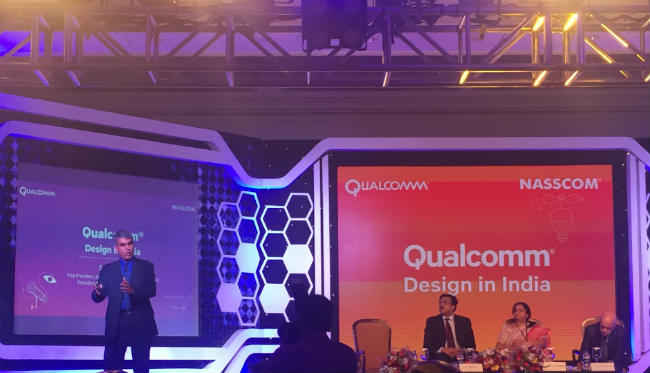 Sunil Lalvani, President, Qualcomm India, speaking at the 'Design in India' finalist announcement event
This is where things got really really interesting. Qualcomm's 10 finalists for the 'Design In India Challenge' are bunch of young and dynamic techies, who may just have remained hidden had it not been for the extremely attractive winner spoils by the company.

So, what's on offer? For starters, these 10 finalists got to dip into Qualcomm's promise of $150 million investment in India's startup ecosystem. Not only did each of the 10 finalist startups walk away with an initial prize money of $10,000, but now, they will also enjoy the privilege of being incubated by the chipset manufacturer at a fully equipped incubation laboratory based in Bangalore. Each finalist will have access to the facility which Qualcomm calls 'The Innovation Lab'. Within the facility, these aspirants will be provided with tools and equipment to create their prototypes, be in close contact with Qualcomm's engineering team for technical support and get a wide variety of development kits & reference designs to build upon. Sounds like a very sweet deal, doesn't it?
With all this and a promise of $100,000 on winning the competition, you must be wondering, just what is so special about these 10 hardware startups? Let's give you a few examples from the ones that caught our attention.
A startup called Aarav Unmanned Systems is building an intelligent quad rotor drone, capable of executing autonomous flights without using GPS, but instead, using vision based navigation techniques. Another cool startup called Carrot Technologies is building an IoT device that connects a car or a bike to a user's phone and lets them monitor the safety of their vehicles. GRoboMac is a company that's dedicated to automating farming tasks while Kiba by Lensbricks is the world's first interactive self-editing camera! And there's more, lot's more. "It's been fascinating. When we ran this contest back in December, we thought majority will still be a smartphone, tablet based application list that will come out, but we were pleasantly surprised," says a proud Lalvani.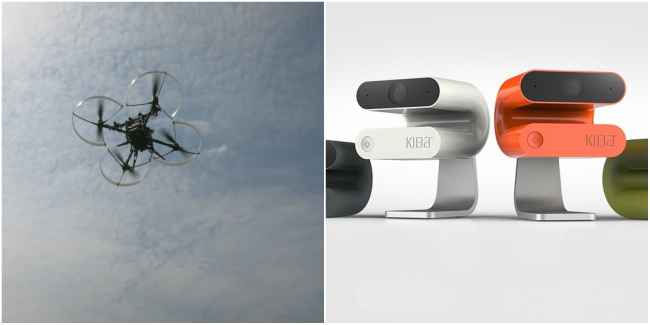 On the left, Quad-rotor drone by Aarav Unmanned Systems. On the right, Kiba camera by Lensbricks
We surely can't wait to see which one of these awesome tech startups wins the coveted $100,000 prize. Infact, we promise to get you more when their prototypes are ready to go. India sure does need more such initiatives to boost hardware talent in the country. Lalvani says, "If we are able to collectively reduce the import bill by moving some amount of component manufacturing into the country, help startups like the ones that were announced today, you can actually have a true manufacturing hub growing out of India." We agree!

Check out our Live chat with Sunil Lalvani for more on Qualcomm's Design in India initiative.
Live Chat with Sunil Lalvani, President, Qualcomm India on The Qualcomm Design in India initiative

Posted by Digit on Tuesday, April 12, 2016