Digantara is a company that was incibated by the Indian Institute of Science in Bengaluru, and developed an obrital debris tracking system, the first of its kind for use lolcally by launch providers, satellite services companies, insurers, space defence forces and regulators to better understand the risks assiciated with deploying infrastructure into space, which are often large and expensive projects. Digantara intends to use its epxertise in cubesat design and fabrication, component design for payloads, and fabrication services, Digantara has a comprehensive approach to long term safety of spaceflight, and aims to track and map the smallest pieces of space debris ranging in size from 1 to 10 cm, which has been flagged as a major threat to the future of spaceflight. Apart from maintaining a catalogue of space debris, Digantara also offers a complete threat analysis over the entire duration of a mission, through its various phases. We spoke to the young co founders to better understand the technologies that they are developing.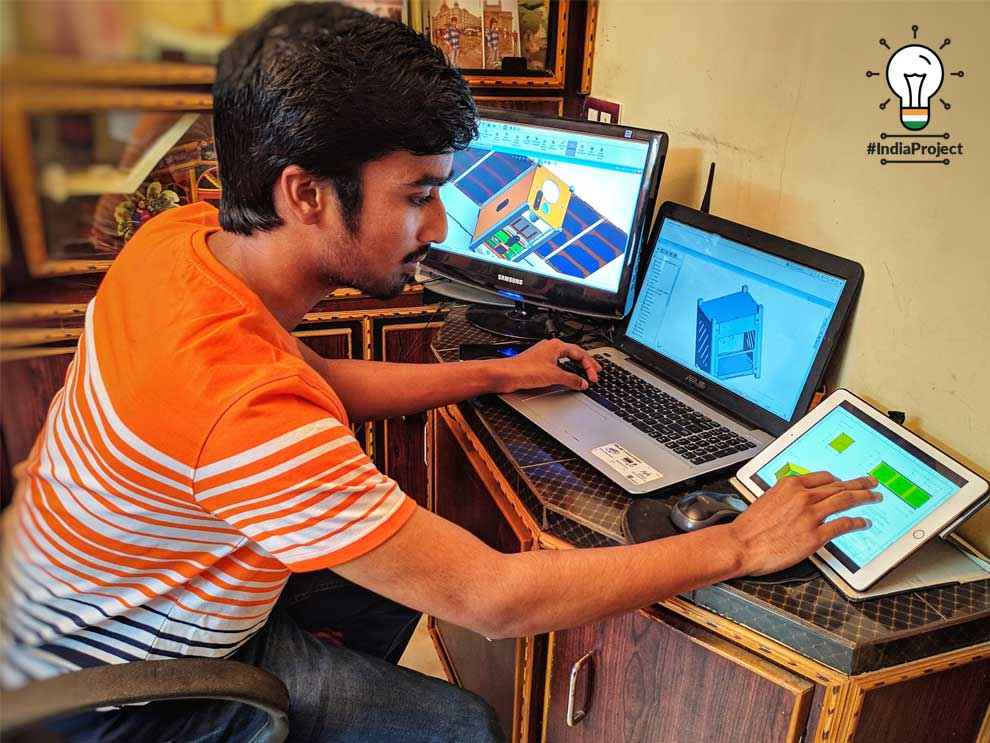 Digit: What inspired you to tackle this extremely hard problem of space debris?
Digantara: At the age of 17, we three co-founders ventured into space through our respective university student satellite programs. It was during these programs that we gained a lot of exposure both on technical and industry know-how and things began to take shape. As project leads, we presented our work at national and international platforms. We met space companies to support our student team and successfully manufactured CubeSat structures for a space company against their request. At that point we formed Digantara only to provide an invoice to them.
However, at International Astronautical Congress 2018, Bremen, Germany we were already introduced to the alarming problem of space debris and the damage it had already caused by the heads of space agencies of space faring nations. That is when we started researching on space debris tracking and the idea of a Space-Based Solution took birth making Digantara one of the top 8 space start-ups of the world at International Astronautical Congress 2019, Washington D C, USA.
Digit: What kind of technologies do you plan to use to track debris?
Digantara: Our 'Inorbit Space Debris Monitor' is a Hardware-Software combined technology for Debris detection and modelling. We deploy a constellation of satellites equipped with debris detection modules to track and map the space objects. Given that space-based sensors do not suffer atmospheric losses, we will be able to detect much smaller objects. The obtained data is processed on ground to model the debris environment and deliver SSA services for customers involved in satellites building & operations, launch, insurance, regulation, debris mitigation and military.
Digit: What are the current technologies being developed?
Digantara: The increasing threat of collisions in space made Space Situational Awareness (SSA) a focus area in many countries. Ground based technologies like RADARs, Optical and Radio telescopes form today's debris detection capabilities. They suffer greatly from atmospheric distortion thereby creating a need for space based surveillance platforms owing to the increased quality of data it can deliver. Space companies have also been developing solutions to remove the large debris in space.
Digit: What is the size of the debris that Digantara hopes to track?
Digantara: We are focused on mid-sized debris which pose high threat to active satellites but are too small to be tracked by ground based systems. We will be able to track 18 times more objects including large objects that the ground-based systems track.
Digit: What kind of satellites do you plan to launch in the future?
Digantara: We will be launching CubeSats to set up our space-based space surveillance platform. These satellites are built to a standard form factor simplifying the entire development and launch process.
Digit: Are there any plans to test deorbital technologies as well?
Digantara: Yes, we are looking at ways to leverage our debris detection technology for deorbiting as well. However, a large focus remains on tracking space objects.
Digit: Could you elaborate on how your experience has been with the Nexus Startup Hub?
Digantara: We started Digantara in our university days with a technical background and therefore we often faced hard time in understanding the business aspects of things. This is when we applied for NEXUS and were a part of the 9th cohort of nexus at American Center, New Delhi. It was an imperative experience; a great blend of internal learnings with guest lectures and practical assignments followed by the personal mentoring sessions. The program helped us to get insights of our business every week & refining our business model.