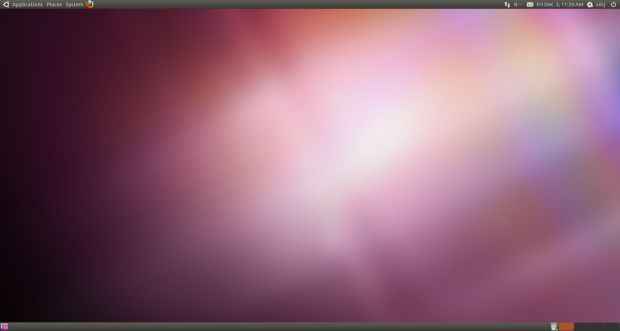 Ubuntu has set a precedent of simplicity, making each release easier to install use and set up than the previous one, and Ubuntu 10.10 "Maverick Meerkat" is no exception. The latest release, perhaps not as significant or as controversial as the previous Ubuntu 10.04 release, which was a long-term release that redefined the UI, however comes with a number of new features that make it one of the simplest Linux distributions for the Linux newcomer.
Ubuntu is most popularly available as a live installable CD in both 32-bit and 64-bit versions. If you want a more configurable installer, you can download the alternate CD that includes more applications and a text-based installer. There is also the DVD version that bundles a larger number of applications with it. For Windows users there is "Wubi" a Windows application that can install Ubuntu on the free space in a Windows partition while Windows it running. We used a 64-bit standard desktop live CD.
When you boot from the live CD, it gives you the option to either test Ubuntu, or simply begin the install process. Even if you fully intend to install Ubuntu, we recommend that you choose to try it instead. You can then launch the installer from the live Ubuntu instance. The advantage in doing so is that you will have a functional Linux desktop up and running while the installation is going on. You can check your mail, listen to music, watch YouTube videos, or play games while the installation goes on in the background.
Ubuntu live CD boot
Ubuntu 10.10 brings with it possible the simplest installer of any Linux version. The fact that many Ubuntu reviewers make the same proclamation with each version that comes out, should show you how important simplicity and ease of use are to Ubuntu developers.
As usual the Ubuntu installer asks you the bare minimum it needs to in order to set up the OS. This means that there is little in the way of configuring which applications to install, and no configuration of networks etc. Right in the first step, you have the option to download and install updates while installing, and you can also choose to install Ubuntu with some proprietary components such as MP3 codecs, Flash etc. This is all there is to your software setup.
Basic setup
Partitioning, a usually complicated part of any Linux installation, is much simplified in Ubuntu, to the point that it is counter-productive to any expert Linux user. There is no option to configure LVM or other advanced system setups. You can ? depending on the contents of your hard drives ? choose to install Ubuntu along with another OS, erase the entire disk and use it, or do a manual partitioning.
The default partition setup is not optimal, and Ubuntu should have done better. Most Linux distribution will, by default, create a separate partition for the users personal files and settings, the /home partition. Ubuntu instead makes one huge root (/) partition for all system and user files. On our 50GB HDD it used up 2GB for SWAP and allocated the rest to the Ubuntu installation. You can of course configure this as you like while installing, but new-coming Linux users should have been left with better defaults.
Disc setup and partitioning
At this point you will already get an "Install Now" button. What about user setup and configuration you wonder? Well that goes on in parallel with the core installation! This saves time by installing you operating system while you configure it.
You will get a screen called "Where are you?" with a map to configure your regional settings and time-zone. Second, you can pick your keyboard layout. Finally, the "Who are you?" page appears where you can set up the primary user. Supply your name, and Ubuntu will automatically provide reasonable defaults for the computer name and username. Now you wait while Ubuntu finishes the installation. Overlapping the configuration and the installation steps doesn't really save much time, but even a little is better than nothing.
System configuration during setup
The complete installation takes fewer than 15 minutes, but it can take significantly longer depending on whether you opted to install the updates during the installation. In that case your internet connection speed will have a huge impact.
After the installation is complete, you can reboot your system to boot into Ubuntu. Ubutu is fast to boot. Not much more than Ubuntu 10.04, but considerably more than Windows 7. The Ubuntu desktop is up and ready in just under a minute. It took less than 30 seconds to reach the login-prompt and in another 10 seconds we were on a desktop fully loaded.
Zero to Login in 30 seconds
The default application set of Ubuntu is quite basic, and geared towards new users. Ubuntu uses the Shotwell photo manager, which has basic image editing capabilities, and it does not include GIMP unlike many other distros. For working with documents Open Office is installed.
Ubuntu includes the latest Firefox 3.6 for web browsing, Empathy for your IM needs, and Evolution for mail. Ubuntu also installs Gwibber for connecting to social networking sites from the desktop. Ubuntu 10.10 includes the social integration features that its predecessor introduced, so you can post Buzz messages, or set your Facebook / Twitter status from the desktop itself, and message notifications from different source are also integrated. For downloading files from torrents, the popular Transmission bittorrent client is available.
In addition to a video player (Totem Movie Player), Ubuntu also includes a video editor (Pitivi). This makes Ubuntu a more complete package, by supporting wider range of tasks out of the box. Pitivi is a a non-linear video editor that is rather simple to use, however quite limited in functionality as it does not include basic transitions or effects. You can cut video clips and rearrange them. You can fade from one clip to another using multiple tracks and keyframes, but that is about it. Pitivit can be so much more, and hopefully it will be as it evolves. Currently it is just V0.13.
Pitivi Video editor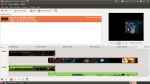 Ubuntu's default media player Rhythmbox, includes support for buying and downloading music from the Ubuntu One music store straight from the app. A new feature in Ubuntu 10.10 is that Rhythmbox will display a widget in the volume control applet in the panel from where one can control playback and see details of the currently playing music.
Rhythmbox
Ubuntu also includes a Software Manager that differs significantly from the package managers most distributions offer. Instead of listing applications as packages that are interrelated by a complex hierarchy of dependencies, the Ubuntu Software Manager displays each application as a single entity. For example, while installing Open Office Writer using a package manager like Synaptic means installing dozens of "packages" (even though you may have to select only one), in Software Center it is a single entry. It may be installing the same packages in the end, but the complexity is hidden from the user as they see only a single progress bar showing their application being installed.
Ubuntu Software Center
Installing applications from the Ubuntu Software Center is quite a simple matter. You can search for applications to install, or browse categories of applications to find the one you seek. Software is arranged in "Departments", that categorize the applications. In the home view of Ubuntu Software Center there are also sections for featured and new applications. Clicking on an application will take you to a details page that has a description of the application, screenshots, and links to the website of the application etc. From here you can click on the Install button to begin the application installation procedure. You can click on "In Progress" to see the list of applications that are currently installing. Each application installation will show how far along it is in downloading and installing the application.
Ubuntu has been quite accepting of proprietary applications, and the Software Center in Ubuntu 10.10 now even has a section for paid applications. To access these you can expand the "Get Software" entry in the Ubuntu Software Center and select "For Purchase". Currently there are few applications; three are games, Brukkon, Vendetta Online, and the popular World of Goo; and the rest are multimedia components, the Fluendo DVD player, Fluendo Windows Media Pack, and Fluendo Complete Playback Pack.
Applications for Purchase on Ubuntu Software Center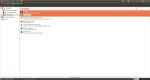 If you play back a media file that does is not supported by installed codecs, Totem will automatically search for and list the packages needed to enable its playback. In just a few clicks you can enable support for nearly any media type. This is much simpler than even what Windows has to offer, and should blow away the myth that getting multimedia running on Linux is very difficult.
Simplified codec installation
Overall software management under Ubuntu is one of the simplest implementation of any distro. Since this is a feature available in parallel to the traditional way of installing packages, it does not make Ubuntu any less powerful. You can still install applications and packages from Synaptic package manager, which is also installed by default.
Where Ubuntu falls short is in the flexibility available from some of the other Linux distros. Ubuntu might not sit as well with advanced computer users who want to install the OS using LVM on an exotic RAID configuration, or those who generally find little use for some of the niceties Ubuntu provides such as the Software Center and social features. Many people might also be uncomfortable with the window controls on the left as Ubuntu has them ? although this is easy to change. Ubuntu also has an unpopular reputation of not working well on some configurations.
Overall Ubuntu is easy to install, easy to set up, easy to manage, sleek in looks and good in performance. Ubuntu is a clear superior to previous Ubuntu versions in most aspects and one of the best distros to get started with in the world of Linux. New users, whether to Linux, or to computing in general will find Ubuntu a suitable OS.
Before settling on Ubuntu though, have a look at Linux Mint, which is based on Ubuntu 10.10 and delivers all that Ubuntu does and more. A review of the latest version of Linux Mint will we up shortly.