Apple held its annual developer conference, WWDC, last evening and the event saw a spate of software announcements from the Cupertino-based tech giant. There was no iPhone SE 2, nor a new MacBook, instead Apple went all out with a performance-focussed iOS 12, updated ARKit and feature-rich apps. Why Apple aped Google's Digital Wellbeing initiative outright is a a topic of discussion for another time, but yes, the company also introduced a slew of promising features to help users disconnect. There's a lot happening on Apple's new iOS 12, so without delay, here are the Top 12 iOS 12 features you need to look out for.
Performance! Performance! Performance!
With every new generation of iOS, Apple endeavours to boost the operating system's skills and features, which is why iOS 11 was one of the biggest updates to the platform last year. Not only did iOS 11 introduce Apple's ambitious ARKit platform, it also brought with it enhanced multitasking and support for new gestures which are integral to using an iPhone X today. With iOS 12, Apple has focussed on pure performance. The number of times Apple's Senior VP of Software Engineering, Craig Federighi said the word 'Performance' on the WWDC stage is meme-worthy for sure, but that shouldn't take away from the announcements itself. With iOS 12, both iPhone and iPad users will be able to experience quicker app launch times and more responsive typing. The camera app will now open 70 percent faster, while the keyboard will react 50 percent faster than before. The entire OS will be overall smoother to use. What's noteworthy is that Apple will be rolling out iOS 12 to devices ranging all the way back to iPhone 5s which launched in 2013. How well will the OS work on these legacy iPhones remains to be seen, but it's definitely not advisable to upgrade these devices as soon as the new OS rolls out.
USDZ - The New AR File Format
Apple is doing interesting things with Augmented Reality, starting with the introduction of a new Universal Scene Description (USDZ) file format for AR. USDZ is a new AR file format created by Apple and animation studio Pixar with an aim to ease AR experiences anywhere in iOS, including apps like Messages, Safari, Mail, Files and News, and more. USDZ will allow users to share AR objects with each other as well as place them in the real-world. Apple calls the latter, 'Quick Look', designed to better position AR objects in a user's surroundings.
Companies like Adobe, Autodesk, Sketchfab and more will support the new AR file format and Abhay Parasnis, EVP and CTO of Adobe says that native support for native USDZ is coming to Adobe Creative Cloud.
Shared AR Experiences with ARKit 2
Imagine being in the same Augmented Reality space as your friend or seeing the same AR objects your friends can see, with the ability to interact with them together. With ARKit 2, Apple has made this possible. At WWDC, Apple showed off some really cool ARKit 2-enabled Shared AR experiences in the form of games. With ARKit 2 on iOS 12, developers will not only be able to create shared AR gaming experiences, but will also be able to make productive applications that enable multiple users to interact with the same augmented environment.
Measure AR app
There are already multiple measurement apps available on the App Store that take support from Apple's first ARKit release to measure real-world objects. One of them is AirMeasure, and we have been using its since last year. However, this year, WWDC saw Apple launching its own version of an object measurement app simply called 'Measure'. The app uses ARKit 2 to accurately measure three-dimensional objects and spaces. Users will be able to identify objects and spaces with their camera and simply tap and drag a measuring scale along the edges of the object or space to get real-time measurements. Measure will also automatically detect certain dimensions such as the size of a picture in a photo frame. The Measure demo at WWDC was perhaps one of the coolest and the app, if it works as fluently as shown, would be a great productivity tool for users.
Memojis With Effects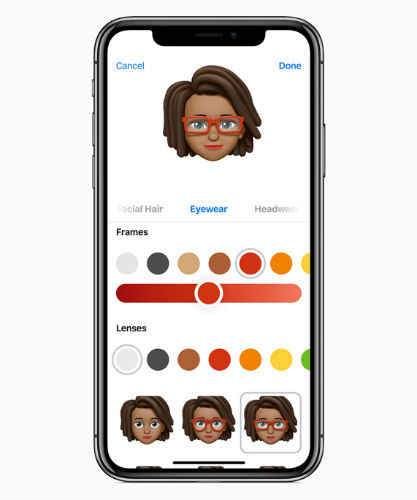 First, there was the good ol' Emoji. Then came Apple's supercharged Animoji. Samsung wanted in too, so they launched AR Emoji. These features were then aped by Huawei, which introduced Animated Emojis. Now, Apple has doubled back and picked up Samsung's AR Emojis, only to improve them and call them Memojis. Memojis allow users to create animated avatars of themselves, complete with the ability to customise anything from haircuts, to eye colour, accessories, and more. iPhone X users will be able to create Memojis straight from the Messages app and will also be able to add stickers and effects to them before sharing them with friends. Memojis can be used within a regular or group FaceTime call as well. The existing set of Animoji also expand with new ghost, koala, tiger and T. rex animojis. In addition, both Memojis and Animojis now feature tongue and wink detection.
Group FaceTime Calls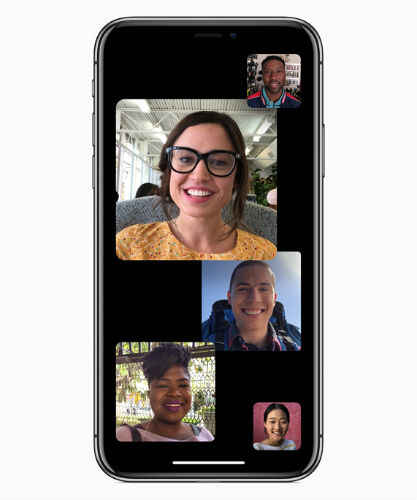 To be honest, Group FaceTime Calls was a much needed feature and we are glad FaceTime got some love this WWDC. The interface for Group FaceTime is questionable though, and even if the demo seemed pretty stable on-stage, we can't say how the application will perform in real-world usage. For starters, Apple users will be able to club as many as 32 users in one Group FaceTime call. The main participants of the call will get their own windows on the top half of the screen, while all other participants will be shown in a scroll at the bottom of the screen. A feature that caught our eye was that when a participant says something, their window animates out to become more prominent, indicating that the person is speaking. What happens when 3-4 people speak at the same time? Will the participant windows keep popping in and out? If yes, I am never getting on a Group FaceTime call. As far as participation is concerned, if a bunch of users are already having a group conversation in the Messages app, they will automatically see an option to start a Group FaceTime call. Participants can be added at any time, join later if the conversation is still active and choose to join using video or audio from an iPhone, iPad or Mac, or even participate using FaceTime audio from Apple Watch.
Siri Shortcuts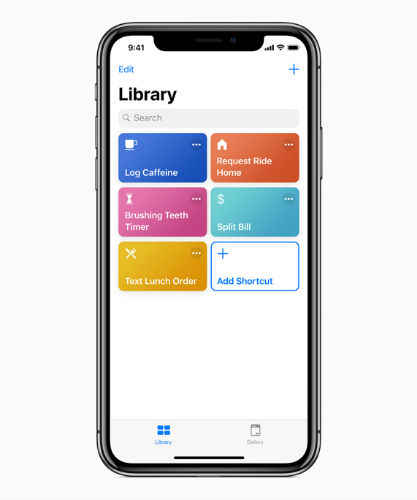 When it comes to digital assistants, Apple threw some unbelievable claims at us during WWDC. For instance - Siri is the most popular digital assistant in the world. No, it's not. In fact, Siri has failed to grow in a space that was pioneered by Apple itself in 2011, with Google's Assistant and Amazon's Alexa surpassing Siri's capabilities and reach dramatically over the years. Still, it was good to see Siri get meatier at WWDC. Apple introduces a new feature called 'Siri Shortcuts' which will allow developers to create Siri-enabled actions for their apps. Users can customise these Shortcuts by creating a simple voice command to kick off the task.
Shortcuts App
With iOS 12, users can also download the new Shortcuts app to create a series of actions from different apps that can be carried out with a simple tap or customised voice command. Developers can enable these actions within their apps through the new Shortcut APIs. Think of the Routines feature on Alexa or Google Assistant and you'll understand where Apple is going with the Shortcuts app.
Photos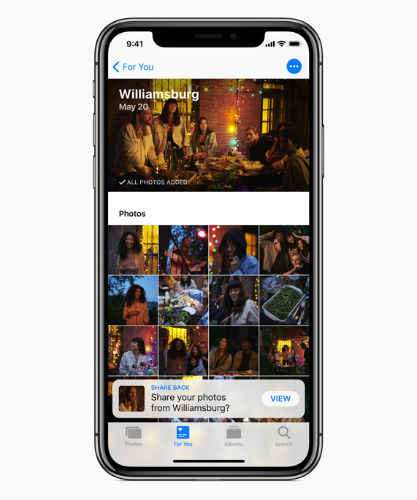 With iOS 12, Photos gets a new 'For You' tab which combines Memories and iCloud Shared Albums. Apple also introduced a new sharing suggestions feature which automatically prompts users to share back images from a particular event if the same are shared with them by a friend. The aim is to make it easier to share photos from the same trip or event with friends. Searching for photos also becomes easier with search suggestions and the ability to combine multiple search terms to find relevant photos.
Digital Health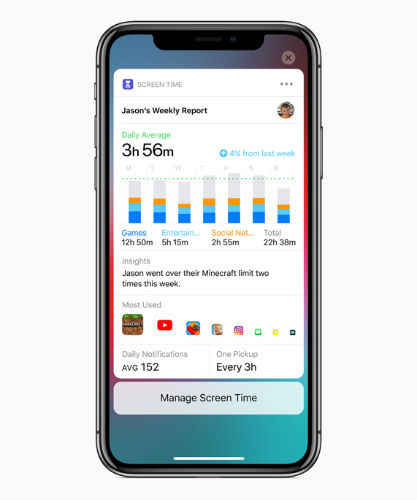 Apple's new Digital Health initiative almost entirely mimics Google's Digital Wellbeing programme announced at I/O 2018. With iOS 12, users will get more tools to disconnect from always flashing notifications, bright screens, and addictive social media apps. New DND modes will automatically end based on a specified time, location or action and DND during Bedtime will dim the display and hide the barrage of notifications until morning. Users will also be able to manage Notifications better directly from the lock screen. Users can bypass the lock screen to customise notifications to be delivered quietly or turn them off completely. Notifications will also be grouped according to apps and will not crowd the screen like before.
Screen Time, just like the new Dashboard coming to Android P, will give users a detailed summary of their app usage daily and weekly. The aim is to help users switch off more often and help them understand how much time they spend on their phones. Screen Time will also gives parents access to their child's Activity Report on their own iOS devices using Family Sharing in iCloud. Parents will also be able to control their child's device time.
Apple News and Stocks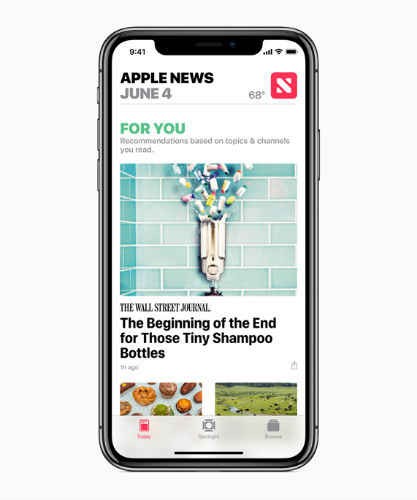 Apple Editors will now source news stories from "trusted sources" for the redesigned Apple News app. How large is this group of editors? No one knows. How will they control the bias of these so called Apple News Editors? Again, Apple did not get into a lot of detail. The Apple News app also gets a new Browse tab, along with some small improvements. The Stocks app gets another home on the iPad and will also now integrate Apple News within it to show market-moving stories from business publications.
Password Sharing Between iOS and Mac Devices
A cool new feature coming with iOS 12 will allow users to pick up passwords from their iOS devices and get them over to their macOS devices and vice-versa. The feature will work similar to how Wi-Fi password sharing works as of now on iOS 11.
So those were the Top 12 features coming to iOS 12. The developer preview of iOS 12 is available to Apple Developer Program members at developer.apple.com starting today, and a public beta program will be available to iOS users later this month at beta.apple.com. iOS 12 will be available this fall as a free software update for iPhone 5s and later, all iPad Air and iPad Pro models, iPad 5th generation, iPad 6th generation, iPad mini 2 and later and iPod touch 6th generation.