Opera has always been the dark-horse of web browsers, known for its strict adherence to web standards, apart from being known for its speed. The newest version of the browser, Opera 12 (available on Windows, Linux and Mac) brings with it a significant number of improvements with regards to performance, stability and security.
To begin with, Opera has always known for its phenomenal cold-boot times (The time from when you click on the icon to when the application loads) Opera 12 has managed to further improve its startup time with a new smart tab-loading sequence for restoring previously opened tabs. New APIs allow developers to access the computer's webcam as well as better support for browser windows and tabs in extensions. Notably, Opera has decided to discontinue its Opera Widgets and Opera Voice, and is urging developers to create extensions for the browser instead, using the new and improved APIs.
This is aimed at providing a more cohesive experience across the various devices and platforms that Opera (along with Opera Mini and Opera Mobile) supports. The new version brings with it support for right-to-left scripts such as Urdu, Hebrew, Arabic and Farsi, along with newer themes and better support for web standards such as CSS3 and HTML5, along with support for a do-not-track option, akin to browsers such as Mozilla Firefox (read our Firefox 13 review) and Google Chrome. Websites that use SSL encryption for secure transmission of data will now show colour-coded security badges in the address bar.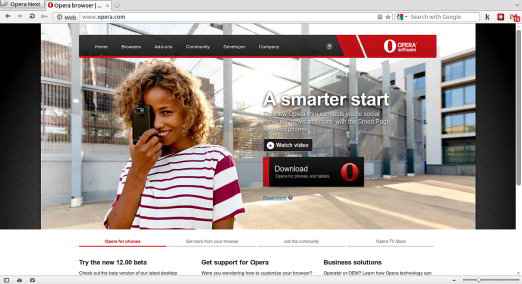 Opera includes its flagship features such as Opera Turbo which compresses web pages for faster page loading and Opera Linkwhich syncs your passwords, bookmarks, history and extensions between devices. Opera has a sizeable collection of extensions, including popular ones like Buffer, LastPass, Instapaper and Klippt. The inclusion of an integrated mail and chat client, tab preview on hovering over a tab and the stunning interface are obvious plus points. Opera also lets you group tabs together into stacks to save space on the tab bar. The stacks can be compressed when not needed and expanded later.
With Opera 12 You can also browse through your recently closed tabs with a single click, and Opera has one of the best Speed Dial implementations on any browser, ever. The Linux variant (specifically the x64 build) of Opera 12 had some issues though. Certain sans serif fonts weren't aliased correctly, giving them a jagged look, and tooltips weren't styled correctly, making them difficult to read. Opera's memory usage was on the higher side, but it resulted in a very quick and responsive browsing experience. Page loading, switching between tabs, highlighting and scrolling through text were very fluid
All in all, Opera 12 makes for a compelling experience, with a combination of speed, performance and stability, great support for web standards, a great collection of extensions and some unique features built-into the browser. If you haven't used Opera in a while, give it a try, you might make the switch!