At 10:03am on Wednesday, February 15, a tweet from the Indian Space Research Organisation's official Twitter handle confirmed what everyone was eagerly waiting to hear - "mission successfully launched". The rest of the saga has been joyous, with ISRO creating an incredible world record of carrying a staggering 104 satellites to orbit, and successfully deploying all of them.
The payload that broke all records
The previous record held for maximum satellite deployment in one mission belonged to the Russian Dnepr, completed successfully on June 19, 2014. Overhauling that, ISRO's Polar Satellite Launch Vehicle-C37 (PSLV-C37) tore into the skies at 9:28am IST from the Sriharikota spacepad in Andhra Pradesh and entered orbit on the 17th minute, beginning with the deployment of its primary payload, the 714kg Cartosat-2D remote sensing satellite. This was followed by two Indian nanosatellites, the INS-1A and INS-1B, collectively weighing 18.1kg. Of the Indian contingent, the Cartosat-2D is the fifth satellite in the Cartosat-2 series of indigenously developed satellites, built to capture and send multispectral, panchromatic photographs of India from space. This will be used by India for coastal, urban and rural administration, alongside keeping an eye on borders. The satellite will remain active for five years.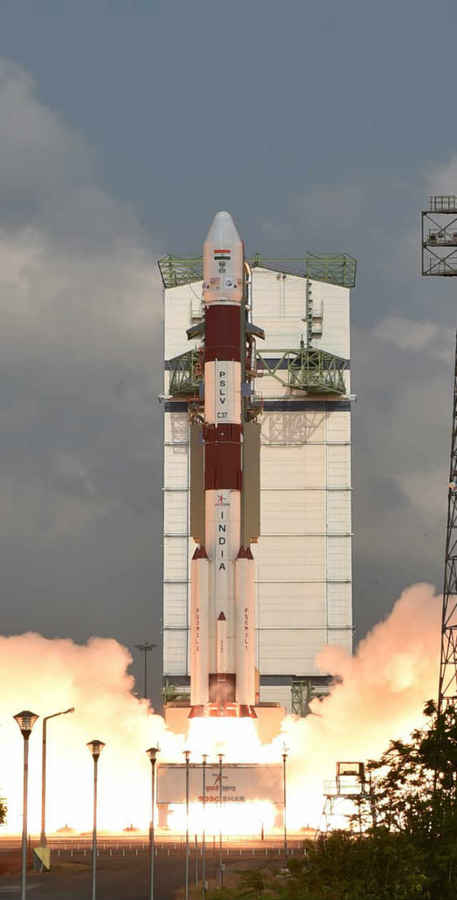 The other 103 satellites on board
The ISRO nano satellites
Of the INS (ISRO nano satellite) satellites, the INS-1A includes a Surface BRDF Radiometer (SBR) that will measure the Bidirectional Reflectance Distribution Function (BRDF) of target objects of reflected sunlight off reflected Earth features. The second science payload is a Single Event Upset Monitor (SEUM) that will track high energy radiation upsets in the space environments. The INS-1B also includes two science satellites - the Earth Exosphere Lyman Alpha Analyser (EELA) for deep space observations, and an Origami Camera to shoot high resolution photos of the Earth, both belonging to ISRO's Space Application Centre (SAC).
96-satellite payload from USA
Apart from the Indian deployment, the remaining 101 satellites of payload weighing a total of approximately 645kg include 88 Flock-3p satellites from USA's Plant Labs for minimal shadow terrestrial imaging, eight Lemur-2 satellites belonging to Spire Global for meteorological readings and sea vessel forward tracking.
The other five guests
The other five on board the PSLV-C37 include the Al-Farabi 1 from Kazakhstan for mission algorithm maintenance, Israel's BGUsat with two cameras, a GPS receiver and an experimental optical communication apparatus, UAE's educational Nayif-1, Switzerland's DIDO-2 for research on microgravity, and the PEASS satellite by the PiezoElectric Assisted Smart Satellite Structure consortium collaboratively by The Netherlands, Germany, Belgium and Israel. Each of these, while contributing to their own purposes, also contributed in exhibiting ISRO's capability to pull off large deployment missions, contracted commercially by Antrix Corporation Ltd., the business-fetching arm of ISRO.
Mission success, history made
Following Cartosat-2D's deployment, the PSLV-XL C37 deployed the remaining satellites and nanosatellites in polar sun synchronous orbit at a height of 520km from sea level. It is the sheer diversity and heavy payload that made this mission a stellar exception, and with its success, has managed to demonstrate ISRO's efficiency and ability in affordable space deployment missions. This is also a historic moment for our future routine space missions, and ISRO may play a big role in drastically reducing the expense of space travel.
Click here to watch the onboard camera feed of the PSLV-C37's lift-off.