Solar Impulse 2: A major coup for solar-powered technology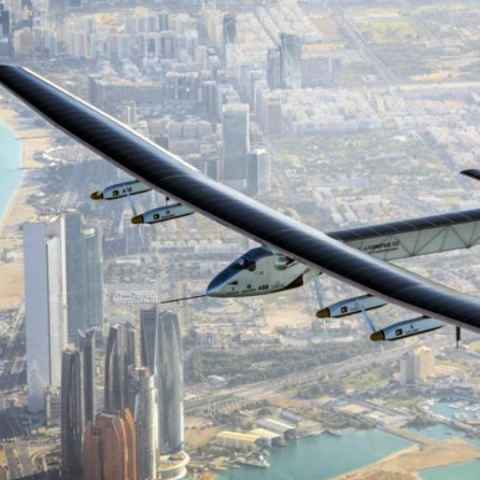 HIGHLIGHTS

The solar-powered flight had stalled for nine months because of battery issues, and has finally resumed its journey around the world.
In a major coup for advertising sustainable, solar-powered technology, the Solar Impulse 2 aircraft has resumed its flight around the world. The solar-powered aircraft successfully took off from Kalaeloa Airport, Hawaii yesterday, with target destination of Moffett Airfield, Mountain View, California to complete the 9th leg of its journey.
The Solar Impulse 2 is entirely solar powered, with no fuel engine implemented on it. The aircraft, along with its pilots Bertrand Piccard and Andre Borschberg, took off from Abu Dhabi in March 2015 to accomplish a historic, round-the-world trip. After finishing the eighth leg of its trip - the longest journey of 8,924 kms and five days from Japan to Hawaii, it ran into technical difficulties. The aircraft, having travelled through the warm, tropical weather, grew hotter than optimum calculations, and thereby was stalled in Hawaii until it could be fixed. Finally, April 21, Thursday marked the day for the flight to resume its journey, and the team aims to complete the mission without any further issues.
"The Solar Impulse 2 has a lot of progress to make, but marks a significant coup in solar-powered technology"
While the completion of the round-the-world trip would be a significant achievement in the field of solar power implementation in technology to reduce dependence on conventional fuel going into the future, there have been limitations that Solar Impulse 2 has faced. Each day, the aircraft flew up to a height of 28,000 feet and then descended slowly to conserve power. For long haul, the Solar Impulse 2 had to wait for good weather to embark upon its journey. Given weather conditions remain stable, the Solar Impulse 2 is expected to land at California on April 24, and then proceed to New York and Europe, before proceeding to land at Abu Dhabi to complete the trip round the world.
The first Solar Impulse prototype embarked on a short-hop, 350-metre test flight on December 3, 2009. The present aircraft, Solar Impulse 2, has four electric motors, and the wings are embedded with solar cells than harness the energy. This is stored in Lithium Polymer batteries, and is synchronised with the horizontal stabiliser to drive the propellers and maintain flight. The first iteration of this aircraft, the Solar Impulse, became the first solar aircraft to complete a 24-hour flight, and also a 19-hour intercontinental journey from Spain to Morocco.
While Solar Impulse still has significant progress to make, the completion of the world tour will be a major achievement in solar energy, a renewable source that was implemented commercially before it could be developed sustainably for a long-term green future.