Introduction
When we get down to the basics of life, survival is the name of the game. We want to live as long as possible, against as many odds as possible. It is towards this end, we have continued to make and measure 'progress'. Sanitation, medication, technology, they are all humanity's weapons. It's us against the world, and the enemy boss is invincible.
The Enemy
Any Taoists or other enlightened minds in the house may immediately point out that the reality of the situation is more like 'Us in the World'. This could be extended to 'Us is the World', but now is not the time for philosophy. As far as humans and our approach is concerned, disease is a dreaded enemy that must be defeated by any means necessary, which most often is, destruction. Disease is basically a significant deviation from homeostasis, the equilibrium of various physiological processes that constitute the normal functioning of a healthy human. This occurs mainly in two ways, either our body is inadequately capable of handling the environment, or something has infected, and is messing with, our body. This 'something' is most often another life form, be it a virus, fungi or bacteria.
It's creating a problem, and our basic reaction to problems is "Kill!", which is why our bodies have an immune system. Basically, the immune system unleashes vast armies of antibodies in response to certain antigens, which are like molecular markers that inform the body which microbes are the enemy. After all, our body hosts a huge number of microorganisms, and thus this war is waged constantly. Most of the foreign microbes, however, aren't harmful, and are even necessary in some cases. In fact, there are studies that have shown that our mood is greatly affected by the bacteria in our gut, which seems to turn our conception of a mind on its head. Not all these visitors have good intentions though, and some can be downright deadly. So, we made a weapon - Antibiotics.
Antibiotics - The microbial machine guns
Our immune system registers antigens much like a Pokedex registers pokemon. Oftentimes, we are infected by a microbe that our body has never encountered, and sometimes, the microbe starts to win the war. Yet, to survive, we can go to a doctor, who prescribes us medicine to ingest. Now the weapons join the war and change the tide, killing the foreign cells but not our human cells. Of course, in this war too there are casualties, but the friendly bacteria return soon enough. To understand the enemy boss, the superbug, we need to understand how the war is fought and how the antibiotics work.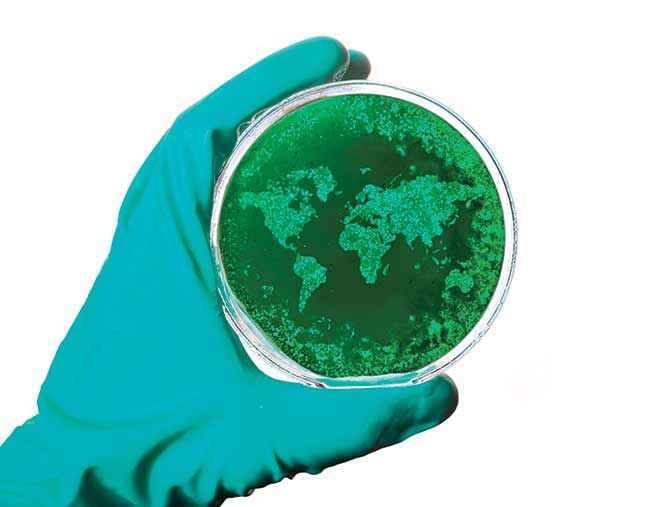 The fate of the future lies in a petri dish.
The name of the war game is Eradicate the Enemy, and this is achieved by hampering essential processes in the enemy's life-cycle. This means that antibiotics work by either damaging the bacteria's DNA and preventing the repair, inhibiting the production of some crucial substance like folic acid, or weakening the cell wall until the bacteria bursts open like an over-stuffed water balloon. These drug actions don't disturb human cells because of key physiological differences. For example, Penicillin works by preventing peptidoglycan (a macromolecule that human cells don't need because we don't have cell walls) from crosslinking. Peptidoglycan are like the bricks for the bacteria's cell walls, so without crosslinking they are as useful as a brick wall without cement.
Another antibiotic, Tetracycline, works by inhibiting protein synthesis. In human cells, as well as bacterial cells, ribosomes are responsible for building proteins. Ribosomes take a strand of mRNA which is like the recipe, and then float around the cell picking up amino acids (the ingredients) and building up the protein. Tetracycline binds to a specific site on the ribosome where it is morphologically similar to, but chemically different from, the ingredient that it is replacing. This makes it impossible for the ribosome to finish up the proteins it is building, and thus the cell soon dies. Luckily it doesn't affect us because in human cells, tetracycline doesn't accumulate enough to cause this blocking of protein synthesis. The overarching theme of antibiotic action is in its name - it selectively hampers a biological process. This, however, also means that the hampering can itself be hampered, by another molecule or enzyme that blocks the blocking action of the antibiotic.
The Super Nano-villain
The problem with a life form fighting a life form is that life forms adapt and evolve. In this case, bacteria have a much shorter life cycle than us, and go through thousands of generations in a short (human) time. Therefore they can evolve much faster, passing down desirous traits from parent to progeny. Add to this the bonus of horizontal/lateral gene transfer, and things start to look scary. Horizontal gene transfer makes it possible to transmit genetic information (and the corresponding trait) from one organism to another, within the same generation. In fact, horizontal gene transfer can even take place among bacteria of different species!
The more they are exposed to some environment, the faster they can adapt to it. In this way, our weapons only serve to make the enemy stronger!
This finally brings us to the superbug, the micron sized enemy boss, and guess what? It is real, and it's almost here. 'Superbug' is a term used to describe strains of bacteria that are resistant to the best antibiotics used to treat them. In other words, they're really tough little genetically enhanced micro-critters. This does not mean that an infection by a superbug strain will be any more severe than a normal infection. However, the infection will not be suppressed easily, and may eventually prove to be fatal. Some of the various strains of superbugs that have been identified till date are Methicillin-resistant Staphylococcus aureus (MRSA), vancomycin-resistant Enterococci (VRE), carbapenem resistant Klebsiella pneumoniae, Clostridium difficile, Extensively Drug Resistant Tuberculosis, Shiga toxin-producing E. coli, and most recently Colistin resistant E. coli. In fact, one of the first superbug genes was identified in New Delhi, NDM1 (New Delhi metallo-beta lactamase 1) and is now found across the world. While many species of bacteria across the world develop resistance to the most common antibiotics, our human newborns depend on the same antibiotics for survival in early life. This has been leading to an increasing number of child deaths from multi-drug resistant infections. In the last three years, superbugs have claimed more than 1,50,000 infant lives in India alone.
The increasing number of pharmaceutical companies and factories in India has also been ironically detrimental for our nation's health. The recent antibiotic boom has led to declining prices. With many drugs being available over the counter for self-medication, and many doctors easily prescribing antibiotics for almost any little infection, antibiotics are currently more common than Hajmola candy. The problems with this are manifold. Antibiotics don't work against viral infections like the flu or common cold, and specific infections may require specific antibiotics. Another common error is not completing the prescribed schedule and stopping the antibiotics early, just because the infection appears to have vanished. Not just humans, even livestock are fed antibiotics, which becomes another avenue for the natural development of superbugs. Overall, the increased availability and usage of antibiotics is increasing the number of antibiotic resistant bacterial infections. A very significant, yet oft overlooked facet of this whole issue is the waste from the pharmaceutical factories, which goes straight to rivers and streams.
Even though the water is officially 'treated', many villages downstream (whose livelihood depends heavily on the natural water) have recently started facing dire problems. This is because the official 'treatment' doesn't even include any check for antibiotics in the water. Back around the year 2000, the fish in the lakes that these rivers feed started floating up dead, and since then, many children and farmers have developed diseases that they haven't seen or heard of before. Furthermore, many of these diseases are being found to be drug resistant, a sure sign of superbugs. To quote a Swedish scientist who tested the waters for antibiotics, "Some pharmaceuticals were [of] higher [concentration] in the water than in the blood of a patient who takes medication." With these levels of concentrated antibiotics in the river, the research group also found many strains of environmental bacteria that had grown resistance to the drugs. Thanks to bacteriophages and the aforementioned lateral gene transfer, it wouldn't be too hard for these genes to find their way to human pathogens. Once they do, these superbug infections can easily spread like wildfire.
In fact, this has already been happening. The government has programs to increase the percentage of babies delivered in hospitals, with the aim of reducing infant mortality rates. However, most of these hospitals are now overburdened, with two or three women delivering in a single bed. Moreover, sanitation and hygiene are grossly overlooked, as many district hospitals have contaminated water, a lack of soap and unsanitary toilets. This has led to a large number of infections in newborns that are resistant to multiple normally effective drugs. Neonatologists are starting to consider that many of the superbug infections come not from the environment, but from the mother, thriving in the bodies of pregnant women.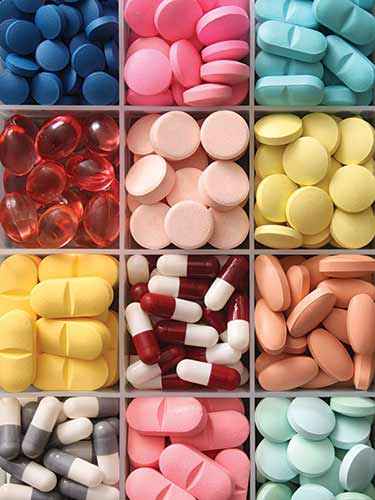 They're even as colorful as candy!
Our country's well-known state of hygiene and sanitation, combined with our collective usage of antibiotics, makes our country the prime location for superbugs to survive, evolve and thrive. Although, the worst is yet to come. All these superbugs are resistant to many, or a few, antibiotics, but none of them is resistant to all antibiotics... yet. It's just a matter of time and gene transfers until some Superbug collects them all. That would indeed be a dark day for humanity, throwing us back to the pre-penicillin era. Disease will spread in every direction, the most common (currently treatable) infections claiming lives on the level of a calamity. All medicines will be rendered impotent, except the most risky and those with dangerous side-effects. The best shot at getting rid of the infection would be to sever the infected body part. A whole generation with so many amputations. The superbug will create a calamity more disastrous than anything we have ever seen.
A piece of DNA that encodes the countermeasure to every weapon humanity can devise, being passed around freely among pathogens, who in turn are being passed around freely among humans, much to our own demise. The enemy lifeform wins.
It is no surprise that nature has a better grasp over bio-chemistry than we can ever hope to achieve, but perhaps it is foolish for us to be fighting nature, instead of using it and learning from it. After all, we aren't the only other life form who have to deal with bacteria. If you can see where this is going, rest assured, the most promising weapons against superbugs will come from nature itself. That too from an insect most of us despise, the cockroach. The brain tissue (only,) of cockroaches has been found to contain more effective antibiotics that work against specific superbugs, as presented in a meeting of the Microbiology Society. Almost seems logical in retrospect, as cockroaches survive in the dirtiest conditions, which would mean that they have already adapted. The key to defeating the superbug, may literally lie in cockroaches' brains. How's that for a plot twist from real life?