Everything you need to know about SpaceX's Falcon 9 explosion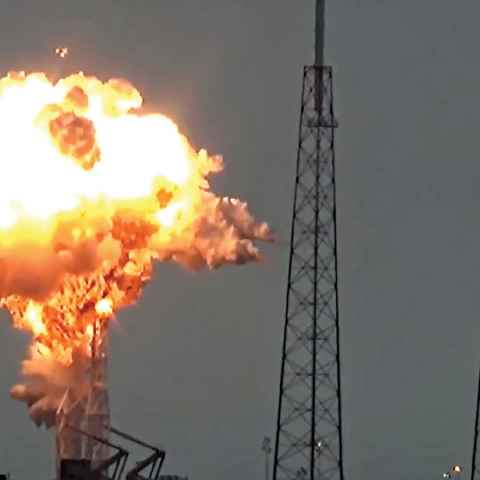 HIGHLIGHTS

Should we be worrying about Falcon 9's – SpaceX's reusable rocket disaster?
What happened?
On Thursday, September 1st 2016, as SpaceX prepared for their 29th launch of the Falcon 9 Full Thrust – version 1.2 of the Falcon rockets manufactured by Elon Musk's company – the rocket exploded. The launch pad known as Cape Canaveral Air Force Station Space Launce Complex 40 (SLC-40) also sustained damage, the extent of which is unknown. The company reported that there were no injuries as a standard testing procedure was underway when the incident occurred and all personnel were clear of the launch pad.
The immediate impact of this failure will be significant, but – as this article will illustrate – will not be anything more than another critical failure to be learnt from, fixed, and duly overcome in the highly eventful life of Elon Musk.
The investigation: What caused the explosion?
The explosion occurred during the preparation for a "static fire" test – a standard testing procedure preceding rocket launches where the engines are fired at full thrust for a few seconds while the rocket remains attached to the launch pad. Musk and SpaceX confirmed that the euphemistically-termed "anomaly" occurred before the engines were on. In particular, it took place during a "routine filling operation", i.e. when the rocket was being fueled up for the test. As of time of writing of this article, the root cause of the explosion remains unknown, with SpaceX mentioning that the origin of the explosion was the upper liquid-oxygen fuel tank.
One week on, investigations had still not yielded a conclusive result, and Musk expressed his frustration over the failure as he tweeted that it was "turning out to be the most difficult and complex failure we have ever had in 14 years." Musk has also belabored the minute point that the "explosion" was more accurately a very fast fire – it just appears instantaneous to the human eye. In an attempt to crowdsource some help for the investigations, he took to Twitter to ask for recordings of the event to be emailed to SpaceX to aid investigations. One of the replies points out that a YouTube video indicates something hitting the rocket, in response to which Musk said that they had not ruled that out.
Currently, the investigation is being carried out by a team consisting of about 20 people from SpaceX, the Federal Aviation Administration, NASA, the US Air Force, and the aerospace industry. The agreement between SpaceX and the FAA means that the latter is only acting in an advisory role. Investigations started almost immediately after the incident, as the SpaceX team drew on their formidable arsenal of almost 3,000 sensors and cameras, reviewing a duration of several milliseconds prior to the explosion.
The repercussions: Who else will be affected, and why?
Marco Caceres, Director of Space Studies at Teal Group, a business analytics company specializing in defense and aerospace markets, said in an interview with Bloomberg that he does not expect this failure to significantly impact future contracts for SpaceX. He speculated that the circumstances of the failure may point to the problem not entirely being with the launch vehicle itself – since the failure occurred while on the launch pad without the engines on.
Tory Bruno, CEO of United Launch Alliance, SpaceX's major industry rival, believes that the explosion will ground SpaceX for 9-12 months. Talking to Reuters, he added that the time taken in rebuilding the launch pad, which also sustained damage in the explosion, is usually not the bottleneck in such cases.
The exploding rocket also destroyed with it some precious cargo. The Falcon 9's payload was a $200 million Israeli satellite that was commissioned in part by Facebook to provide internet access to areas of Africa and Europe. The satellite was built by Israeli Aerospace Industries (IAI) for Israeli telecom company Spacecom, who are set to receive insurance compensation from both SpaceX as well as IAI. SpaceX are offering either a $50 million compensation or a free launch in the future, while IAI will pay over $200 million after including the interest with the cost of the satellite. Spacecom was set to be bought by Chinese conglomerate Beijing Xinwei for $285 million, but the deal was initially contingent on the Amos-6 being successfully deployed. However, Spacecom CEO David Pollock has indicated to SpaceNews that the deal may still be on, albeit with renegotiations over price.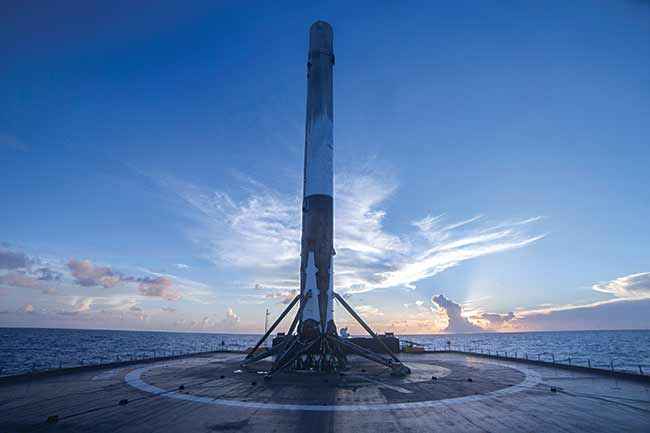 The Falcon 9 rocket that delivered the geostationary satellite JCSAT-16 into orbit landed on a drone ship at sea. Rocket science isn't just getting one from the earth to space, which is already an extremely difficult engineering challenge. SpaceX is now also doing it all in reverse.
The story so far, and why Elon Musk is just the man to turn things around
In 2002, Musk, at the age of 31, was already a multi-millionaire. Instead of retiring to an idyllic life in the Bahamas, he has spent the intervening 14 years establishing the groundwork for humans becoming a multi-planetary species, starting with the aim of colonizing Mars. Why? Because he's Elon Musk. But such bold and seemingly ridiculous targets come with extremely high risk, as the company found out once again on September 1st.
Elon Musk knows has known failure and near-failure on a grand and terrifying scale. It's almost a necessary prerequisite for being a self-made, billion-dollar-net-worth individual. Space travel is inherently a high-risk industry. The astronomical (no pun intended) odds against success of setting up a company that manufactures and launches rockets, and then lands them upright on a drone ship at sea, meant that Musk had to fund SpaceX with his private money. Investors are far too risk-averse to fund an unproven startup with the stated goal of making space travel affordable. And Musk found his considerable finances stretched right down to the wire before SpaceX could even glimpse success. SpaceX only began with enough funding for four launches. Not surprisingly, a success for SpaceX would be considered not completing production of a unit, but also successfully launching said unit into space.
Their first three launches failed. The rockets exploded before they could reach orbit. Their finances were a mess, not only because Musk had also launched Tesla Motors and SolarCity within the previous 4 years – again using personal funds – but also by the fact that the global financial crisis of 2007 crippled the automobile industry.
However, in September 2008, SpaceX's last effort at launching a rocket into orbit succeeded, and NASA stepped in and handed SpaceX a cool $1.2 billion contract to make deliveries to the International Space Station using their rockets. SpaceX was saved at the eleventh hour, and it marked the beginning of a turnaround for Musk's other companies as well.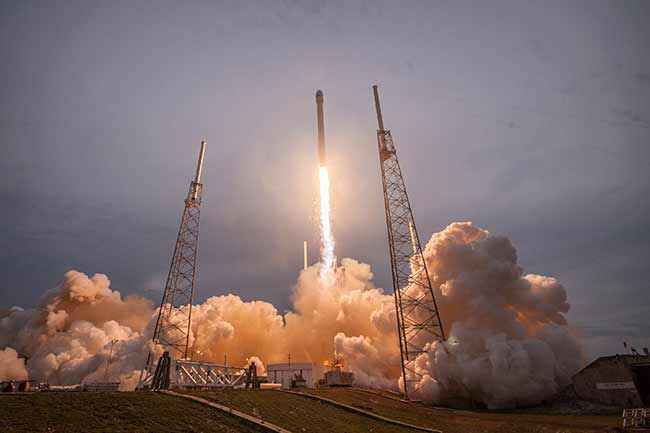 It's instructive to keep in mind that in having such a bold mission statement and in making tangible progress towards it, Elon Musk is in pursuit of a goal so audacious that two of the world's superpowers had a clash of egos about it. We are referring, of course, to the space race that ensued after the Cold War between the USA and the USSR. The rivalry between countries to put the first human in space – and then on the moon – was so fierce that NASA's budget went to an all-time high in 1966. It was nearly 4.5% of the USA's total budget that year, and it has never been higher than 1.01% in the past 20 years. The very concept of space exploration reduced entire governments to a couple of kids fighting over whose toy is shinier.
You know that scene in the first Avengers movie where Tony Stark is asked when he became an expert in thermonuclear astrophysics, to which his response is, "Last night."? Well, Elon Musk kind of pulled it off in real life. Technically, he was just a Physics and Economics double major and a Stanford PhD dropout (after two days) when he decided to create SpaceX. But what his degrees failed to mention is that he was a machine, and he loved to learn. He spent one year consuming textbooks on the fundamentals of aeronautical engineering, rocket propulsion, and space launch systems. Jim Cantrell, SpaceX's first VP of business development, says that Musk nearly memorized the books he lent him, quoting passages from them verbatim. Additionally, Musk built a network of the leading experts in the industry so that the process was in the best possible hands..
Learning from history, and why this incident is NOT a catastrophe
The space race between the USA and the USSR brought with it its cost in human lives.
In January 1967, the Apollo 1 caught fire during a launch pad test. The three astronauts aboard all perished. These deaths temporarily brought NASA to its senses, and they decided to invest more time and make critical design changes to ensure safety. Later that year, the Russian mission Soyuz 1 ended with a parachute failure, and the cosmonaut Vladimir Komarov died upon impact with the ground.
Even in recent history, examples such as the infamous Columbia shuttle disaster of 2003 serve as a constant, grim reminder of the dangers of manned space flight.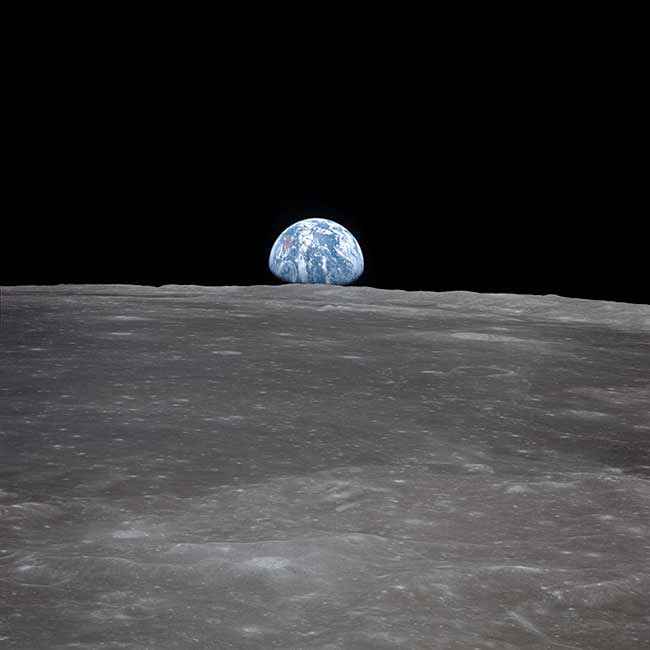 16th July 1969. Perhaps the most iconic and definitive image from the advent of the Space Age, this view from the Apollo 11 spacecraft shows Earth rising above the moon's horizon
However, to dismiss SpaceX as a failure entirely on the basis of this incident would be extremely naïve. The risk of failure is very real and very high with every single launch. To play up this incident as catastrophic for the company in the long run is to ignore what has been a remarkably impressive streak of successful launches. 27 out of SpaceX's 29 attempted launches have resulted in at least a partial success, which is a marginally better success rate than all other US rocket launches combined. Considering the fact that SpaceX's rockets can pull off the immensely complex task of landing back on the ground or at sea perfectly vertical, allowing them to be reused, the cost of each launch is already being slashed down dramatically by them.
Granted, Facebook and Spacecom, the two major interested parties in the Amos-6 satellite, will bear the brunt of the loss of equipment in the immediate future. But, as Mark Zuckerberg has said, Facebook has also been committed to developing technologies like Aquila, which are also aimed at expanding internet accessibility in Africa and other parts of the world. Also, as mentioned above, the routine nature of the risks involved in rocket launches means that insurance for the satellite was already in place. Of course, the intellectual and physical effort that went into making the satellite may be irrecoverable in the short term, but when you consider the fact that Elon Musk's to-do list includes "make humans a multi-planetary species by colonizing Mars with a million people by the next century", you begin to realize that this is not a game that is being played for the short term. Musk's tendency to be a "nano-manager" and his advocacy of complete vertical integration may have brought him immense success, but it is all done with a vision that is zoomed out a long, long way and is looking at time scales and humanity from an epic perspective.
This is not a catastrophic, institutional failure that will cripple the company. Far from it. A self-confessed "nauseatingly pro-American" nationalist, Elon Musk would see it as a betrayal of the American values if he saw this incident as anything other than an engineering problem to be solved – another hurdle to be overcome in the grand scheme of things.
There has never been – and I write this without any trace of irony – a more exciting time to be alive in the history of humanity. The sky is no longer the limit – there is, in fact, no such thing any more.